ABOUT HAMBURG
Hamburg is Germany's second largest city and was the country's largest city until the unification of East and West Germany. It is the 7th largest city in the EU. Hamburg is located between the river Elbe, the small lake Binnenalster where the historical heart of the city is and the larger nearby lake Aussenalster.
It is also famous for its many canals. And it has more bridges then Amsterdam and Venice together!
The port of Hamburg is huge, it is the 3rd largest in Europe and the 9th largest in the world. Hamburg is a major transportation hub, a media and industrial center. There is a new part of the harbour, called Speicherstadt, with renovated warehouses, and Hafencity with modern office complexes, all along beautiful canals. The city center has many old buildings preserved and is known for its many tall churches, and the grandiose City Hall. Hamburg's downtown has a large amount of beautiful buildings in jugend style, some with a bit grey facades. Hamburg was destroyed during the WWII, bombings, but it has mostly been rebuilt in a good way. You can find much modern exciting architecture in Hamburg, buildings with different shapes. There are many modern shopping malls and large department stores in Hamburg.
The landscape in the city is mostly flat, so it is easy to walk through the city center.
Hamburg is connected by an extensive subway system (U-bahn) and buses.
MY EXPERIENCES
It wasn't even planned that I should go to Hamburg. I was visiting Frankfurt and because of the volcano on Iceland that stopped most of the flights in Europe, I couldn't go home to Sweden by plane. I had to take the train and ferry home, and I decided to stop for one day in Hamburg, a very good idea since I have only passed through the city without seeing much of it.
Hamburg used to have a reputation of being a bit rough on the edges here in Sweden because of the redlight district around Reeperbahn in the district St Pauli, and because of its many industries in the outskirts, but that is definately not true. Hamburg is a very clean and wealthy city with a partly historical core, and not even Reeperbahn itself is especially rough anymore, it is now a hip area with many pubs and "normal" tourists visiting. I didn't have time to go there myself, since I just had one day to visit Hamburg and it was getting dark when I was ready to go there (and I had to concentrate on finding train tickets home, a hard task because of the Icelandic volcano chaos). However, there are many drug addicts visible on the streets, especially around the main railway station.
In one day I managed to visit the Old Town (Altstadt), Neustadt, the park Planten und Blumen, Speicherstadt and Hafencity. I was staying at the cheap hotel A&O Hauptbahnhof at the railway station.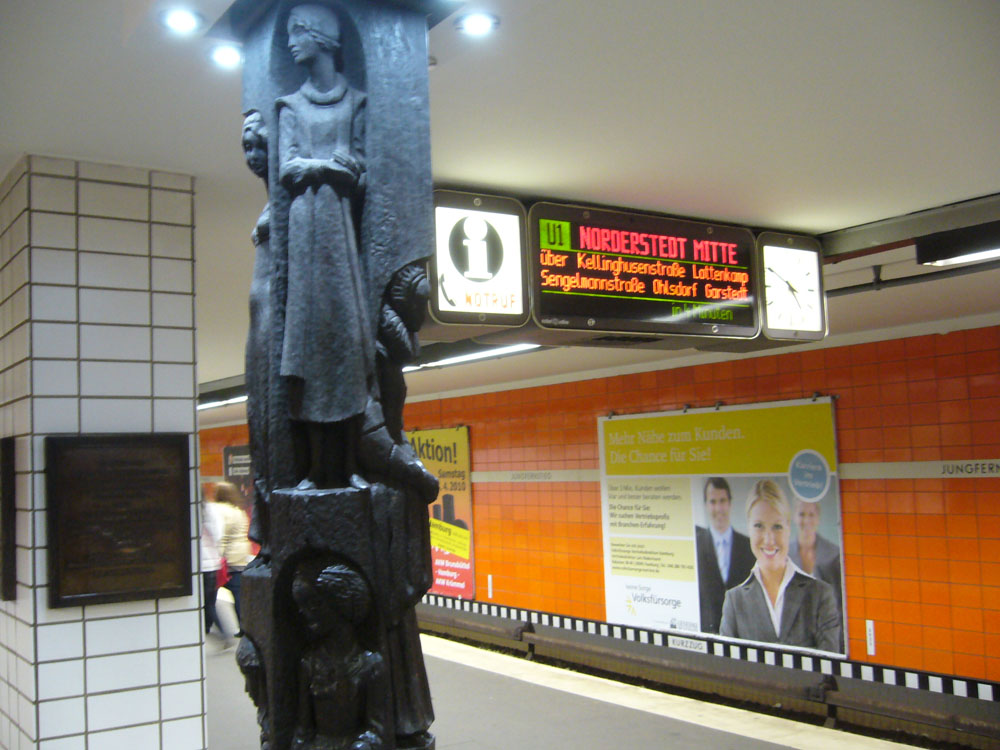 Decorations at U-bahn station Jungfernstieg.