The parks of Warsaw
Warsaw has many beautiful parks. The nicest, largest and most famous is Park Lazienki and the oldest is the Saxon Garden.
Park Lazienki (Lazienkowski):
Warsaw's largest park took its name Lazienki (=baths in Polish) from a bathing pavilion that was located here. The classisit-style gardens (formerly baroque) was the life work of King Stanislaw August Poniatowski in the 18th century. It took only 5 years to complete the park again after the 1944 bombings, since most of the structures were relatively well-preserved. We also visited a very small exhibition for modern art in an art gallery in the park.
Fryderyc Chopin Monument. A large Neo-Romantic monument to the French-Polish composer, who also has a museum in the city.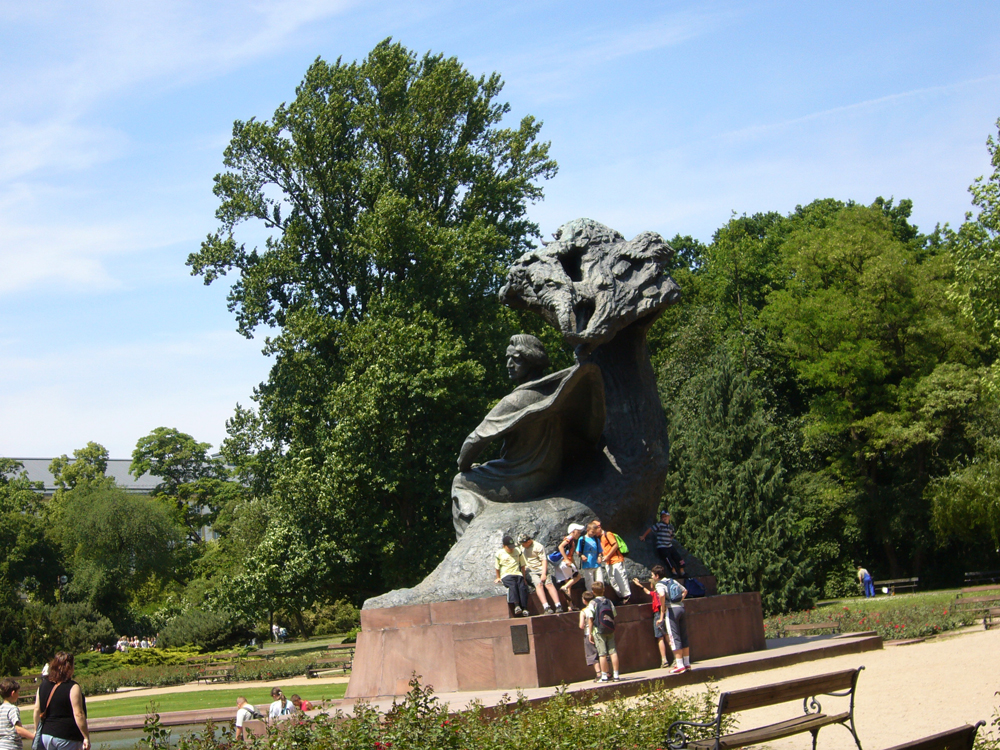 The monument of Chopin is huge.

The old orangery.
Lazienkowski Park is very well-managed.
Little White House by Domenici Merlini was King Poniatowski' love nest, a garden villa with an orangerie and paintings. Louis XVIII lived here during his exile from France.
Palace on the Water (Palac Lazienkowski). It was king Poniatowski's residence in the 18th century. It contains work by Rubens and Rembrandt.
The palace divides the Lazienki Lake in 2 parts.
The Germans burned The Palace on the Water during WW2, but it was rebuilt.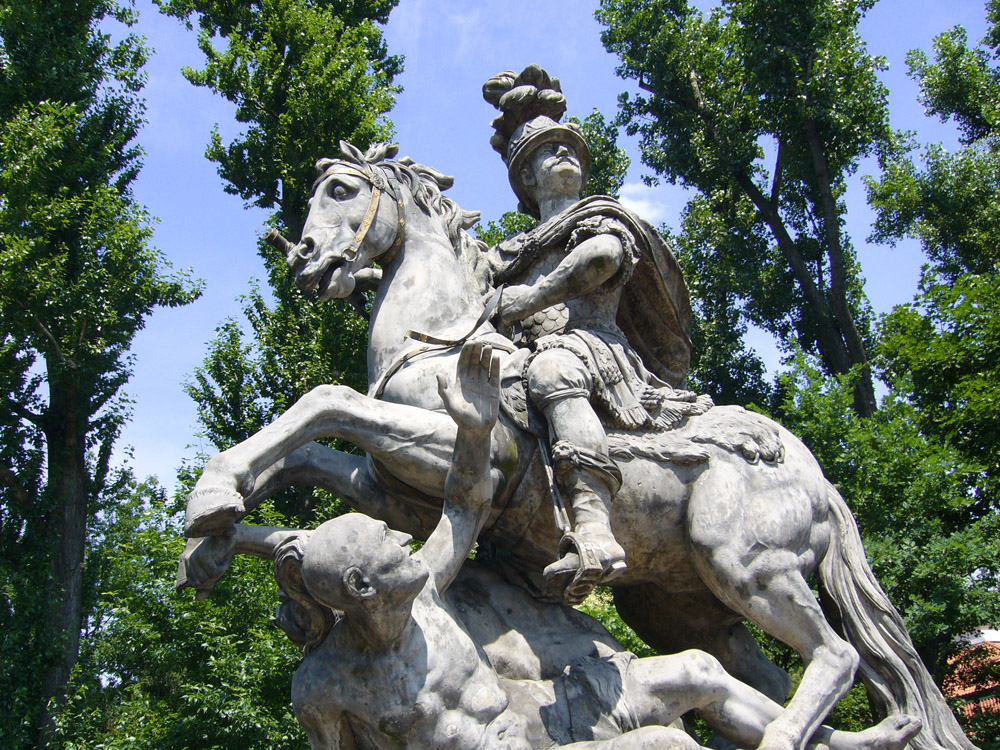 Statue of King Jan III Sobieski.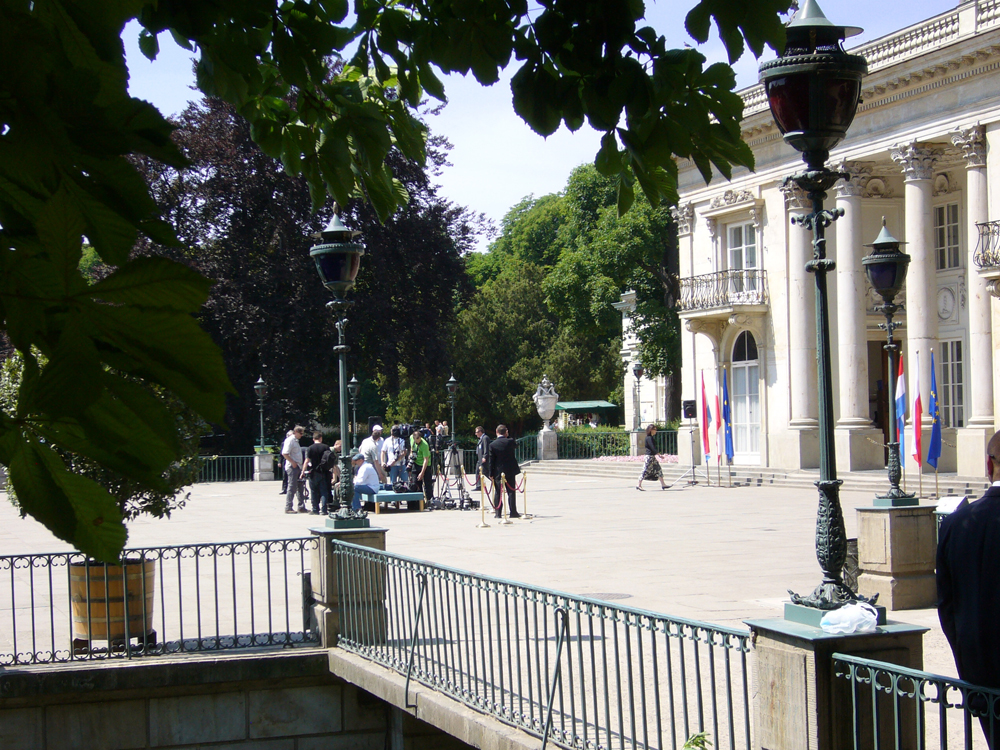 Some kind of speech were filmed during our visit at the Palace on the Water.
Gondoles in front of the Roman theater.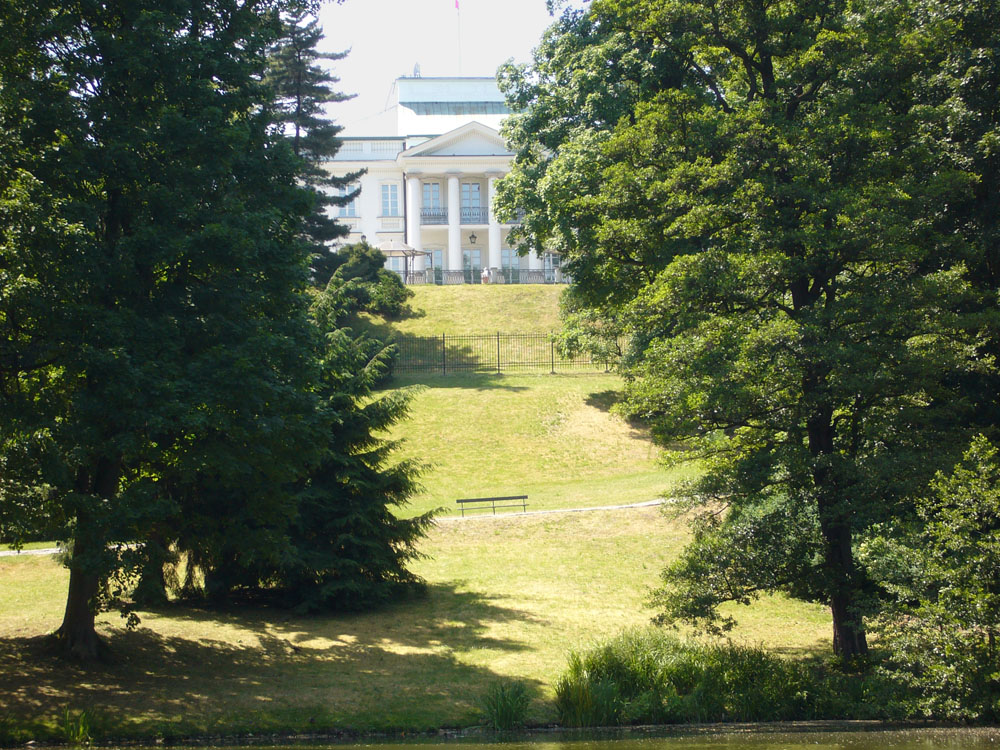 Belweder from 1660 can here be seen between the trees. The building was also owned by King Stanisław August Poniatowski and he used it as a porcelain-manufactring plant. In the early 1920s and between 1989 and 94 it has served as the presidential residence. Today it is a museum of Józef Piłsudski.
Outside Belweder.
The Swedish Embassy opposite the park.
The busy highway Al. armii Ludowej separates the two parks Ujadowski and Lazienkowski.
Park Ujazdowski:
This park is right on the north side of the busy highway Al. armii Ludowej, while the much larger Park Lazienkowski is on the south.
Ujazdowski is also very beautiful, even if it is not as spectacular as Laziensky.
Ogród Saski (Saxon Garden):
This is a small, but beautiful park in the city center, just one block north of our hotel. It is the oldest park in Warsaw and is facing Pilsudski Square. It was one of the first parks in the world to be opened to public in 1727. There is a tomb of an unknown soldier, inside a pavilion surrounded by guards. It is dedicated to unknown soldiers, who have given their life for Poland.
The fountain is a popular symbol of Warsaw.
The water tower is situated in front of a small lake surrounded by willows.