Stare Miasto and Nowe Miasto
This page is about the Old Town of Warsaw, a nice area with small houses and streets, popular among tourists. I will not differ the photos from Stare Miasto (Old Town) from the ones from the Nowe Miasto (New Town) since it is basically the same district. Note that "New Town" and "Old Town" has nothing to do with either the new part or the old part of downtown, but it is officially a part of Sródmiescie (downtown) district.
It is divided from the wide avenues, skyscrapers and large buildings in Sródmiescie, that surrounds the much more relaxed Stare Miasto (south part) and Nowe Miasto (north part), quarters that got a small town atmosphere of the past that is now rare in Warsaw. Most streets are pedestrian streets and there are very few cars in this neighbourhood. It is not as old as it seems, however, most of the buildings have been restored since they were destroyed during the bombings of World War II, but are almost exact replicas of the prewar buildings.
Old Town was built in the 13th century and New Town in the 15th century. In the 1930s, an extensive renovation to its former glory was made- in vain! Both neighboorhouds were destroyed by the Nazis during WW2. But both Old Town and New Town were rebuilt, as much as possible as they were before. And as much as possible of the old materials and decorations were used. Wybrzeże Gdańskie Road bounds Old and New Towns from the Vistula river.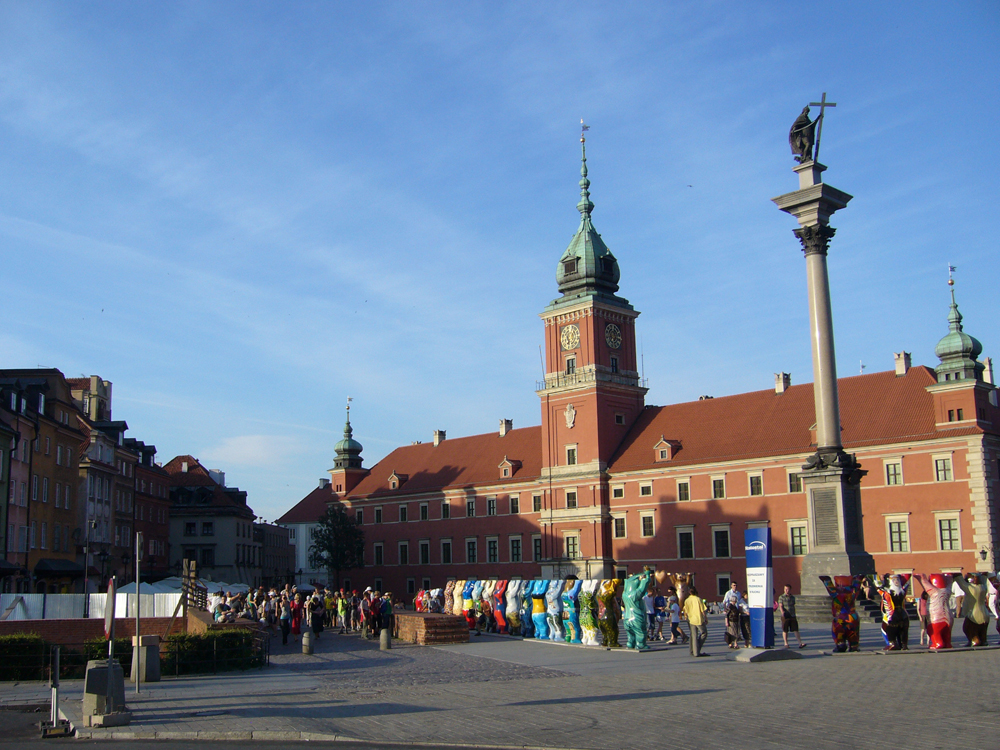 Castle Square (Plac Zamkowy) is the square in front of the Royal Castle, where the south part of Old Town begins. There was an exhibition with bears when we was there. The castle is part of the "royal route" that leads to Lazinsky Park.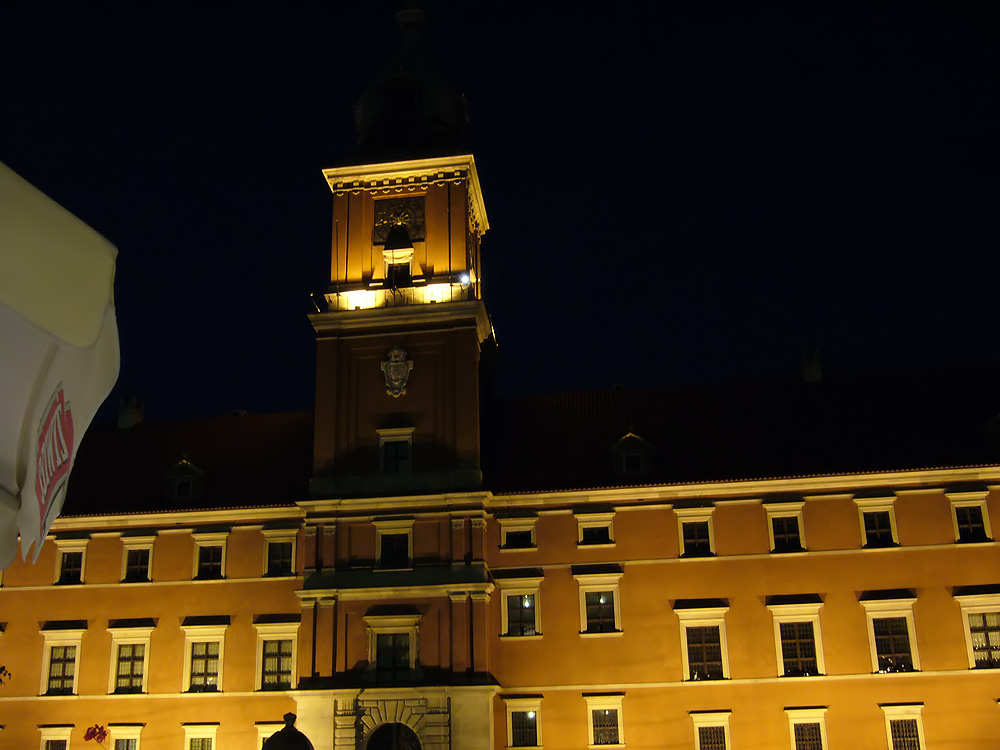 Royal Castle (Zamek Krolewski) has a 600 year old history, but the present building has only stood there for less then 30 years. The Nazis weren't only blowing up the castle, they were also mining the foundations to make sure it couldn't be rebuilt. But they were wrong. As you can see it was rebuilt, but it wasn't rebuilt until in the late 70s. It was completed in 1984 and was rebuilt as authentically as possible. The castle has over 300 rooms. King Stanislaw August Poniatowski (who also founded Lazinsky Park) was one of the Royalties that lived here. In 1918, the castle once again became a site for the president of Poland after being a Royal Castle. The tower is 60m tall.
Zygmunt's Column is a 20 m high memorial to King Sigismund III Vasa, erected in 1644 and reerected after the WW2.
At Castle Square, there was a bear exhibition, called United Buddy Bears, when we were there. Each bear is 2m tall represent a country, and all countries that are members of the United Nations were represented. They promote understanding about different cultures and religions and have been touring through 12 cities around the world so far. They were in Jerusalem before they came to Warsaw in October 2007, and will head for Stuttgart in July 2008. It is a nice initiative, but I think it would fit much better in the modern city center.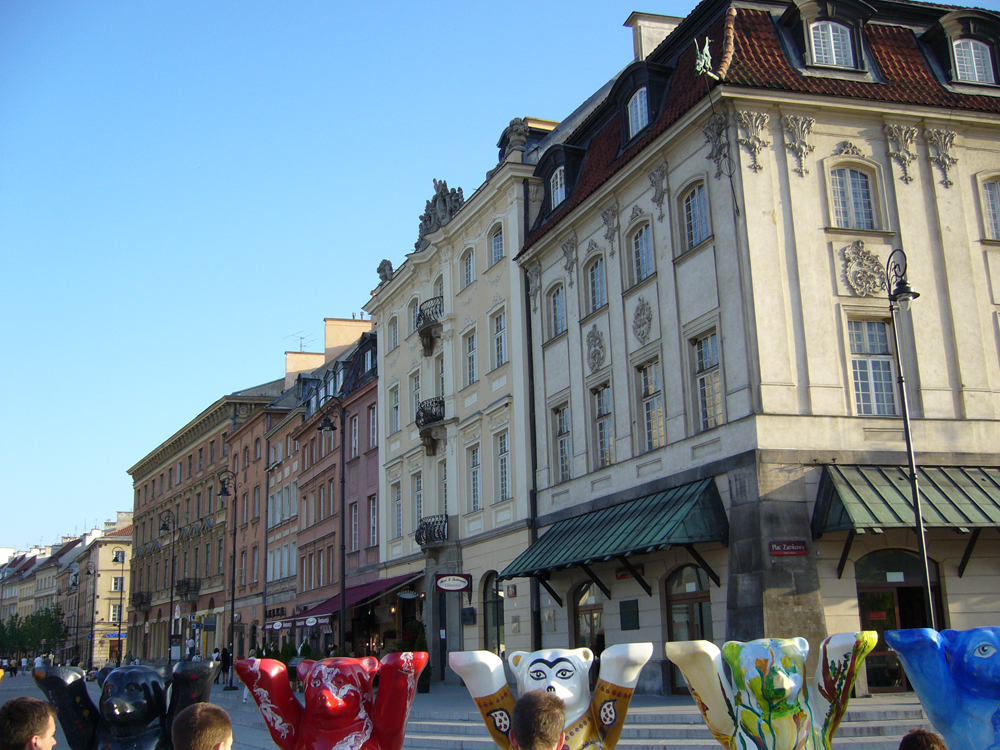 The beers towards Krakowskie Przedmiescie.
The Swedish bear. Each bear has been designed by an artist from the country it represents.
St John's Church (right), Warsaw's oldest church until the destruction by the Nazis, and the Jesuit Church (left), are standing next to each other on Swietojanska Street.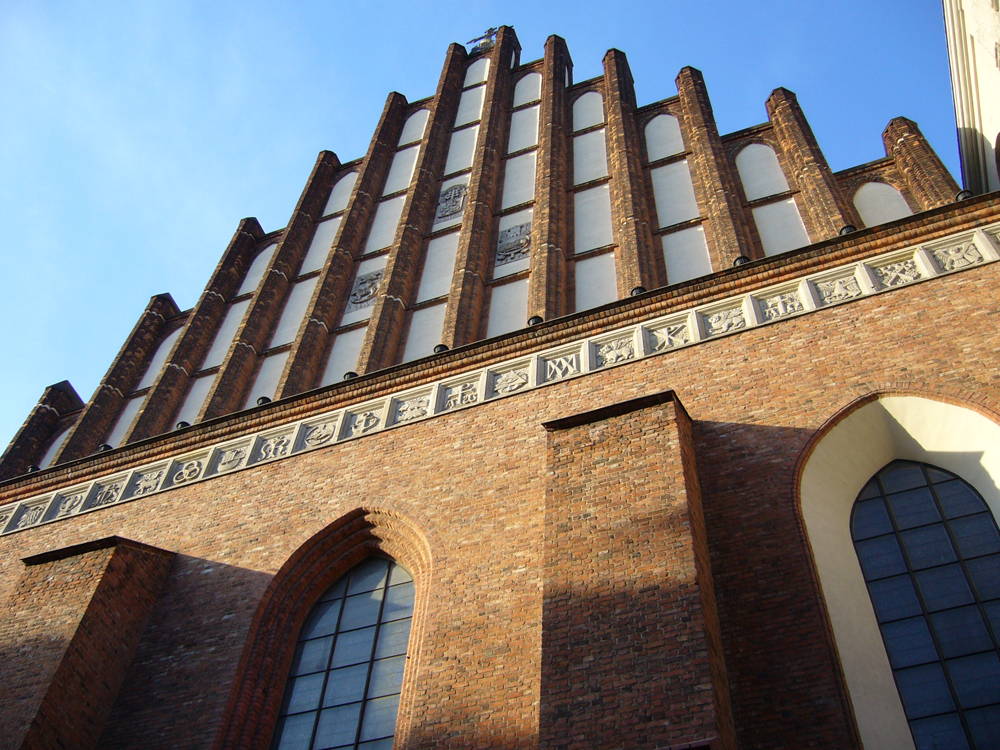 St John's Church has very little decorations, since it was almost impossible to restore them after the war.
Old Town Market Place (Rynek Starego Miasta) is the heart of Old Town and is filled with open air restaurants and pubs. Like the rest of Old Town, this beautiful square was rebuilt after World War 2, in the 1950s. Four different famous people have lived in each corner of the square: Dekert, Barss, Hugo Kollataj and Zakrzewski. There is a statue of Syrena, the mermaid symbol of Warsaw, on the square.
The square is maintained by a guy wearing a red suit and a sword. He is called Wario Wojciech, but we didn't see him though.
Old Town Market Place at sunset.
Old Town is more hilly than most parts of central Warsaw.
There are many decorated beautiful building in Old Town.
Old Town's defensive walls have a path on the top, were it is possible to take a stroll. The moat has been rebuilt, but without the water because of practical reasons.
Towards 10 Dominican Church on Freta.
Freta Street is one of the most famous streets in the Old Town.
We had a diner at a restaurant in New Town with typical Polish food, that was located to the right in this pictures.
New Town Square (Rynek Nowego Miasta) with the Church of the Nuns of the Holy Sacrament, a Baroque church with green coppar roof. Over 1000 people died during the bombings when it was used as a hospital during World War 2, but was rebuilt already in the 40s.
The entrance to Old Town.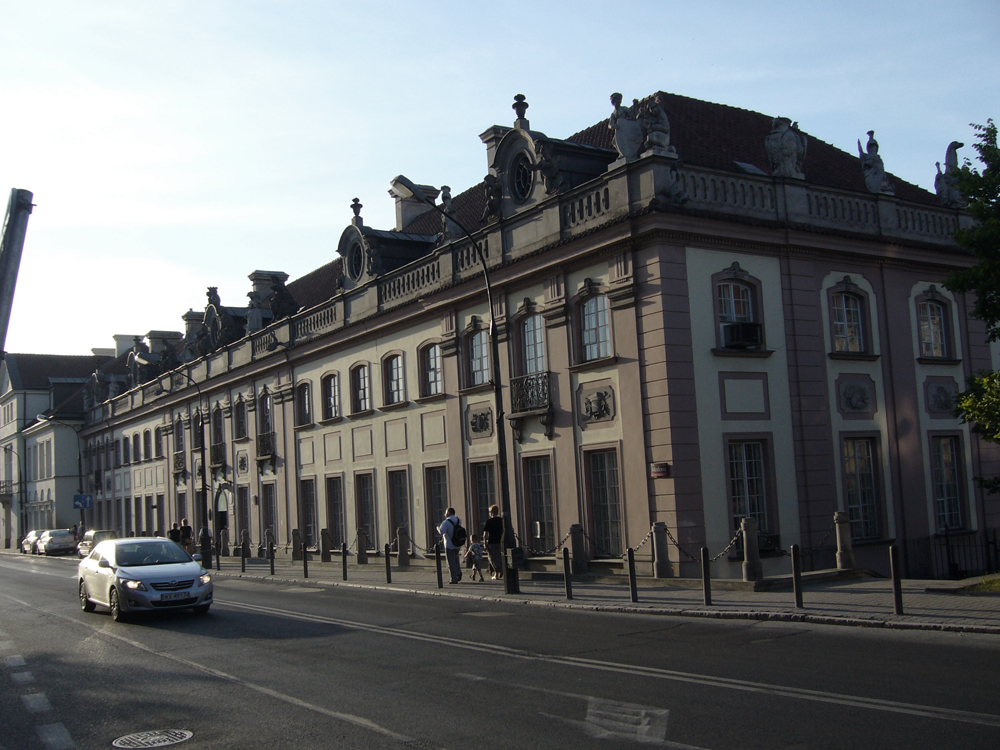 Branicki Palace on Miodowa Street. It was built in 1740 in French rococo style and now houses the City Hall. It was detroyed by the Germans, but was rebuilt in 1967 based on paintings by Bernardo Belotto.
Pope John Paul II:s parish, before he became the pope.
A memorial to John Paul II above the entrance to the parish church.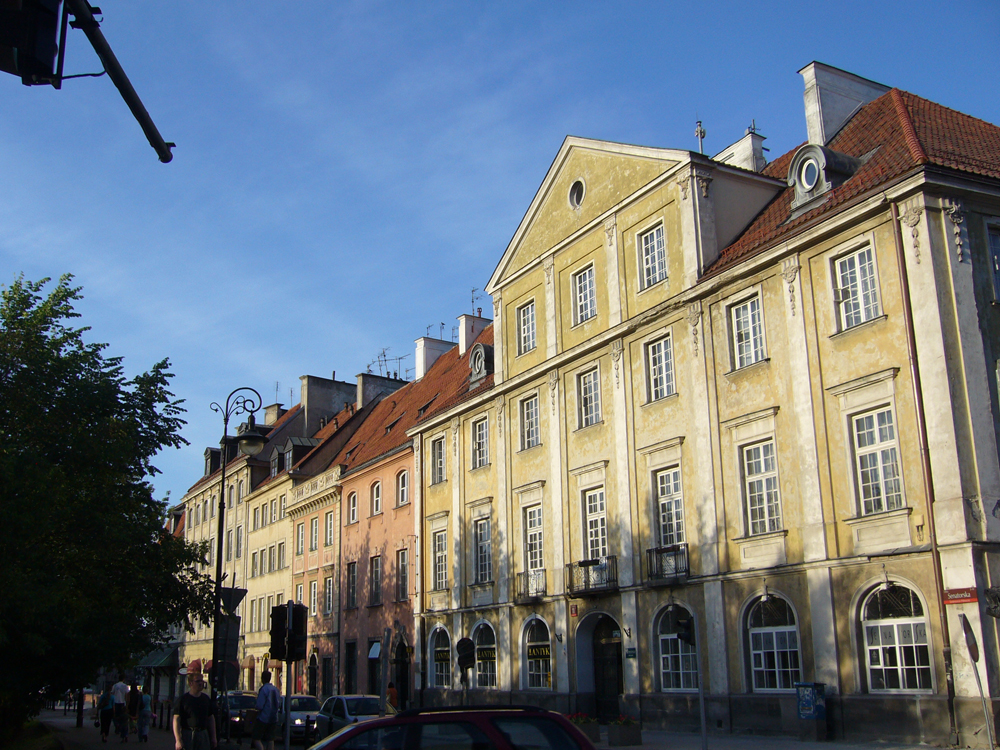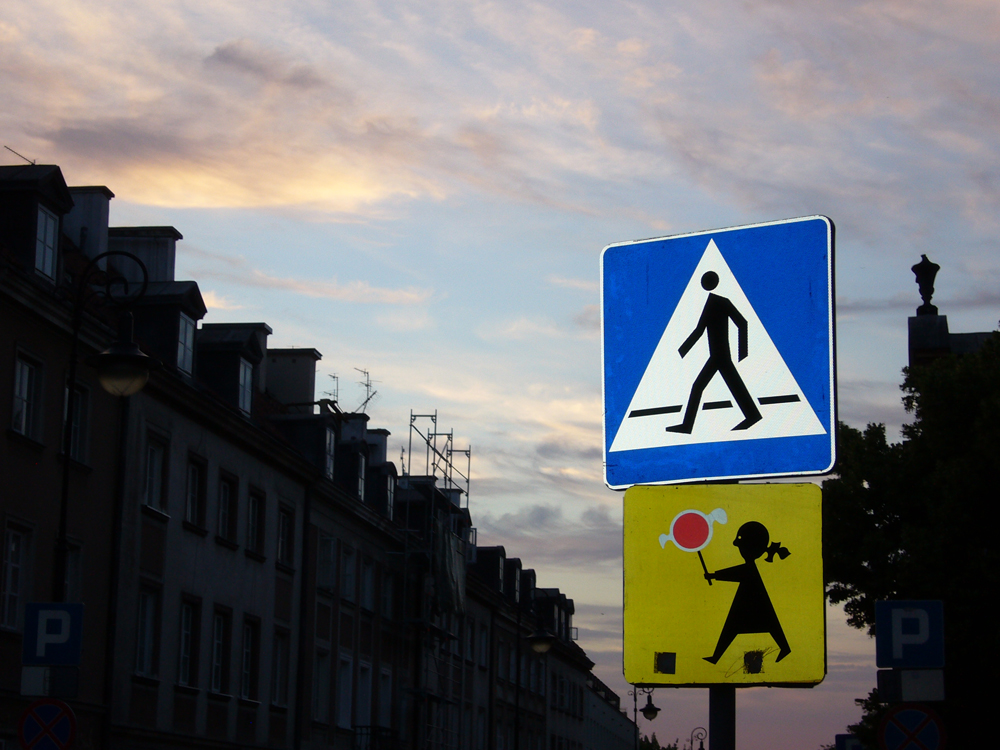 A beer in front of the bears in front of Royal Castle.