Kista
Kista is a very northern suburb, bought by the city of Stockholm in the 70s. Here you find Stockholm's tallest skyscrapers, Kista Science Tower, Victoria Tower (that were not built at the time) and Kista Towers (under construction, completion 2015). In 2003 I had the opportunity to stay in the home of "Swede", one of the members of the famous Skyscraperpage forum. It took 20 minutes to get to Stockholm´s city center by subway from Kista. Unfortunately I only had a 0.3 MP digicam back then, hence the quality of the photos!

This is the center of Kista. Kista has one of Sweden´s largest shopping malls, Kistagallerian,
with about 140 stores and a food court. A lot of companies are located in Kista, many of them in
the new Kista Science Tower (picture).

Kista Science Tower was the tallest building in Scandinavia upon my visit
(surpassed by Turning Torso in Malmö 2005) and Sweden´s
newest skyscraper. KST is 117.2m tall to the roof (147m to the mast) and have 34 floors,
but was not completed until 2004 though the facade was almost finished when
the photo was taken. Another taller skyscraper, Victoria Tower, has been built in Kista
after this visit that is 2 dm taller (117.4m) to the roof.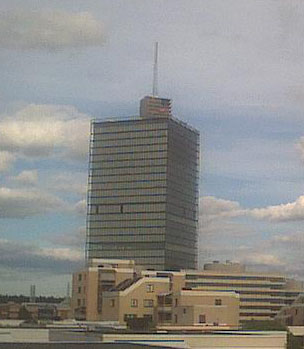 Best of all: there were great views of this elegant building from Swede´s residence.
KST:s lobby is open for public and we went inside. In 2015 it is 3rd tallest in
Stockholm to roof height, but still tallest if you count the mast (second to Turning Torso, Malmö).
Kista skyline in the distance beyond central Stockholm, seen from Skyview on top of Ericsson Globe. The skyscraper to the left is Kista Science Tower (117.2m, 30 floors) and the one to the left is Victoria Tower (117.4m, 33 floors). Victoria Tower hosts a Scandic Hotel and was completed in 2011. Kista Towers will be completed in 2015, with the tallest tower second tallest in Sweden (120m, 35 floors).

Kista, views over the suburb from Swede´s window.

RINKEBY. This highrise suburb seen from Swede´s window, is located just north of Kista.