Parc de la Villette
Parc de la Villette. A huge area in the north outskirts of the city with exhibition halls, theatres, museums, a 3D cinema, a libray, a concert hall and other attractions with connections to science and art. It was transformed by Bernard Tschumi from a slaughterhouse and cattle market to this huge theme park. As I totally missed it the last time I was in Paris, I decided to go there now. However, there was a lack of time just like then, so only saw a small, but central, part of it.

Cité des Sciences, the huge science museum of Parc de la Villette. It is 40 m tall, and has 3 floors.
The building is surrounded by a moat. Walkways connects the museum at different levels
with the park and La Géode. It was designed by Adrien Fainsilber.

Inside the huge grand hall of Cité des Sciences. I wanted to see the rocket Ariane, but we decided to skip going inside since we didn't have much time.
A Star Wars exhibiton was going on, there is airplanes and a planetarium in the building, that was the largest slaughterhouse in the area.
Greenhouses, libraries and conference rooms are contained in the building.

La Géode. This famous chrome globe has a 3D cinema inside that shows movies about nature, travels and space. Its façade mirrors the sky and the surroundings.
It has a diameter of 36 m.

Cité des Sciences mirroring in La Géode. This image is a symbol of science and art combined.

Bercy
Now we are going over the bridge Pont de Gaulle.


Bercy is the district on the north bank of Seine with a small cluster with modern highrises buildings. The place just in front of the buildings is called Quai de la Rapée.

Bercy's skyline from the bridge.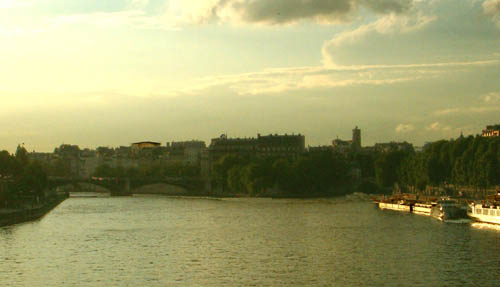 Ile St-Louis, another island in Seine.



Tour Jussieu and Tour Eiffel seen from Seine's south bank.



A rainbow high over Seine and Biblioteque Nationale du France.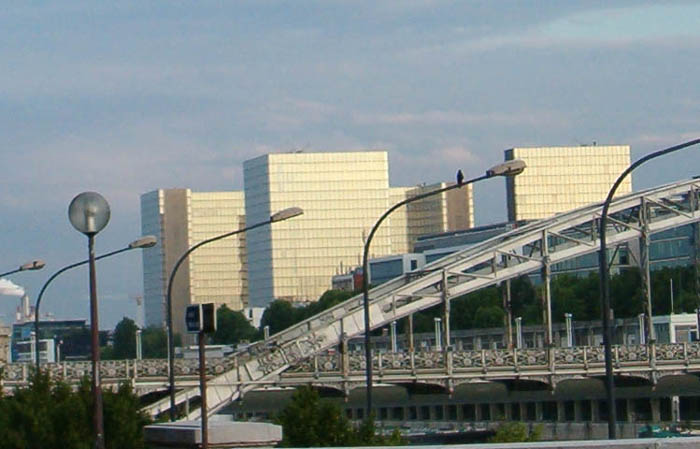 Biblioteque Nationale du France Francois Mitterand is the new national library of France from 1995. It was built since the original national library in the opera district was too crowded. The four towers, 80m and 22 floors each, are designed like a L to look like 4 books and contains over 400 000 titles.
Belleville
Belleville is the most cosmopolitan area in Paris. Don´t trust tourist guides that says Belleville is shabby and dangerous, cause it´s a very charming area and includes Paris own Chinatown with nice Chinese restaurants. Belleville reflects Paris every day life.
We only visited Belleville once during a demonstration, but in 2000 I was there several times. Unfortunately I have no pictures of Belleville.
Around Jardin du Plantes
We are walking along the Seine on the south bank. There is a small park on the shore called Jardin Tino Rossi where people are performing music (jazz of course), sports and art.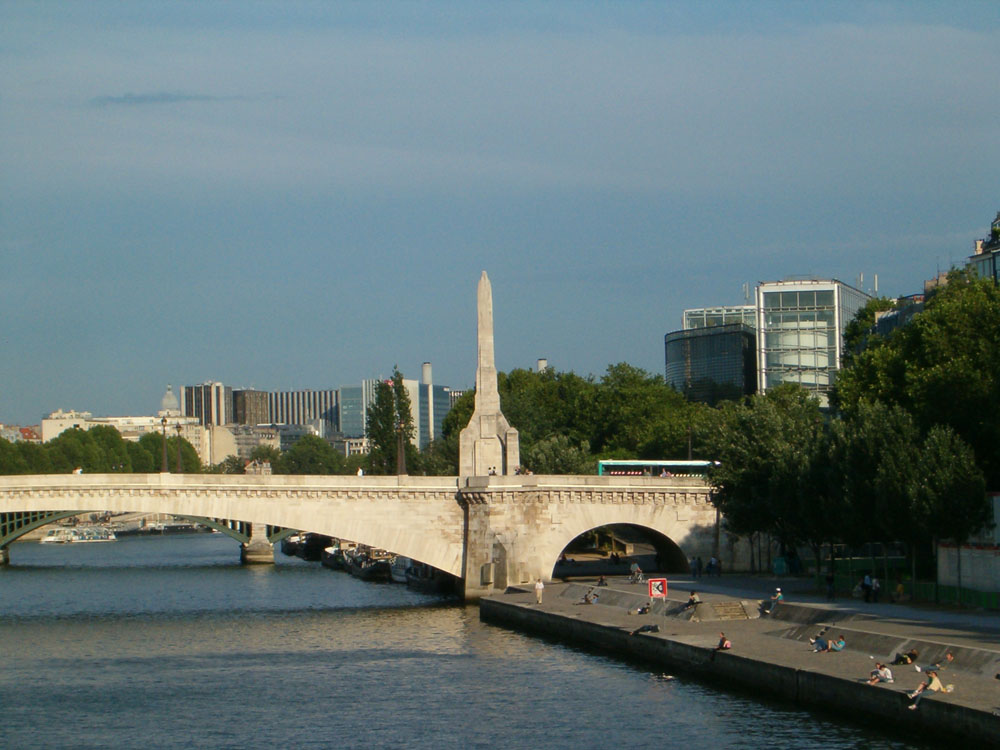 The statue of Ste Geneviève, that has been worshipped by the Parisians for centuries. I think it that looks like a skyscraper, a sword or may be a rocket.



The silhouette of the same sculpture and Nôtre-Dame.



Institut du Monde Arabe. A culture institute from 1980 drawn by Jean Nouvel. It is very famous for its Arabian architecture that is not so visible from the bank of Seine.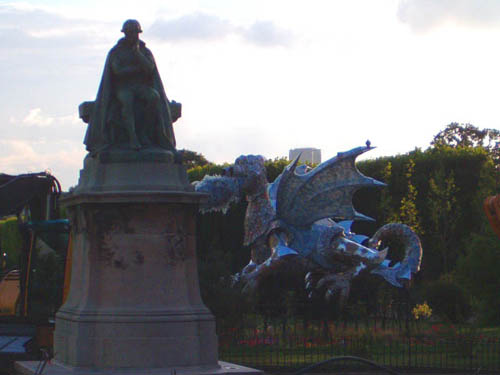 Jardin du Plantes. The sculptures look cool, but the park at Seine's south bank is under reconstruction.
Parc Monceau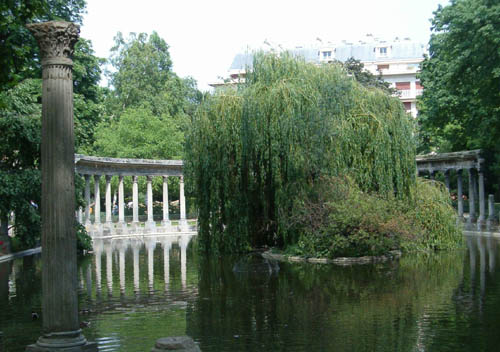 Parc Monceau is situated in the north outskirts of central Paris. The park was nice, but nothing special except for this classical Greece arcade.
And we got filmed by a camera team in the park!

The entrance to Parc de Monceau. The rotunda was formerly a dancing pavilion, but now a toilet!



A Rolls-Royce and a Cadillac that were waiting for a wedding couple, reminded me of how few luxury cars Paris has compared to for example London or Monaco.