This page is about Montparnasse, Quartier Luxembourg and Quartier Latin. These three districts are situated in the same part of Paris, south of River Seine.
Quartier Luxembourg
The Luxembourg district, just east of Montparnasse, is a relaxed and exclusive area in Paris consisting of the park Jardin de Luxembourg and elegant buildings.




Jardin du Luxembourg. It is a very popular park to relax in with flowers and sculptures on the south bank of Seine. It was hot as hell when we were there. In the far background to the right, you can see the top of the Eiffel Tower. Jardin de Luxembourg is one of Paris few (yes it´s true) real parks.
Sculptures and Tour Montparnasse can here be seen from the park.



Palais du Luxembourg in Jardin du Luxembourg. The palace was originally built for Maria of Medici, but she was banned before it was completed and today it hosts the senate.

Jardin du Luxembourg

Place Edmond Rostand. To the right is the gate to Jardin du Luxembourg. The place has a special fish fountain in the middle of the heavy traffic.



Institute Oceanographique.
Quartier Latin
Quartier Latin, just between Luxembourg and Seine, is nice, bu a little bit overrated in my opinion. It is partly hilly and have cinemas, jazz clubs, cafées.
Panthéon is situated between Jardin de Luxembourg, Quartier Latin and Seine. This classic domed church, inspired by St Paul´s cathedral in London, was built at Ludvig XV:s commission to honour his own life after a bad disease. When the building was completed in 1790, it didn´t take long before the church was converted into a pantheon, a memorial for France´s great men and women. They are buried in the crypt beneath the building, that is divided in galleries, parted by dorian colons. In 1885, it was declared a communal building. I was inside, but never went down to the crypt as it was too expensive.

Walking through the streets of Quartier Latin to...



Panthéon, where many of Paris most famous citizens are buried; Voltaire, Rousseau, Victor Hugo, Marie Curie, Molin…

Panthéon. Built between 1758 and 1789 and drawn by Jean-Jacques Soufflot. It was originally a church built to the honour of Ste Genèvieve. It has similarities to the even more famous Pantheon in Rome. The building has a huge exterior, that I visited in 2000. It wanted to take a photo of it, but it was closed at the time we was there in 2006.



Part of Panthéon.



Panthéon was built in the same classic style as St Paul's Cathedral in London, Dôme des Invalides in Paris and US Capitol in Washington.



The building's entrance has 22 Corinthian colons.



Looking towards Tour Eiffel from Panthéon.




Panthéon from a distance. It is 53m to the top of the spire.
Montparnasse
In this area Paris tallest skyscraper is situated. That is why it is mostly concentrated on this. Montparnasse is both modern and oldfashioned and features a large churchyard right next to Tour Montparnasse. The large brand of the famous department store Galeries Lafayette is also located here. There are many cafés in Montparnasse, and it used to be a big arts district.
When it was starting to get dark (June 2006), we took the metro to Montparnasse to get up Tour Montparnasse.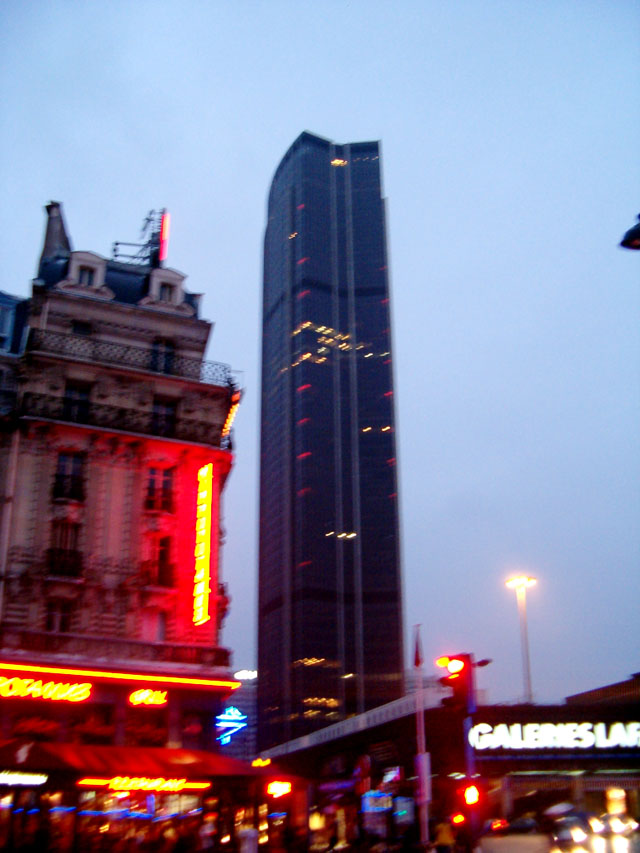 Tour Montparnasse is France´s tallest building (since Eiffel Tower is a monument, not a building). It is 210m tall and has 59 floors. It was completed in 1972. It was the tallest building in Europe outside Russia between 1972, when it was completed, and 1990. As you can see, it has some red lights after dark.



Unfortunately we couldn't go up to the observation deck, because the woman in the reception told us that the weather was so bad up there, that we should not be able to see anything from the observation deck. Otherwise, this skyscraper is a good choice to the Eiffel Tower (if you already have been there of course) since there is almost no queue and it costs just about the half of the price to get up there. You can also see the whole Eiffel Tower, that you can't do from the Eiffel Tower of course. I was at the indoor observation deck on the 58th floor back in 2000 and on the observation deck on the roof during the day (see photos below).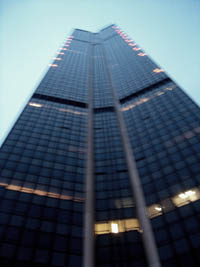 There have been some problems with the tower: Many citizens of Paris hate it since they mean it doesn't fit in the landscape, that is bullshit in my opinion. I think it is a modern elegant glass building that is one of the few impressive skyscrapers within Paris city borders. In 2005, it was discovered that there was a lot of the dangerous material asbestos in the tower. Unfortunately the building must be empty for 3 years to remove all the asbestos. I hope that this wont make mayor decide to tear the building, that is one of Paris great landmarks, down.

Some weird nightclub in Montparnasse.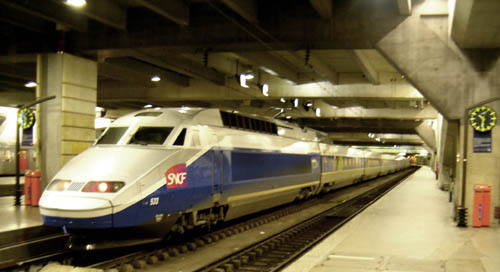 A TGV train at Gare Montparnasse, also called Gare TGV because of its many high speed trains. The TGV trains were one of the first high speed trains in the world. SNCF is the national rail operator and also operates the TGV trains. The train usually travels at 320km/h, but can go as fast as in 500km/h!

Some old photos of Tour Montparnasse from June 2000 (sorry about the low quality):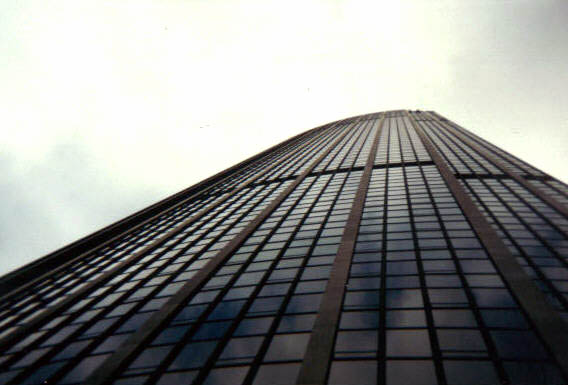 Tour Montparnasse from below at daytime. The 56th floor is open to public, and so are the 59th floor, that is outdoors on the roof. To get there you have to walk through a very narrow stairway.

Views from the rooftop at Tour Montparnasse´s 59th floor. You can see the edge of the roof at this picture. More of this in the skylines section.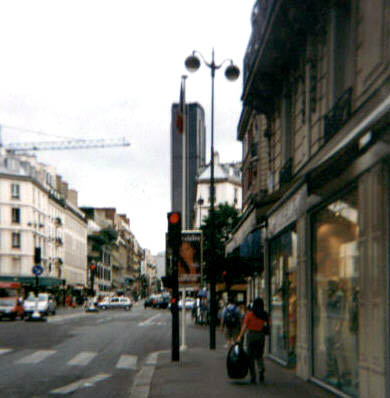 A street in Montparnasse with Tour Montparnasse in the background. The tower looks especially tall because there are very few tall buildings in the surroundings.