Öresundsbron
(The Ore Sound Bridge)

Öresundsbron, the bridge that connects Denmark with Sweden. It goes from Malmö's southwest outskirts to Copenhagen's east suburbs. It is one of the
world´s longest (7 845 m) and tallest bridges and Scandinavia´s 3rd tallest structure with its height of 204 meters (Stora Bältbron and Hörbymasten are taller).
The under deck of the bridge and the center of the tunnel are for trains, while the cars drive on theroad above. Most of the bridge, including the 2 columns,
is on the Swedish side. When the bridge just have reached Denmark from Sweden, it transforms to a common highway and railway on the artificial island
Pepparholmen (just built for the bridge). Then the roads go down in a tunnel. Completed in 2000, the bridge has been discussed about for decades before
being built. There have been a lot of people demonstrating against the bridge, but most people like it now when it is completed. But it is very expensive
to drive over.


Öresundsbron seen from Malmö´s southern suburb village Klagshamn.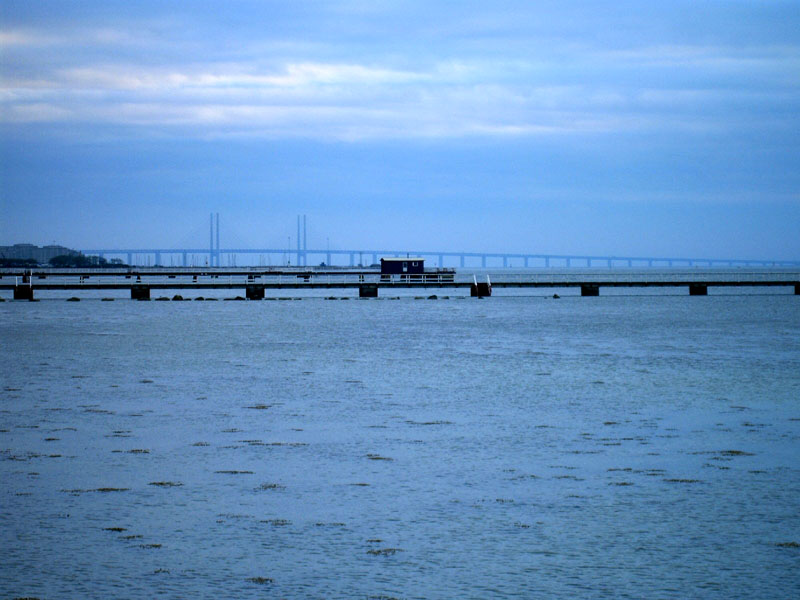 Öresundsbron seen from Ribersborg beach.
Öresundsbron seen from Ön.

The rest are taken from Brofästet, the site in southern Malmö for tourists to watch the bridge.



Since the bridge was built, the traffic in Malmö has increased very much and a lot of new contruction has
began. Many people commute between Denmark and Sweden every day now, as Copenhagen and Malmö
now is considered one region, called Örestad. However, a new small ferry line will also be started this summer
in Malmö/Cph to compete with the bridge.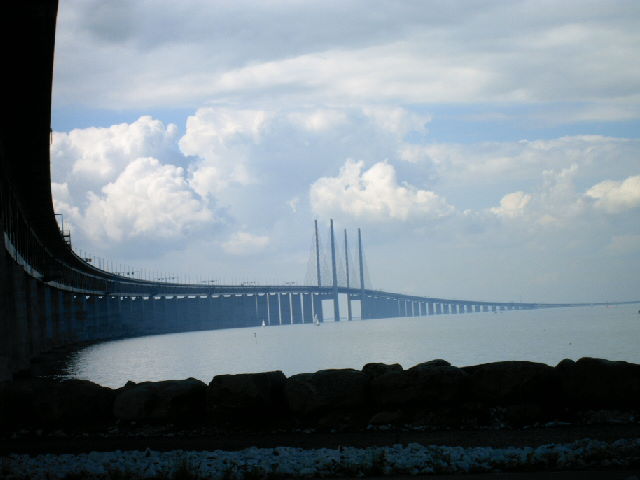 Close-ups of the bridge from beneath:


From right beneath the bridge!



From south of the bridge(the rest are from the north). Here you can study the details:

This is the road above the railway. Look at the signs.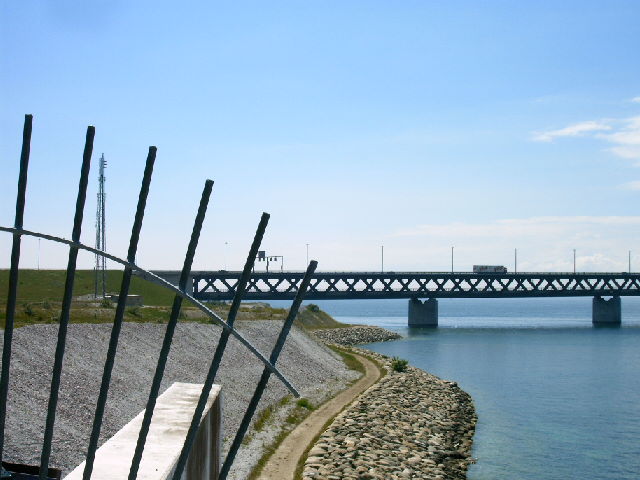 Here you can see, the trains runs below the road.



Brofästet´s view point.



This restaurant at brofästet is located beneath the view point. Look at the bridge mirroring in the windows.
Malmö skyline from the south, you can see Hyllie Vattentorn and Turning Torso at the same time. This is the
site were the now cancelled Scandinavian Tower would be built.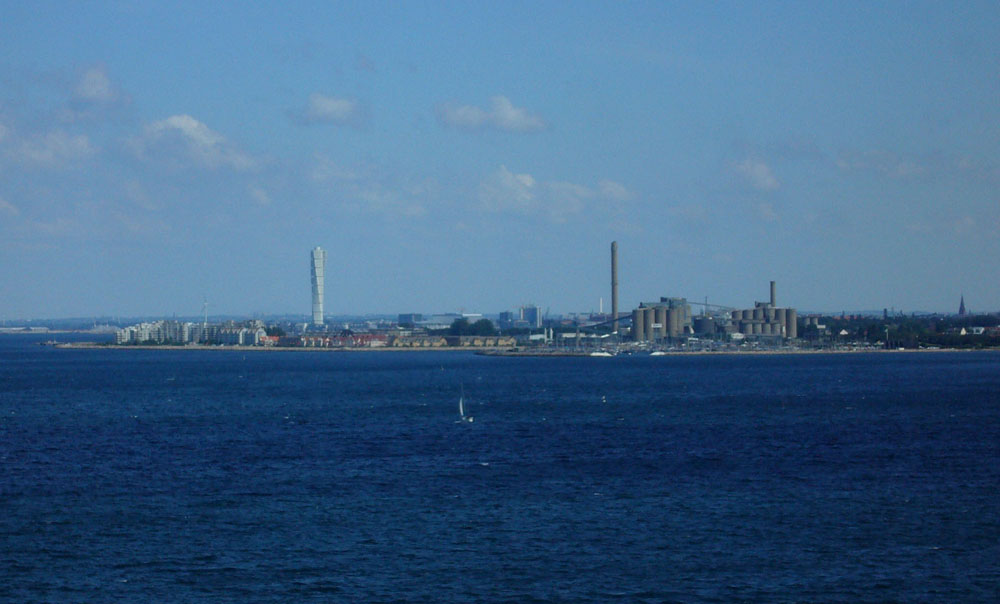 This is how Malmö's skyline looks from the highway on the bridge. Turning Torso is totally dominating.
Website:http://www.oresundsbron.com/bron_intro.htm
For more facts about the bridge (in Swedish), visit: http://www.scania.org/bridge/fakta.htm