Madrid by night - part 2
- Palacio Real, Plaza de Oriente, Plaza de Espana, Plaza de Santa Ana, Plaza de la Villa, Puerta del Sol, Plaza Mayor, Reina Sofia, Barajas
Madrid really comes alive in the evening. The city center is crowded with people as Madrid is one of the cities with the most vibrant nighlife in the world. Many of Madrid's magnificent buildings are illuminated, especially at Gran Via, Calle Alcalá and the large plazas in the city center. It is comparatively safe to go out at night, considering the size of the city because so many people are out on the streets, even in the metro.
Palacio - around the Royal Palace:
Palacio Real, The Royal Palace. The largest palace of its kind in Europe.
Almudena Cathedral.
Close-up of Almudena.
Almudena Cathedral and the south part of Palacio Real from Calle de Bailén.
Plaza de Santiago.
Plaza de Oriente.
Plaza de Oriente with the National Theatre.
Puerta del Sol:
Puerta del Sol is an even more lively place by night.
This is the always busy -24 hours a day, 7 days a week- Calle de Preciados, leading from Sol to Plaza del Callao.
El Corte Inglés (left) has a large branch on Puerta del Sol.
Plaza de Santa Ana:
Hotel Reina Victoria looks fabulous nighttime.

Reina Victoria has a very nice light scheme after dark.
Teatro Español (Spanish Theater). It was built in 1804 after the previous building burned down. In 1975 it was damaged by another large fire, and was repaired.
A nice restaurant at Plaza de Santa Ana. In Madrid, the Spanish culture is thrieving with its classical interior.
Hotel Alicia, a building with changing neon lights, from green to yellow to violet.
Calle de Nuñez de Arce. In Spain Garbage truck are in operation late evenings, several days a week.
An "ice" bar at a hotel between Plaza Santa Ana and Plaza Canovas. Everything is made of glass.
Plaza de Espana:
Edificio España.
Plaza de España is the end/beginning of Gran Via and a meeting place at night.
The fountain and the Cervantes monument by night.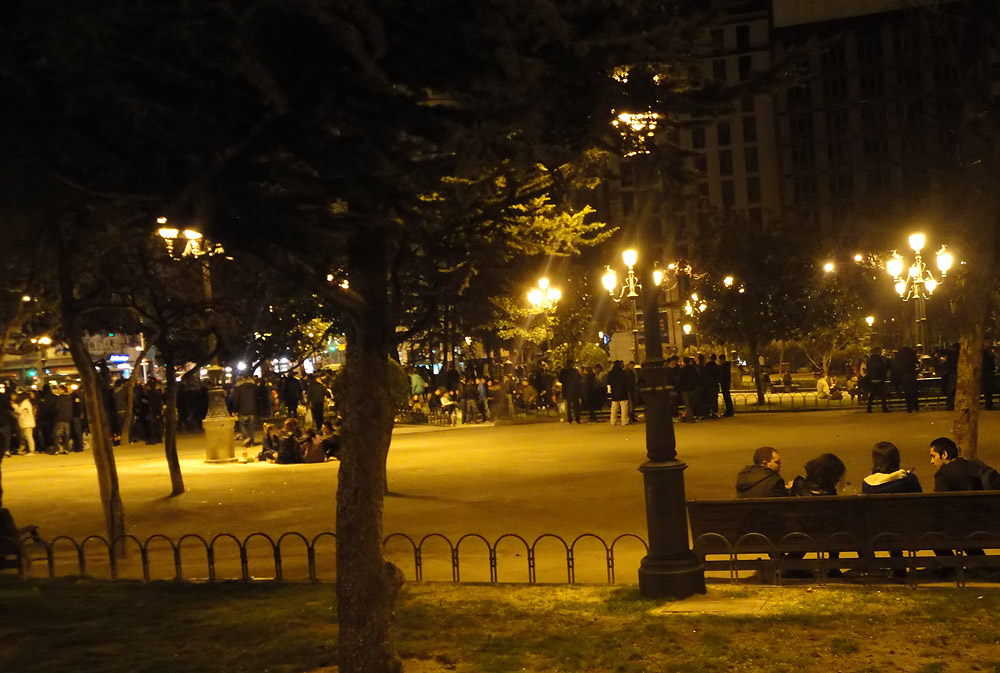 People partying a Friday.
Illuminated exteriors at Plaza España.
Our hotel:

Mercure Hotel Madrid Plaza de Espana is the full name of the 4 star hotel where me and my girlfriend stayed. It has nice interior and friendly staff, but is a bit worn.
It has only 97 rooms, so it is not very big, but it has about 5 floors.
The view from the hotel towards Ventura Rodriguez. To the right is the backside of Plaza de Espana.
Mercure is a French hotel chain.
Calle las Huertas and Canizares
Las Huertas is a very nice, narrow street, parallel to Calle de Atocha. It begins at the beautiful Plaza del Angel and ends at Plaza Plateria Martinez in
front of the Prado Museum.
Huertas is one of Madrid's nicest streets with its old fashioned lights and trees.
Il Piccolino della Farfalla. A small restaurant at Huertas, the name means something with the butterfly. A cozy place were we ordered steak with potatoes.
Cat's Hostel at Cañizares. The moorish architecture is visible everywhere, truly unique. I met people mostly form Brazil and Mexico, but also France and Peru.
I stayed there the last days, since my girlfriend had to leave earlier, so we had to check out of Mercure.
Plaza de la Villa:
Plaza de la Villa (Town Square) is a small picturesque square next to Calle Mayor, just a few blocks west of the more famous Puerta del Sol. Many old
beautiful buildings are at the square. Plaza de la Villa reminds of Toledo, an old city near Madrid that I also visited.
The beautiful Plaza de la Villa with the old Town House to the right. The statue is Admiral Alvaro de Bazan, who plan to invade England.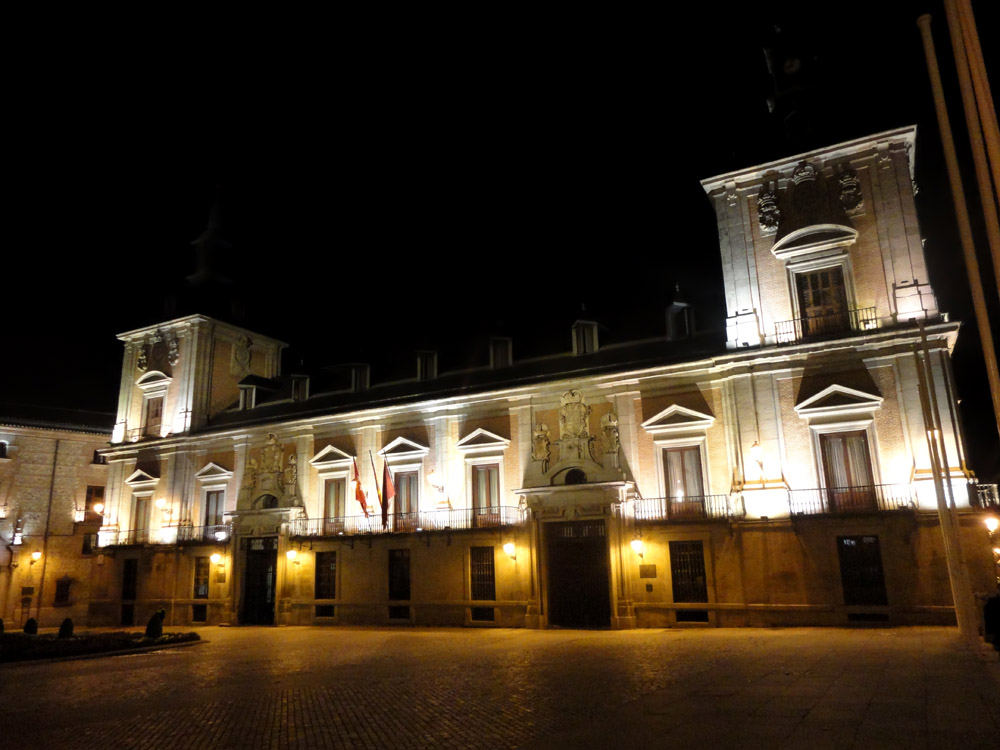 Casa de la Villa, The Old Town Hall. It was town hall until Palacio de Communicaciones took over in 2007. It has served as both town hall and prizon.
Torre de los Lujanes. The oldest building on the square, built in the 15th century i Mujedar style.

Calle Mayor:
Calle Mayor.
A beautiful church at Calle Mayor, near Plaza de la Villa.
Plaza Mayor:
There are more people on Plaza Mayor in the evening then in the day.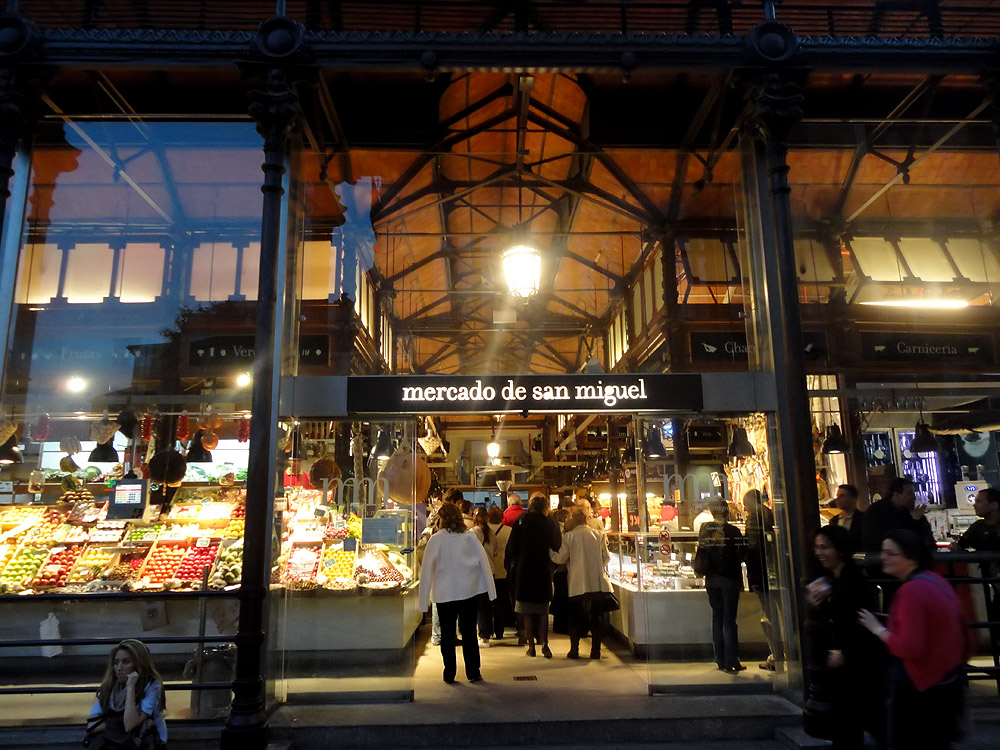 Mercado San Miguel is a very popular market hall inside an old building with a modern glass exterior.
Reina Sofia:
Reina Sofia National Museum. When the old hospital building was converted into a museum in 1990, glass elevator schaft were added to the exterior, illuminated in the night.
Here you can find some of the greatest works by Dalí, Picasso and Miró.
A strange old man with long hair was staring at us while we sat down at the plaza in front of Reina Sofia after closing time in the evening. He didn't want to leave us alone,
so we escaped and ended up at a restaurant in Calle de Atocha. The sculpture in front was originally at a world exhibition.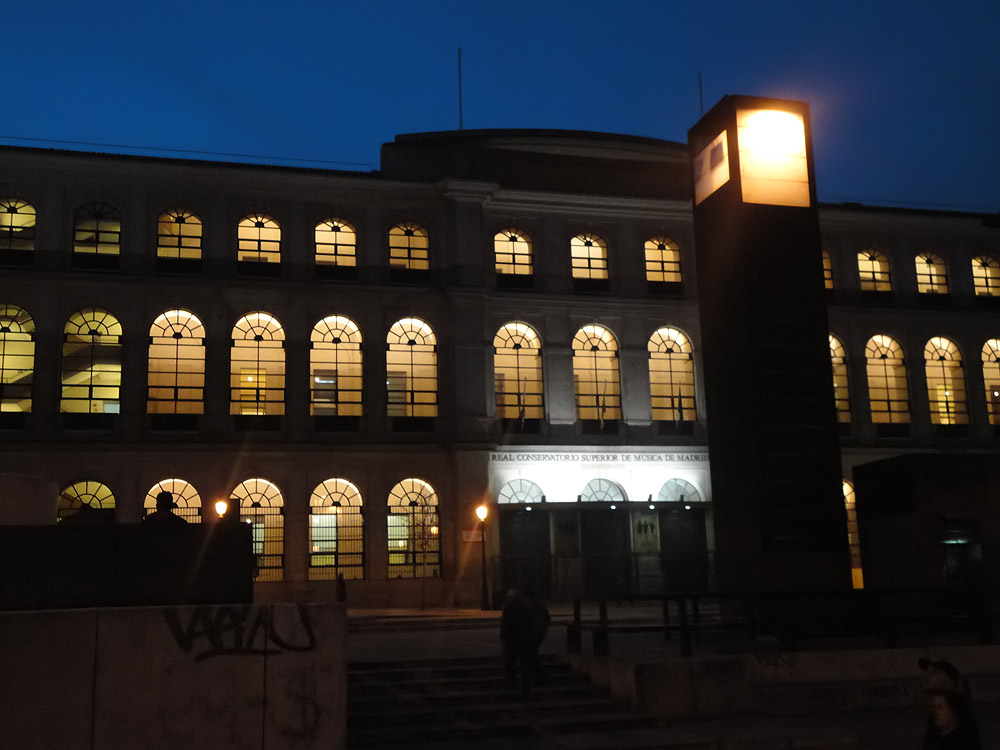 Real Conservatorio Superior de Musica de Madrid.
The vaulted halls of Reina Sofia, a former hospital.
The modern annex of Reina Sofia, where the conference center and the large library is.
Calle de Atocha is very lively even after dark. This is where we ended up after "escaping" from the strange man.
Barajas Airport:
Terminal 4, arrivals: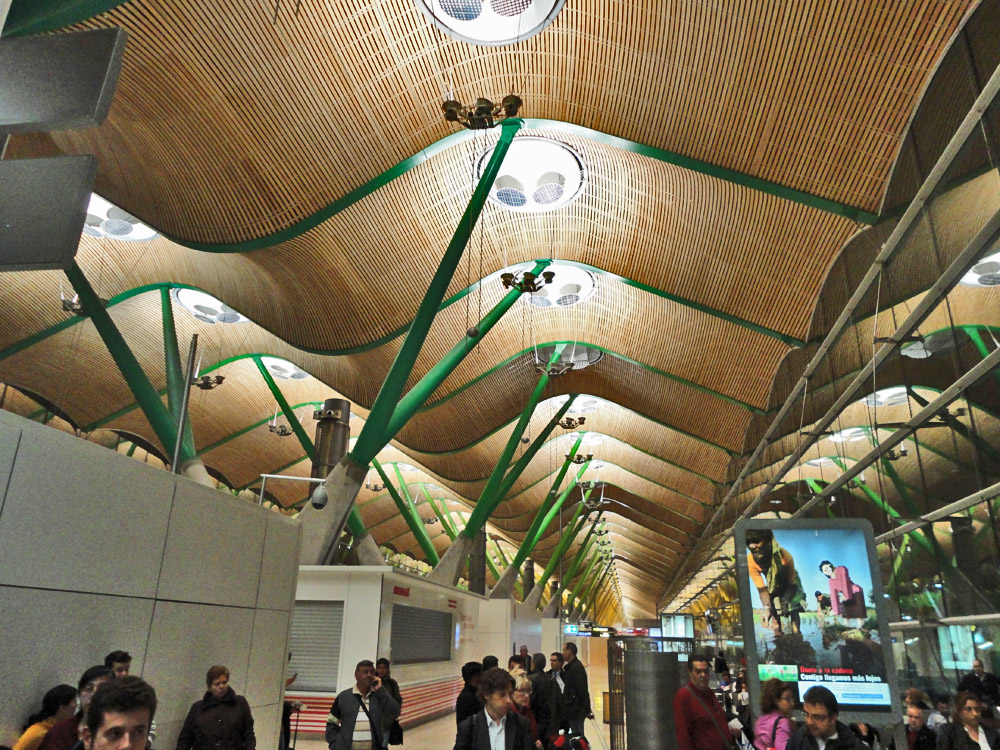 Barajas Terminal 4, were we arrived, were designed by the famous architects Richard Rogers and Antonio Lamela (but for a long time I thought Calatrava was the architect).
It opened in 2006.
Terminal 4 has glass walls that makes light slip in to create a stressful atmosphere. The structure has elements featuring a colour scheme including all the shades of the rainbow.
One of Barajas 3 metro stations.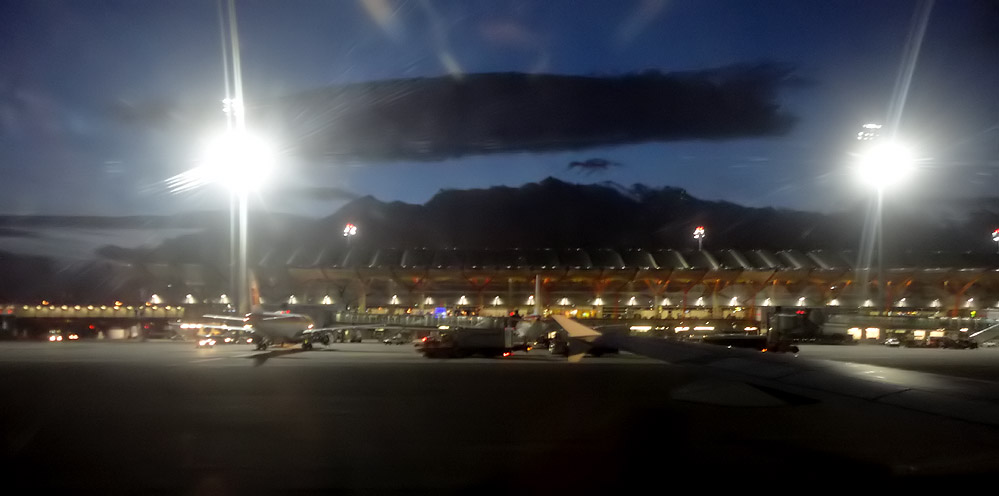 Terminal 4 on the Friday night we arrived.