Madrid by night - part 1
- Gran Via, Calle Alcala, Plaza Cibeles, Plaza Cañovas, Plaza Lealtad
Madrid really comes alive in the evening. The city center is crowded with people as Madrid is one of the cities with the most vibrant nighlife in the world. Many of Madrid's magnificent buildings are illuminated, especially at Gran Via, Calle Alcalá and the large plazas in the city center. It is comparatively safe to go out at night, considering the size of the city because so many people are out on the streets, even in the metro.
Gran Via:
At night Gran Via's grandiose facades are illuminated. Close to midnight the street is filled with beggars and diverse obscure persons. That was what we noticed when we had checked in to our hotel and wanted to go out a late evening in Madrid, beginning at Gran Via. Since we visited Madrid in February, it was possible to walk among all evening lights already around 7 o'clock when it turned dark.
The crossing Gran Via/Alcalá from Plaza Cibeles.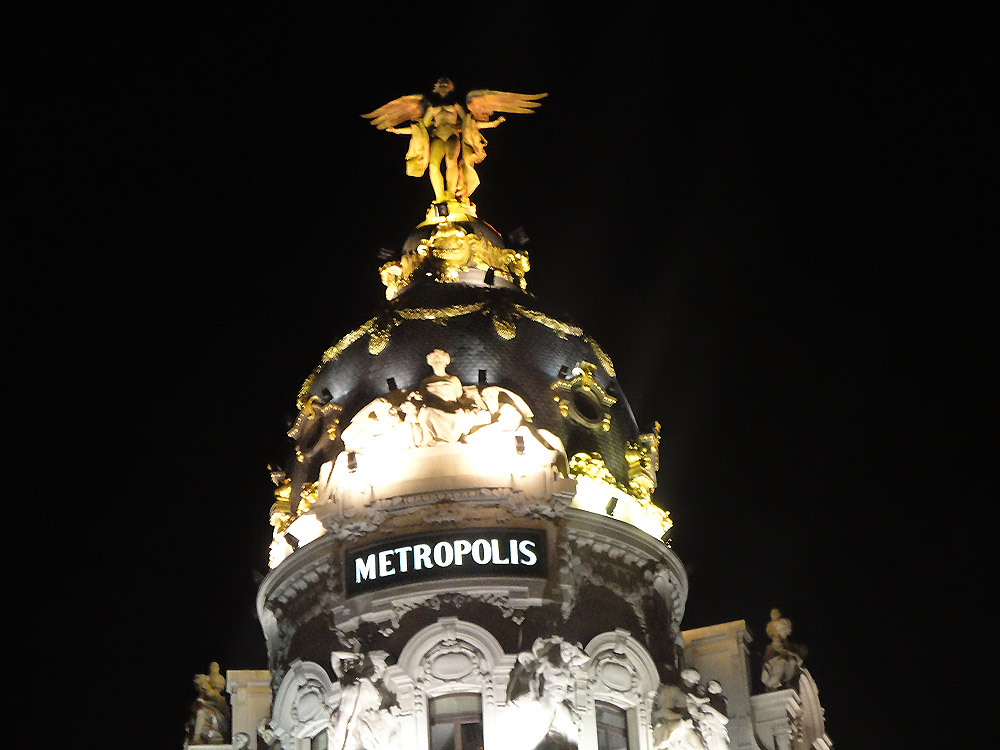 Edificio Metropolis.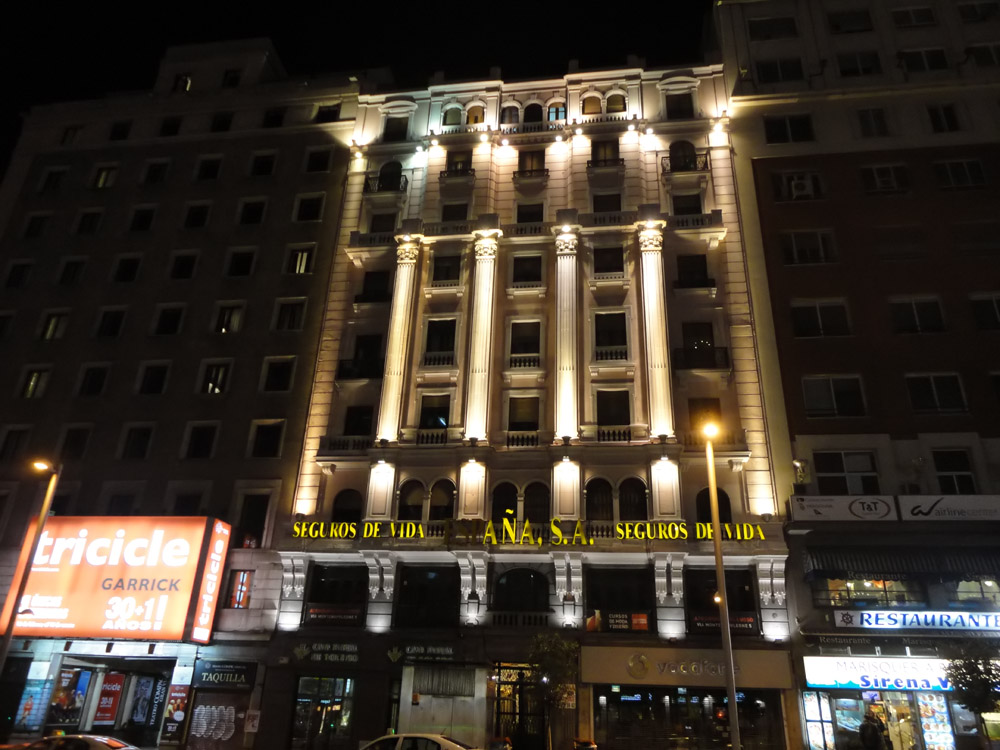 Gran Via by night.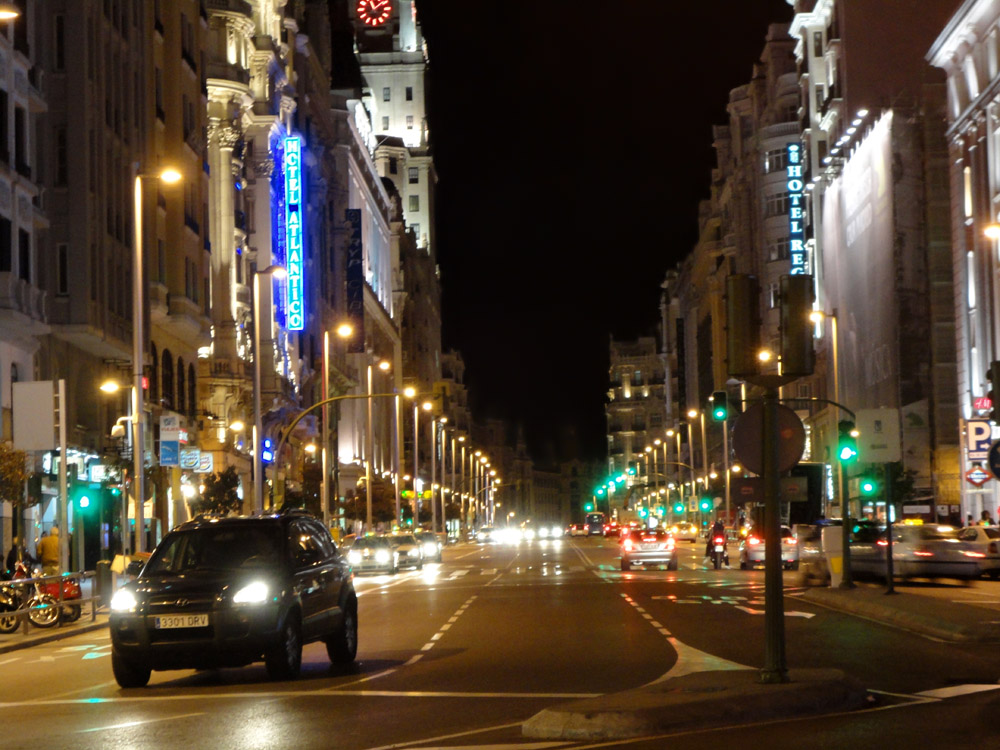 Plaza del Callao.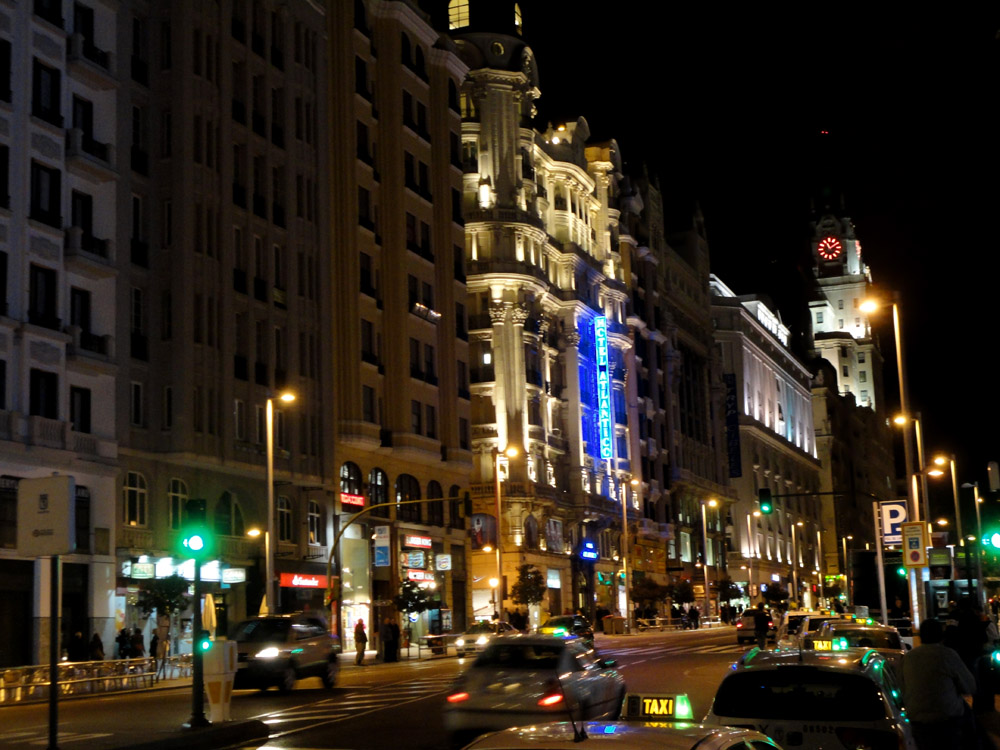 Callao towards Edificio Telefonica.
Plaza del Callao.
Torre Carrion with its blinking neon signs.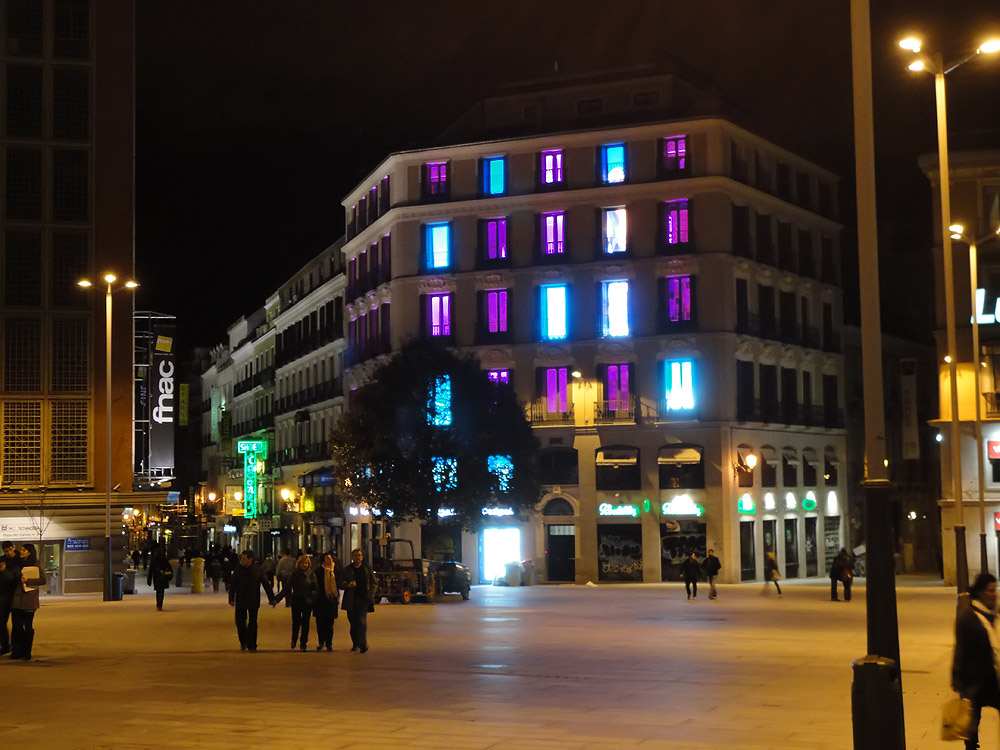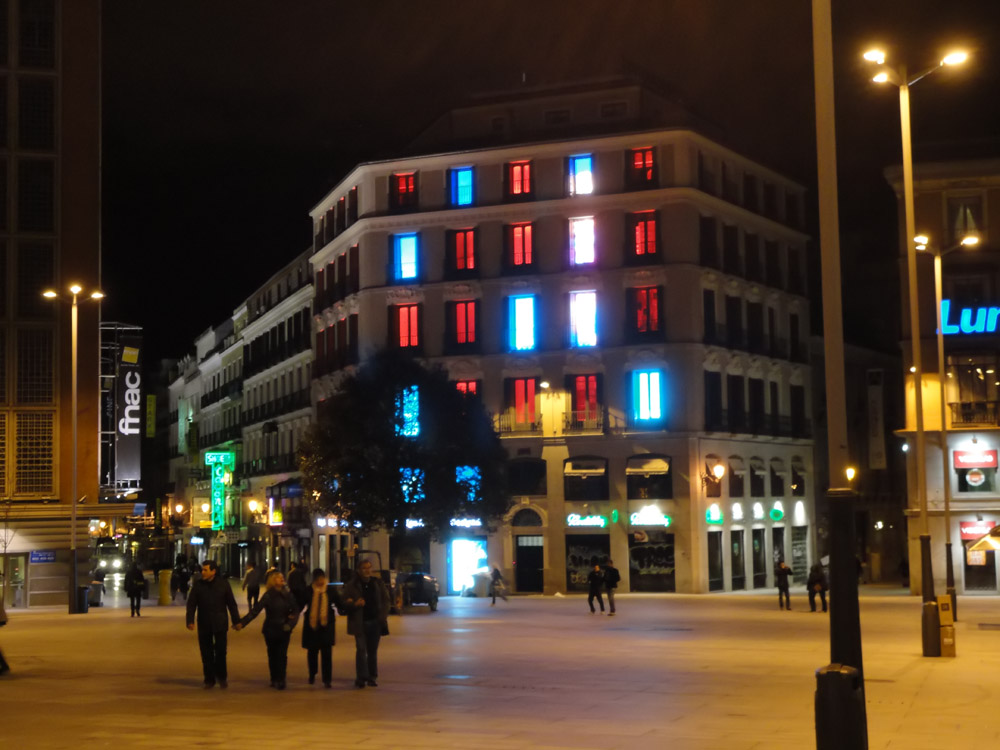 A building at Plaza del Callao with changing colour schemes.
Hotel Atlantico.
Edificio Telefonica. This classic landmark's bottom floor has a base with display windows that sometimes are flashing!
Here Edificio Telefonica's windows are back to normal.
Hotel Senator Gran Via.
Metropol Hostel, McDonalds and a garbage truck.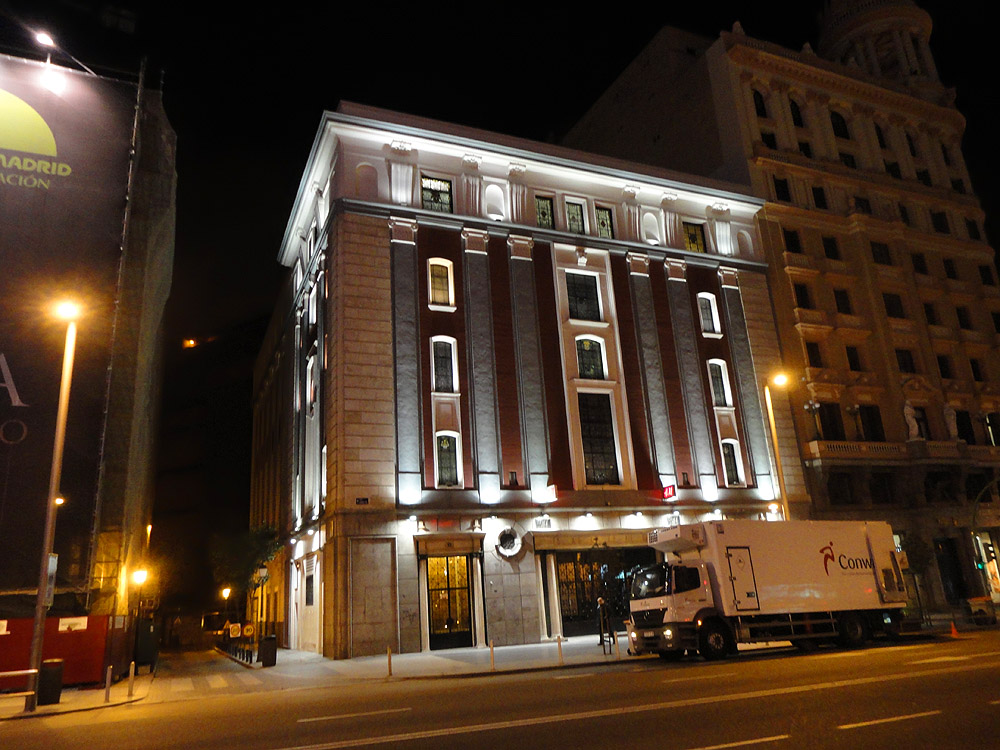 H&M, Swedish cloth brand.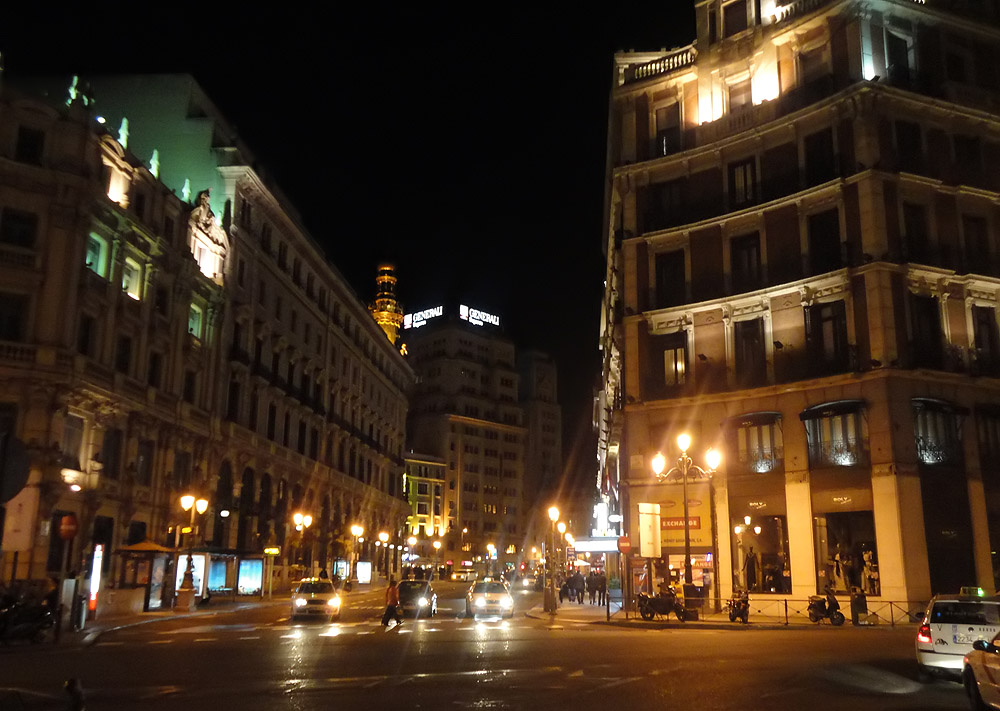 Plaza Canolejas.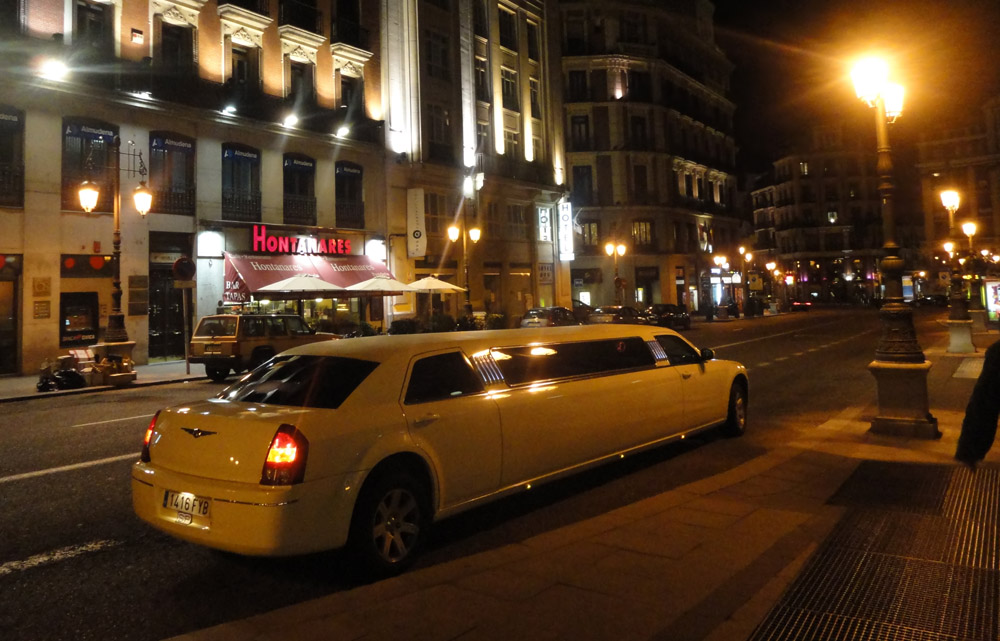 Limousines are not very common in Madrid.
Museo del Jarmon at Puerta del Sol.
Plaza de Cibeles: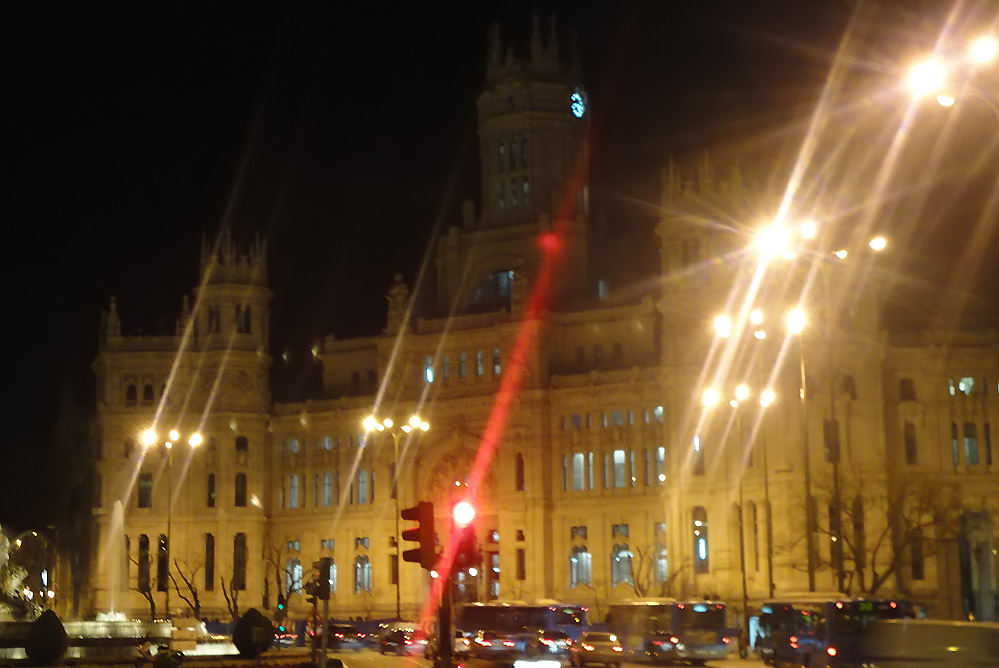 Palacio de Communicaciones, the City Hall by night.
Banco de Espana at Plaza de Cibeles.
Alcalá Gate at Plaza Independencia. In front is the Cibeles fountain at Plaza Cibeles, illuminated by night.
Plaza de Cánovas del Castillo:
Plaza Canovas del Castillo with the Palace Hotel.
The Ritz Hotel is situated between Plaza Canovas del Castillo and Plaza Lealtad.
The luxury hotels at Plaza Canovas del Castillo, seen from Carrera de San Jeronimo.
The Neptune fountain at Plaza Canovas del Castillo.
Hotel Villa Real.
Westin Palace Hotel.
Congreso de los Diputados, modern part.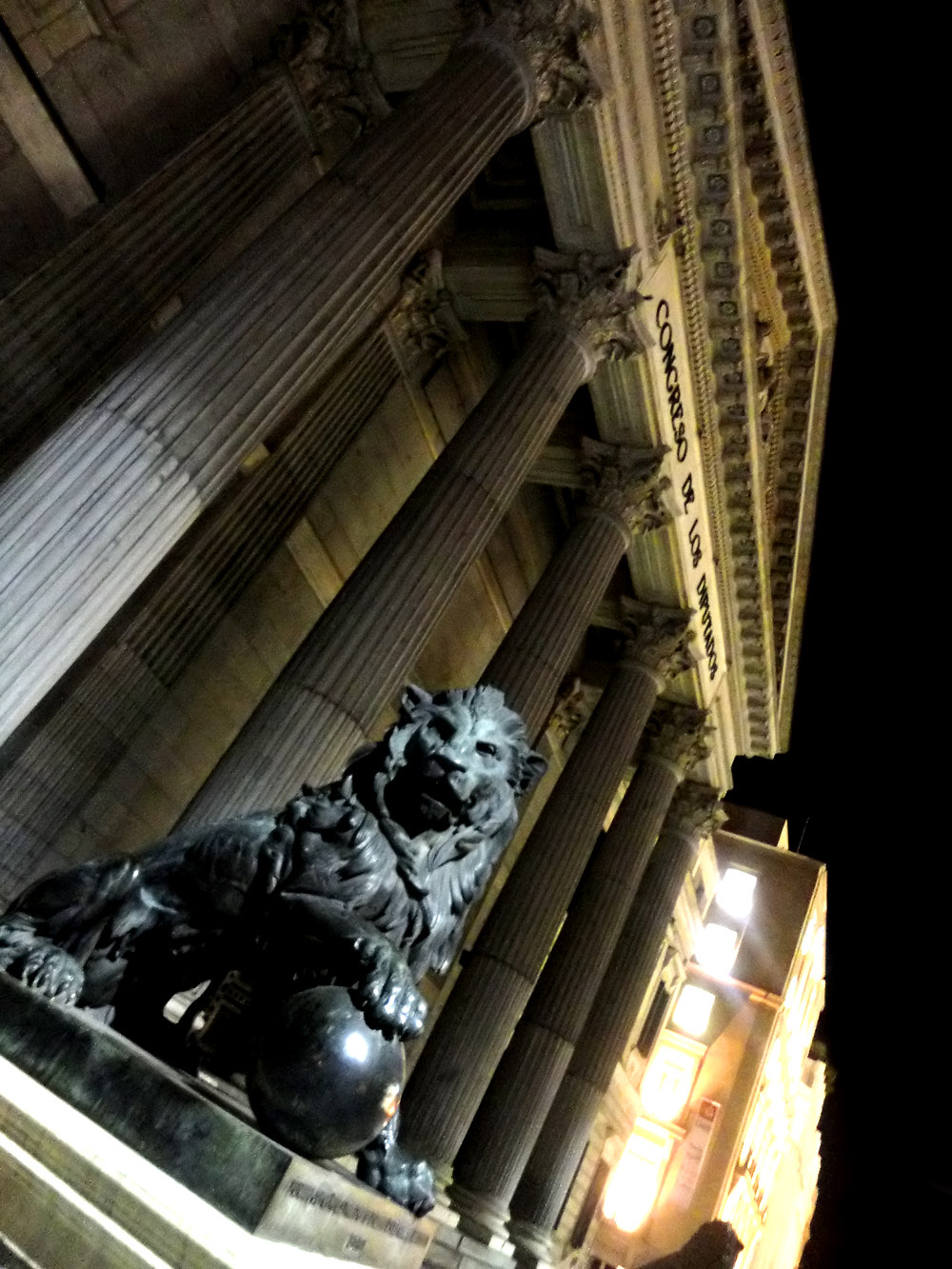 Congreso de los Diputados, old part.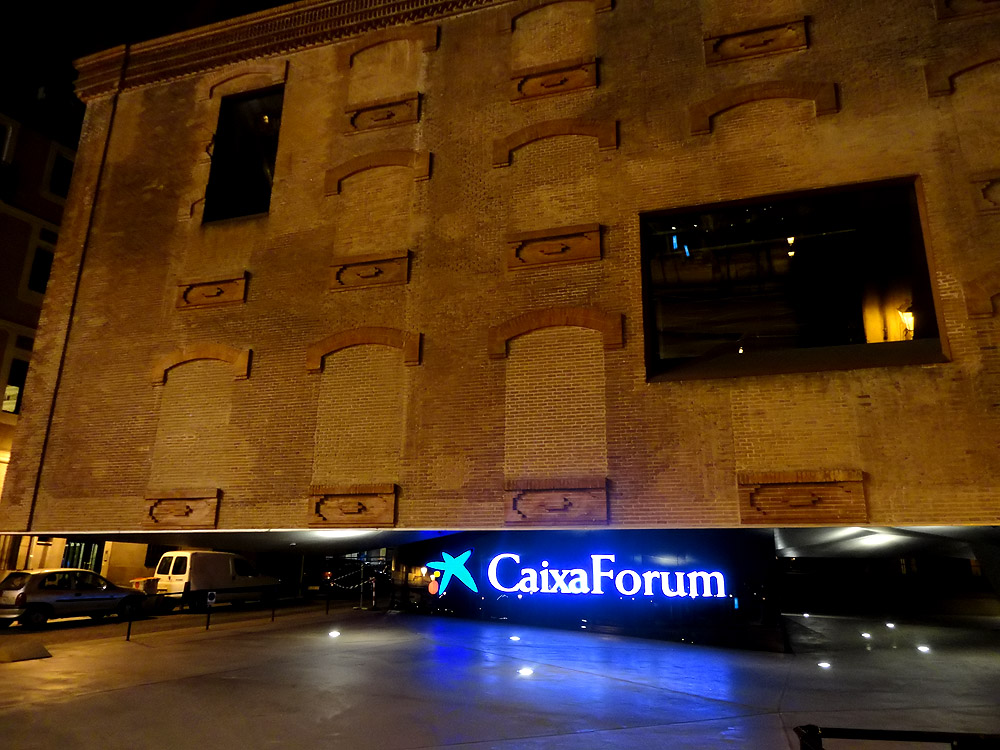 Caixa Forum.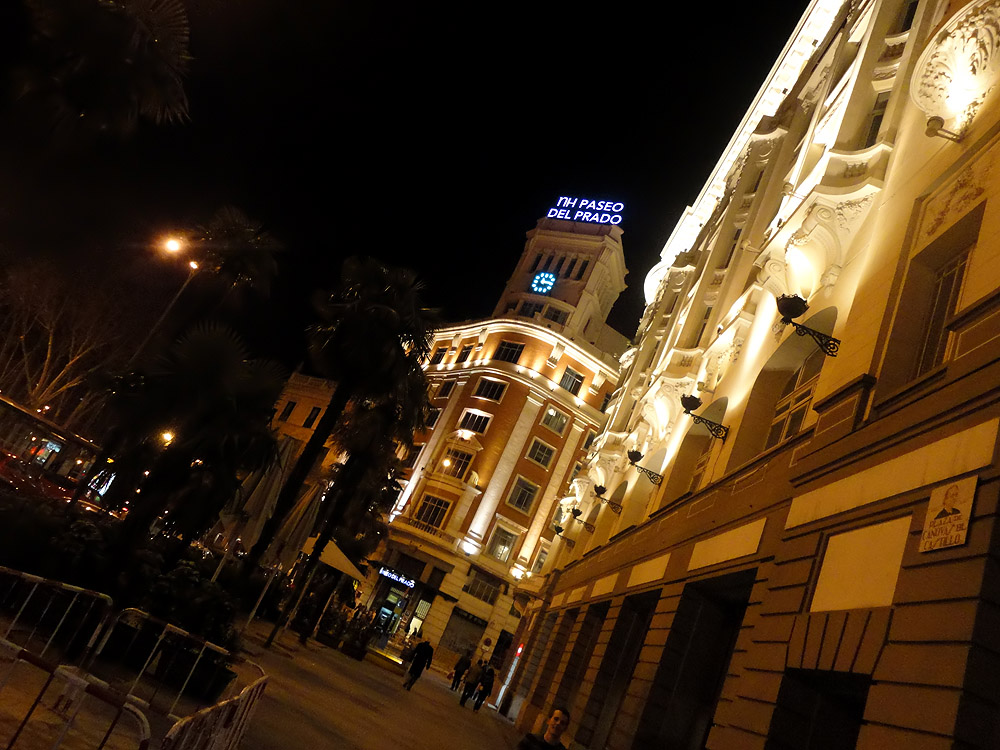 Hotel del Prado.
Iglesias de San Jerónimo el Real.
Plaza de la Lealtad:
Plaza Lealtad is a small square just next to Plaza Cánovas del Castillo, along Paseo del Prado. It is mostly famous for the 2nd of May monument and is
also were Madrid's stock exchange and Hotel Ritz is. The plaza has palms greenery.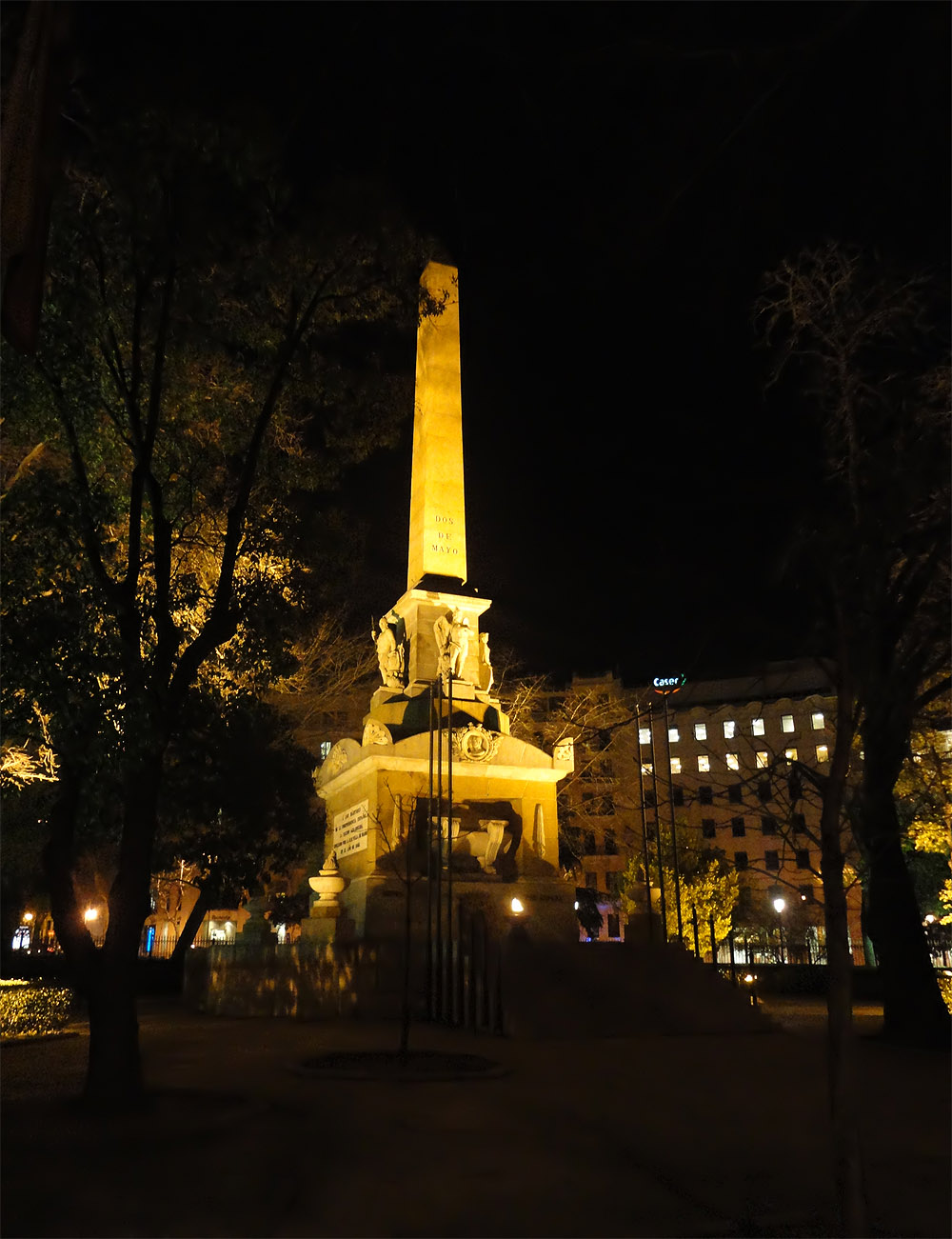 Mto. Dos De Mayo (Monument to the 2nd of May) honors the heroes that died in the revolt towards France in 1808. The remnants of the heroes are buried beneath the obelisque.
Hotel Ritz seen from Plaza Lealtad.
Calle Alcalá: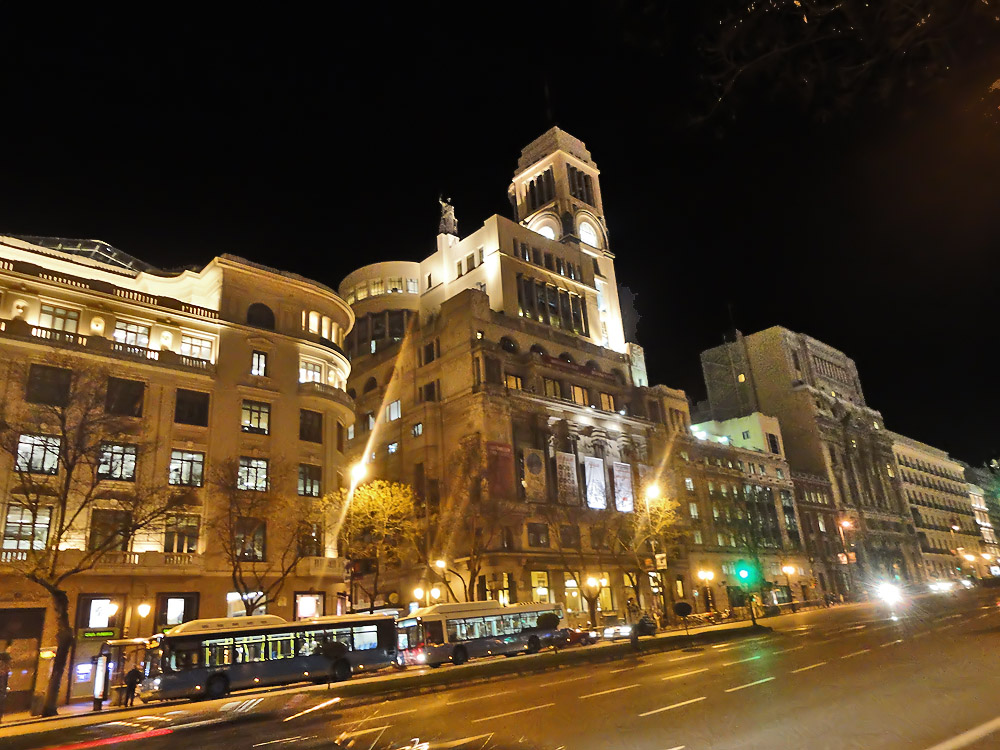 Calle de Alcalá.
The Casino, actually a men's club.
Entrance of the casino.