Plaza de Colón

Plaza de Colón is a very trafficated square in the northeast end of Madrid's city center, in the Alfonso Martínez district. The square is named after Christopher Columbus as a contribution to his meeting with America. There is a classic monument to contributing to Columbus in the middle of the traffic and a modern stone monument on the side, also for Columbus. The skyscraper Torres de Colón, a huge Spanish flag, a large branch of Hard Rock Café, a garden and the National Library can also be found around the square.
Next to the Columbus monument, beneath the flag, is Teatro Fernan Gomez Centro de Arte, is the city council's only purpose-built cultural centre. It features a theatre,
puppets, opera, Hispanic exhibitions and more.

The National Library to the right. Until 1893 Plaza de Colón was called Plaza de Santiago.
Torres de Colón.
The large Spanish flag and the National Library.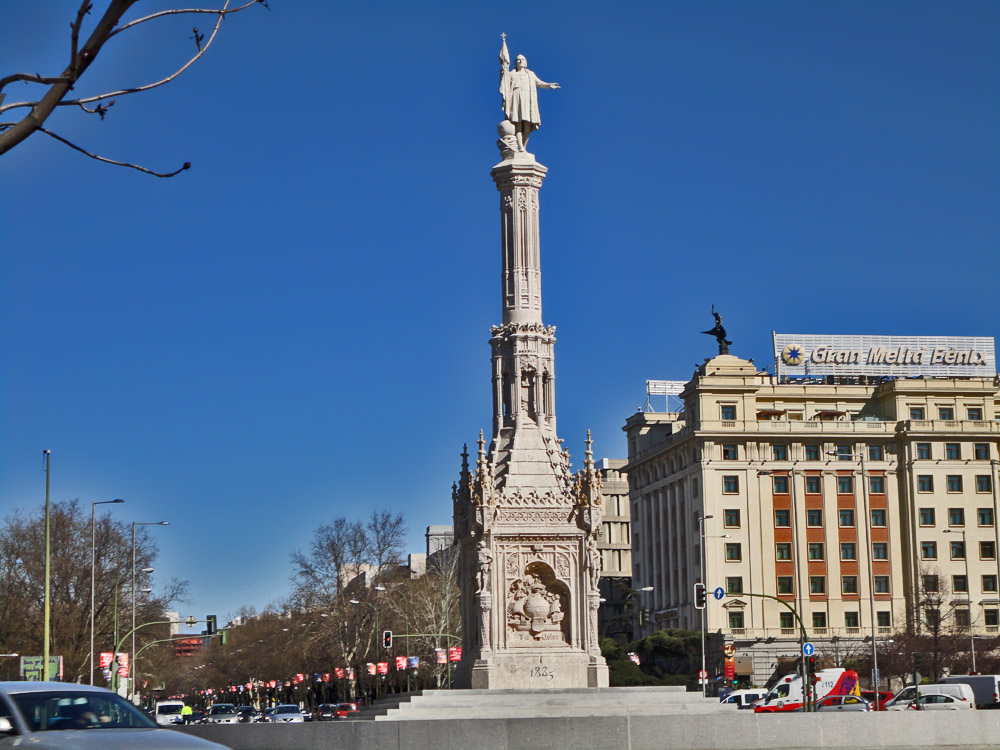 The old Columbus monument from the 19th century. Columbus is pointing towards the west, towards America. A relief on the base shows how Queen Isabella sells her
jewelries to get money for his journey.

Panorama of Plaza de Colón.
Biblioteca Nacional de Espana, The National Library of Spain. It was established in 1712.
Torres de Colón. A postmodern twin skyscraper, also contributing to Columbus. It is 116m high, has 23 floors and was built in 1976.
The postmodern copper roof resembles classic architecture.
The 2 towers are connected with outdoor skybridges, a podium and a green rooftop. The exterior has transparant brown glass. Estudio Lamela designed the structure.
Hard Rock Café has a large branch at Plaza de Colón.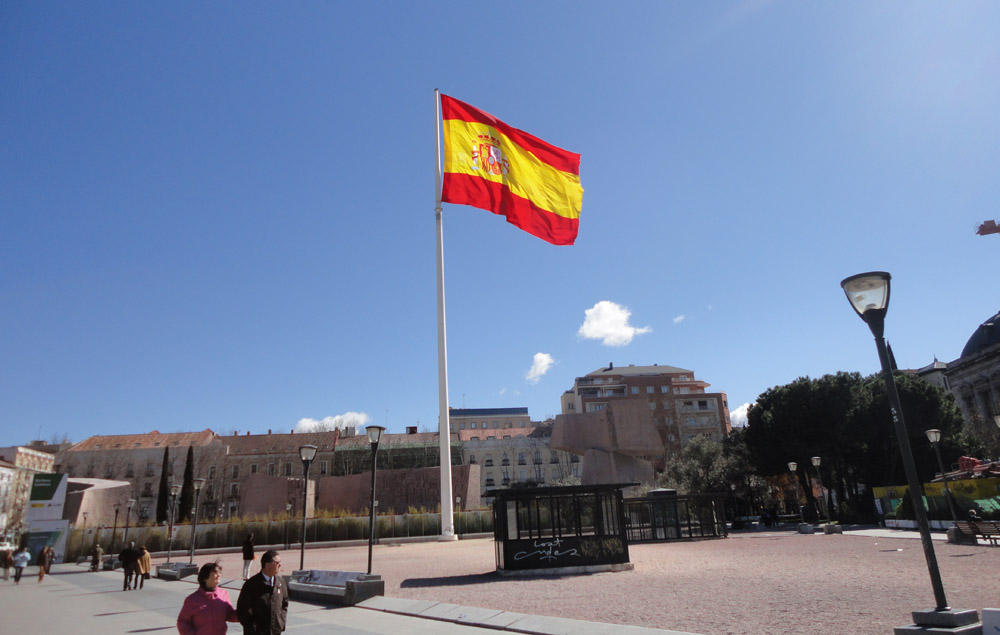 A very large Spanish flag. The plaza has its own gardens, called the Gardens of Discovery.
The new 3 stone Columbus monuments close to Calle de Serrano. Each of them symbols one of the 3 ships that made the trip in 1492.
A cool poster I saw on the square with the world's most famous skyscrapers mixed on one place.
The busy Paseo de la Castellana goes through Plaza de Colón all the way to the northern edge of Madrid.