Gran Via
incl. Plaza del Callao
Gran Via is the most famous street in Madrid and passes from the west to the east end of the city center. It begins at Plaza de Espana, passes Plaza del Callao and ends where it meets Calle de Alcala, where the famous Metropolis building is, close to Plaza de Cibeles. Puerta del Sol and Plaza Mayor are just a couple of blocks south of Gran Via. A lot of hotels, exclusive stores, department stores and restaurants are located along the street. You can probably purchase anything from designer clothes to the newest high-tech thin laptops on the Gran Via. Some of the most impressive exteriors in Spain can be found here, as well as expensive stores, but it has some kind of worn charm with all the beggars and poor people along the streets, so be careful at night! But the architecture is fascinating, it is a true pleasure to study all the palace like highrises from the early 20th century with all the decorations. Gran Via resembles New York's Broadway, as well as London's Oxford Street, but has an identity of its own.
History: In the middle of the 1800s, it was decided that a new thoroughfare had to be created to connect Calle de Alcalá with Plaza de España. Many old buildings were demolished, but construction of the new buildings didn't start in decades and the media cynically called it "Gran Via", the Great Road. In 1904 it was finally approved and construction could start some years later. The design of the new buildings were for the time very modern, many architectws were inspired by the Chicago school. The whole street was completed in 1929.
A WALK FROM THE EAST TO THE WEST END OF GRAN VIA:
Edificio Metropolis. The crossing Gran Via/Calle Alcalá is the most photographed place in Madrid. The Metropolis building, originally constructed for the
insurance company Unión y el Fenix Espa, was built between 1907 and 1911. It was designed by Jules and Raymond Février in a French Beaux-Arts style. Today Metrópolis Seguros, another insurance company has their headquarters here, hence the name.
The black dome of Metropolis. The original statue was replaced in 1975 by a statue of the winged Godess Victoria, because the original insurance company removed it when Metrópolis took over the building in 1972. The golden garlands shine in the sun.
A bronze miniature of Gran Via just outside Metropolis.
Instituto Cervantes by the architect Antonio Palacios.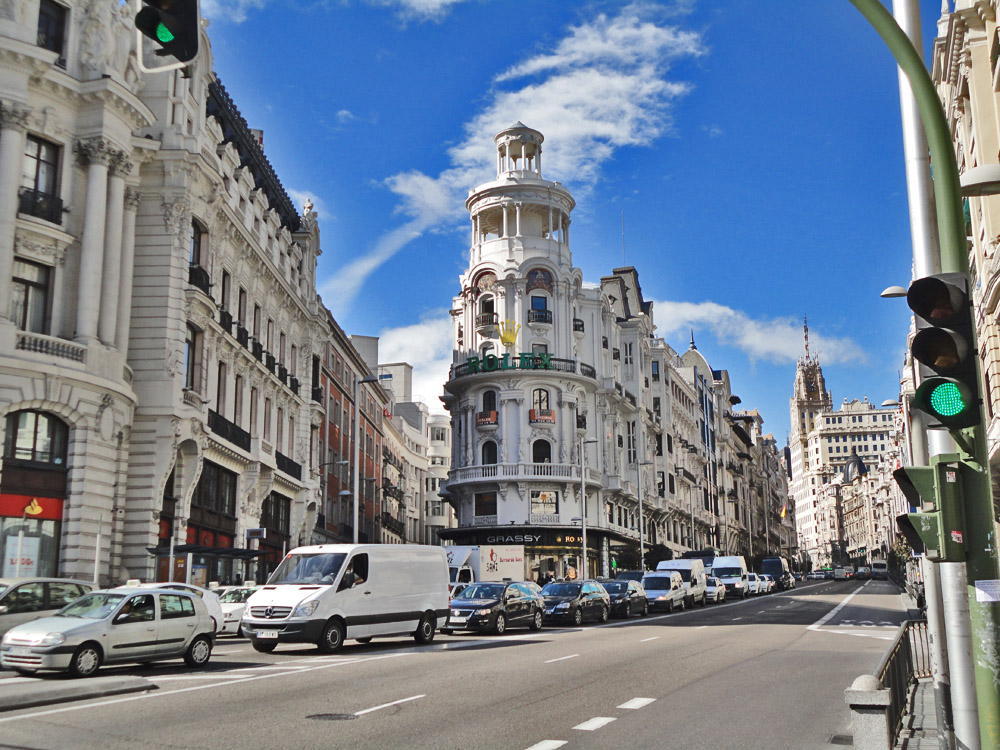 Edificio Grassy is the corner building from 1907 in the middle, Edificio Telefonica is to the far right.
Gran Via towards Edificio Telefónica, with Ed. Grassy to the left.
Iglesia de San José.
Banco de España, The National Bank of Spain. Spain's golden reserves are preserved underneath Plaza de Cibeles (to the left). An art collection with famous paintings
by Goya and other artists is also inside the building, but to be able to see it you must write a personal letter to the bank first.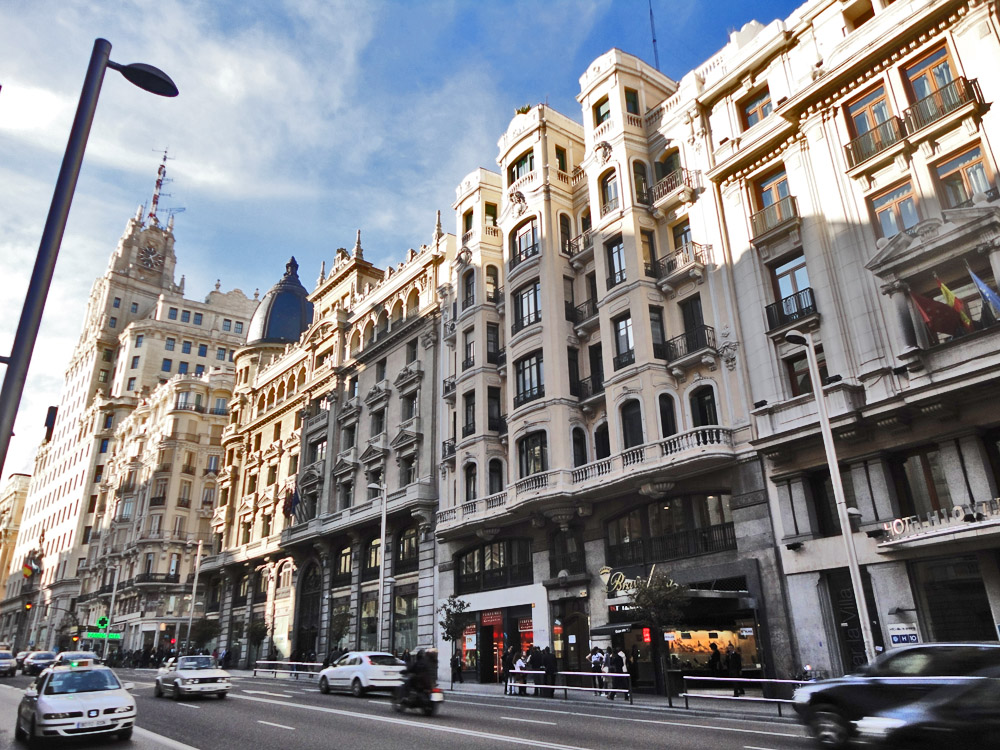 Edificio Telefónica was Madrid's first highrise and is today the HQ for Spain's largest phone company.
It was drawn in 1929 by the American architect Lewis Weeks and was inspired by the Chicago school.
Ed. Telefónica played a key role during the civil war as an observation tower for the soldiers. Inside is a fine art exhibition including famous painters.
Today the clock tower is famous.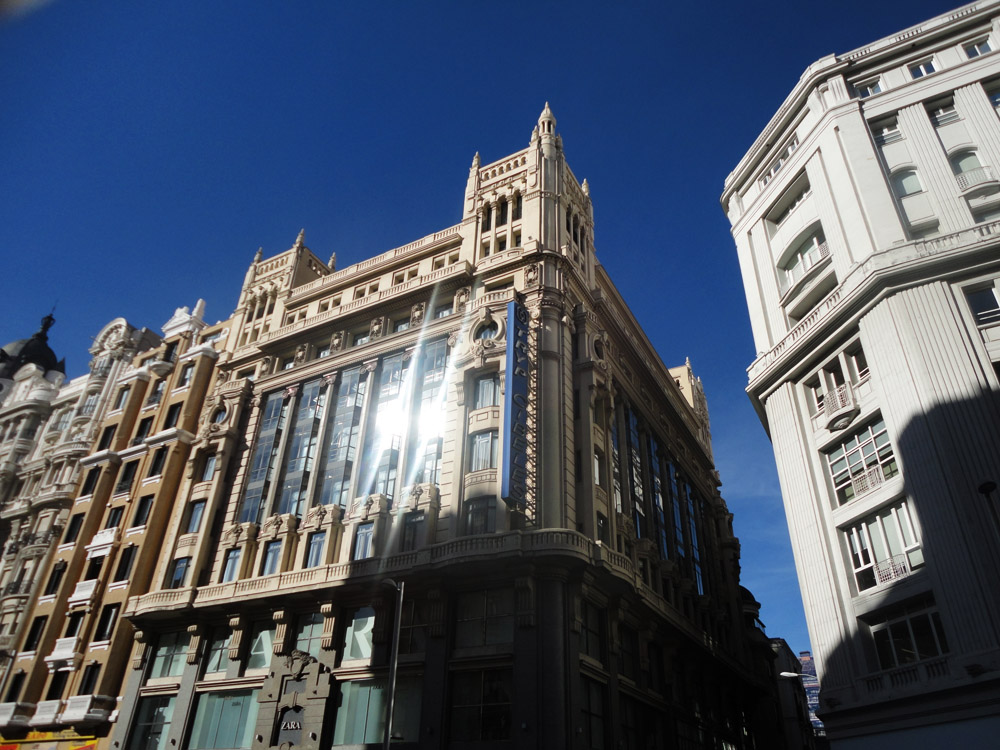 Hotel Tryp Cebeles.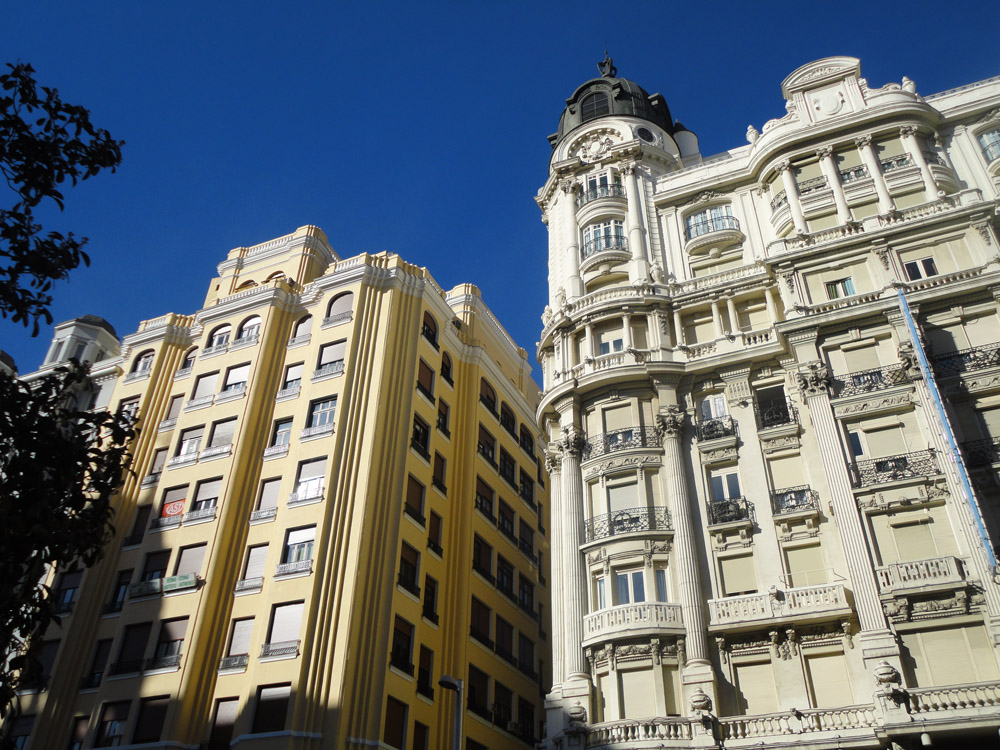 A building with several hotels, and a McDonalds.
Calle de la Montera. This pedestrian street leads towards Puerta del Sol. At a first sight it normal, but it is not hard to realize it is a prostitution street.
Hotel Galicia.
The number of palaces on Gran Via is endless.
Plaza del Callao:
Plaza del Callao with Torre Carrion. This square is the movie center of Madrid, home to 6 cinemas. Callao is a bit like Madrid's answer to New York's Times Square.
It also has 2 large department stores.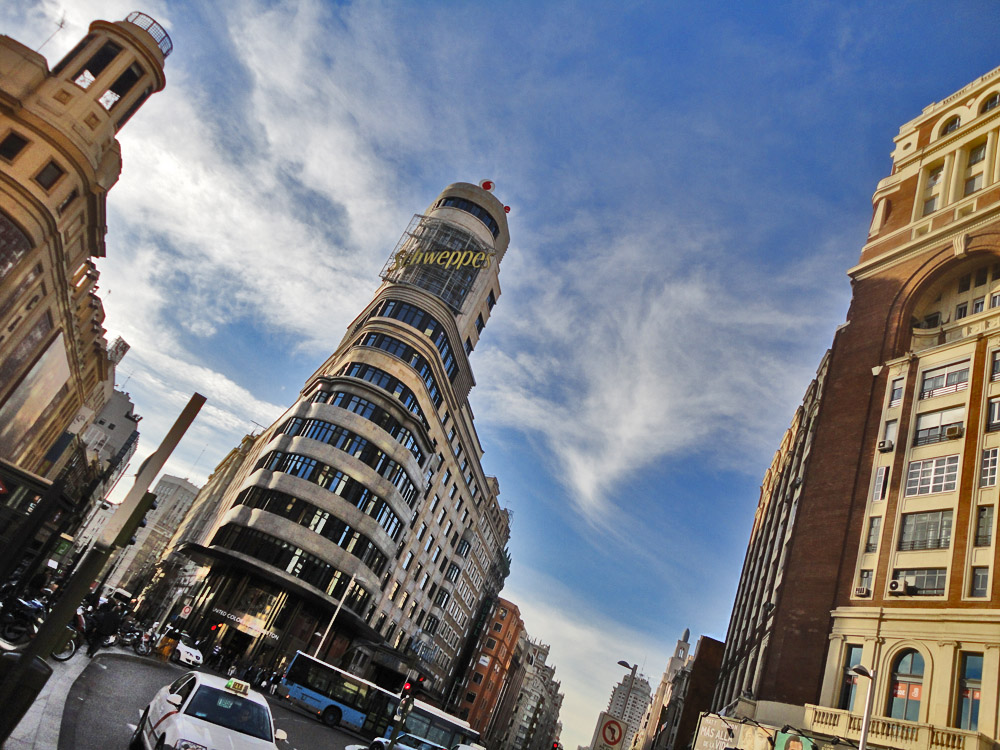 Torre Carrión (middle), or Edificio Capitol, is the 14-storey art deco landmark of Plaza del Callao. It hosts the Capitol Cinema, a Benetton store and a lot more.
Edificio Allianz is the building with the domed pavilion.
Callao, looking towards H&M and Torre Carrion.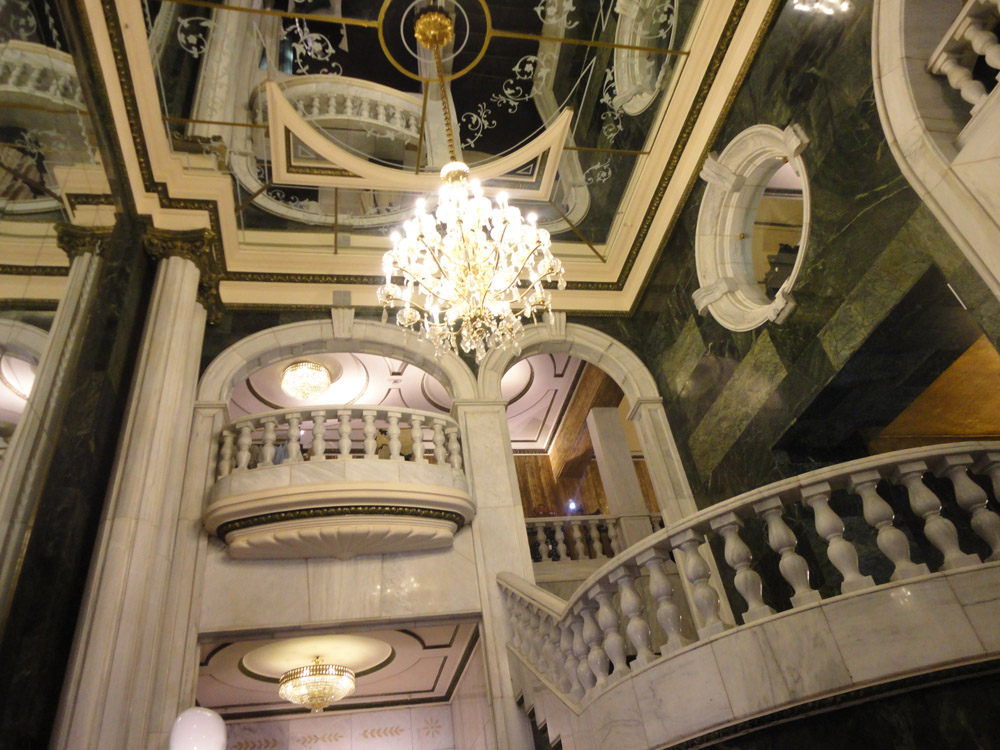 Inside H&M at Gran Via. A lot more upmarket then in Sweden, were it has its originas. This branch's interior looks like a palace.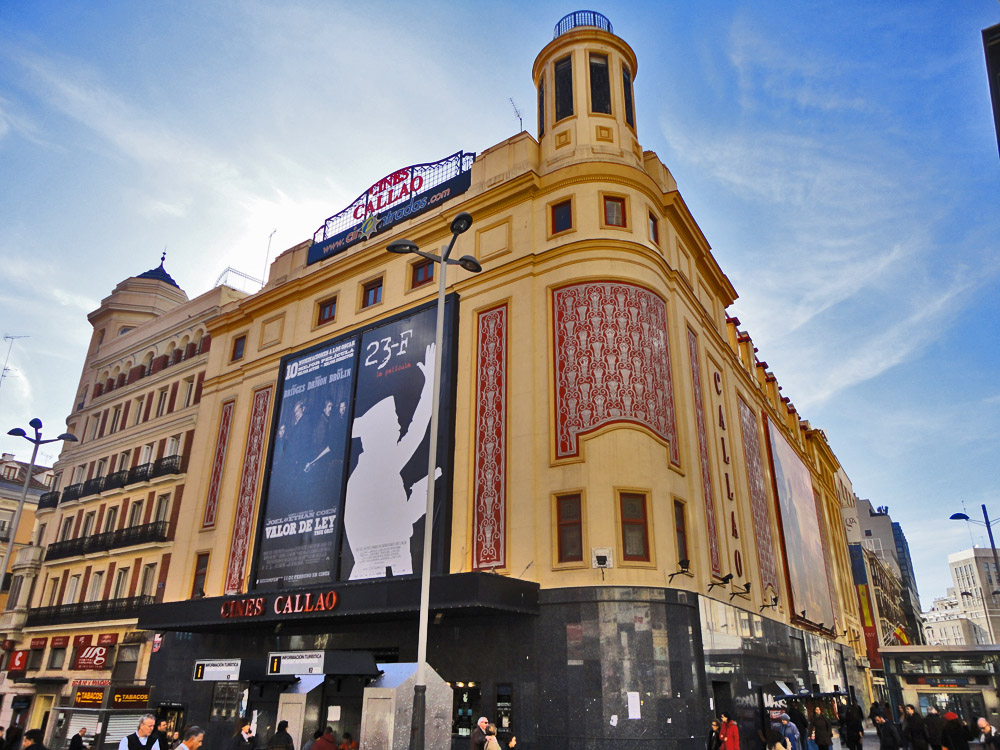 Cines Callao, a large cinema in an outstanding buildng at Callao.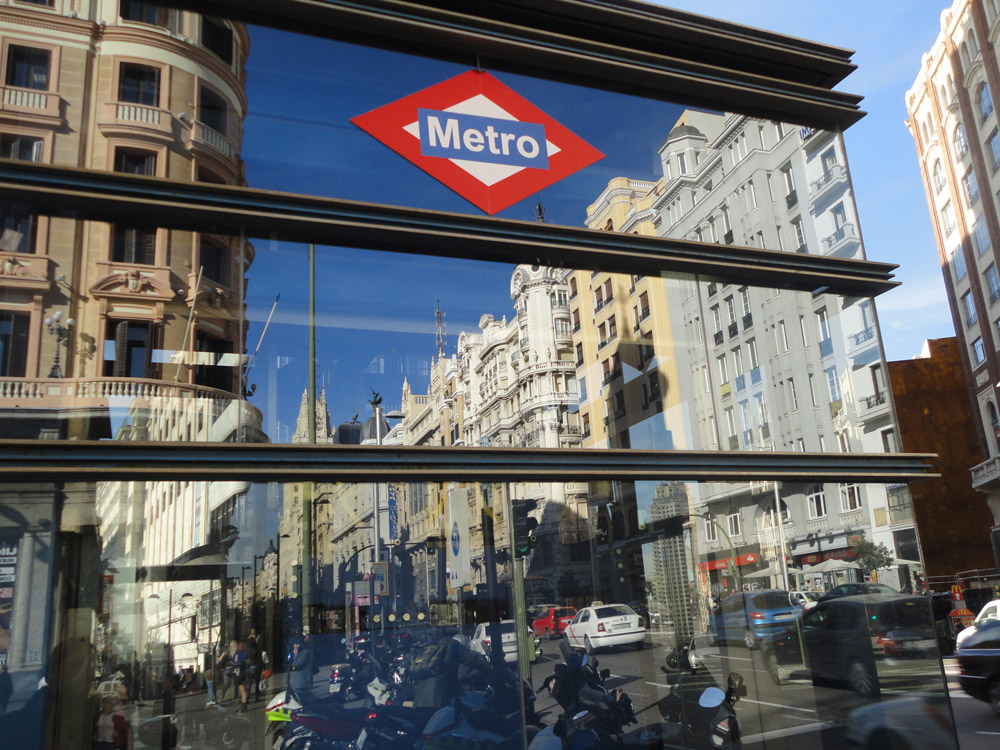 Gran Via's buildings mirroring in the glass metro station.
FNAC, a French department store chain specializing in entertainment (records, book etc) occupies a 12-storey narrow highrise at Plaza del Callao. To the left is one of
the largest branches of the department store chain El Corte Ingels.
From Callao, Puerta del Sol is only a few blocks away if you walk on Preciados (right).
Palacio de la Prensa, is the impressive cinema/residential building to the left.
Looking West towards Plaza de España with its landmark Torre de Madrid...
...and East towards Plaza del Callao.
Sculptured buildings at Gran Via, near Plaza de España.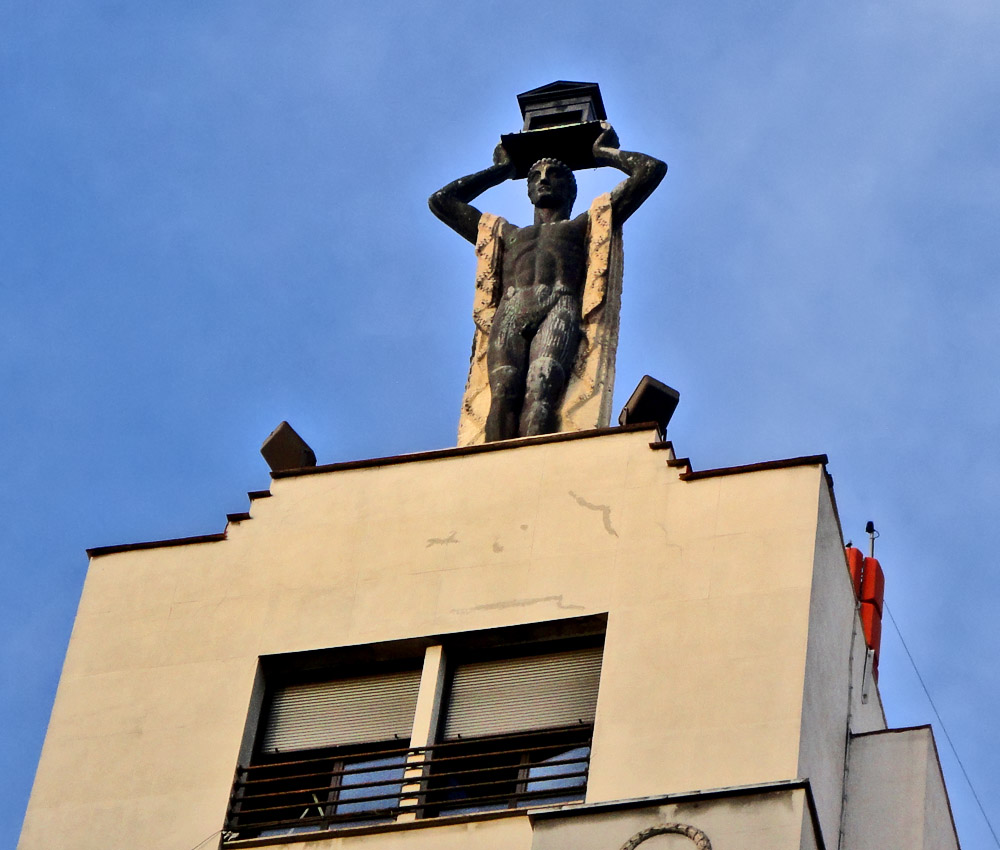 A statue throughing a building on the street?!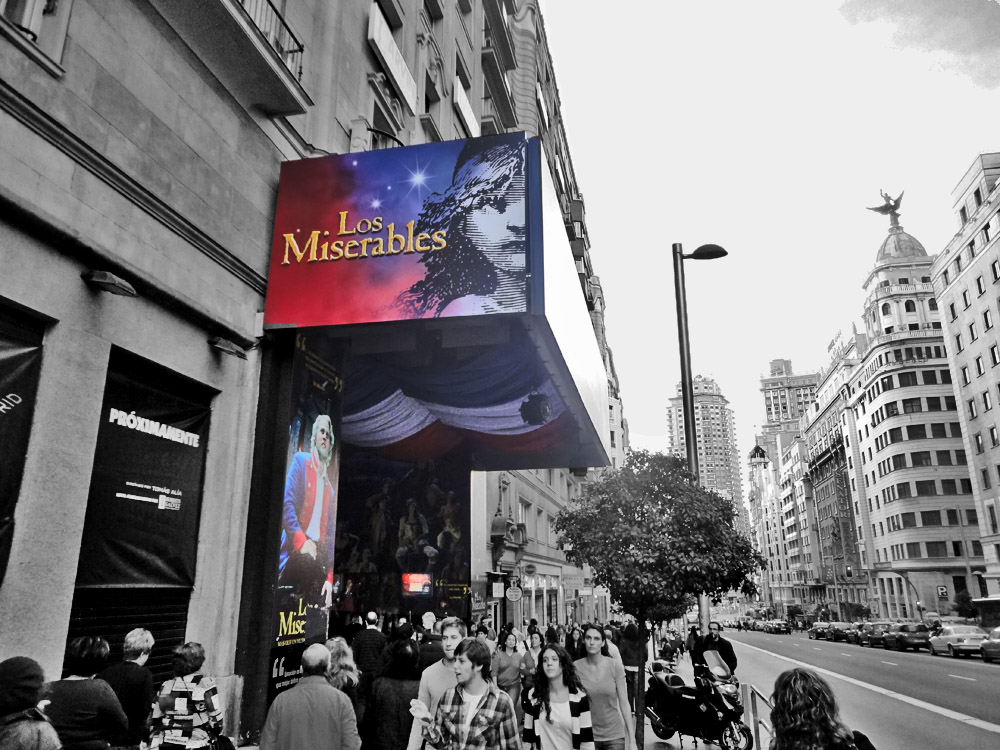 World famous musicals can be seen in the world metropolis Madrid.
Plaza de España. The west end of Gran Via.
View from El Corte Inglés, Plaza del Callao:
These photos were taken from the café on the top floor of the department store El Corte Inglés branch at Plaza del Callao.
Plaza del Callao with Torre Carrión (left) and Gran Via leading towards Torre de Madrid at Plaza de España. Mountains in the background.
Towards Palacio Real and the mountains of Sierra de Guadarrama.
Looking to the southwest: Almudena Cathedral (right), the national theater and some other churches.
The nearby FNAC store.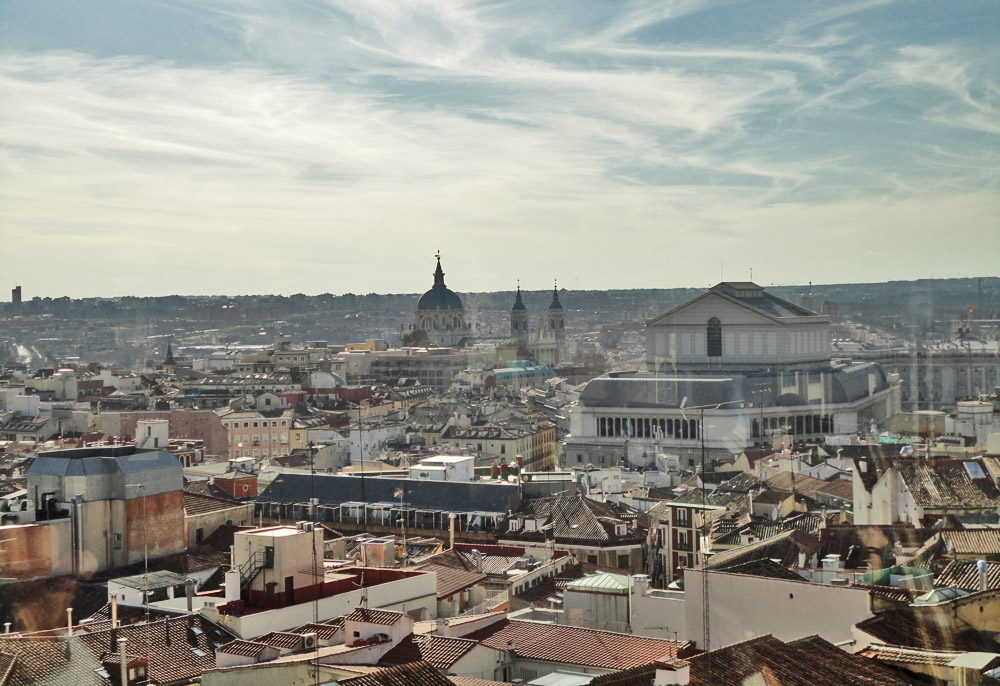 Almudena Cathedral and the National Theater. Commie blocks in the distance.
Gran Via by night:
At night Gran Via's grandiose facades are lit up. Close to midnight the street is filled with beggars and diverse obscure persons. That was what we noticed when we had checked in to our hotel and wanted to go out a late evening in Madrid, beginning at Gran Via. Since we visited Madrid in February, it was possible to walk in evening lights already around 7 o'clock.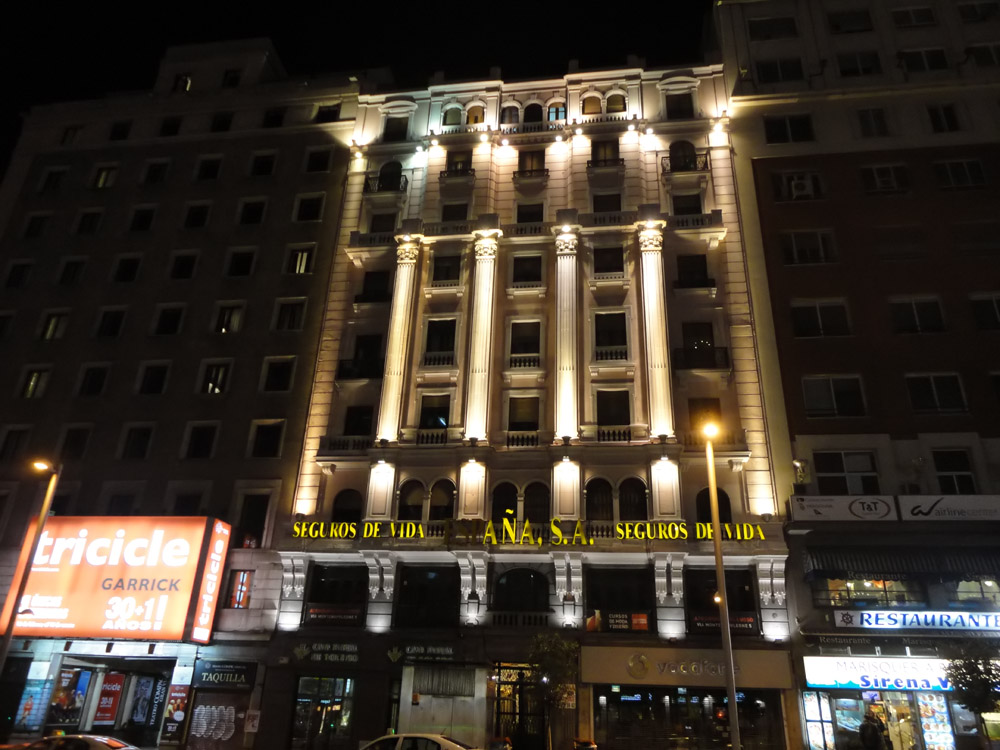 Gran Via by night.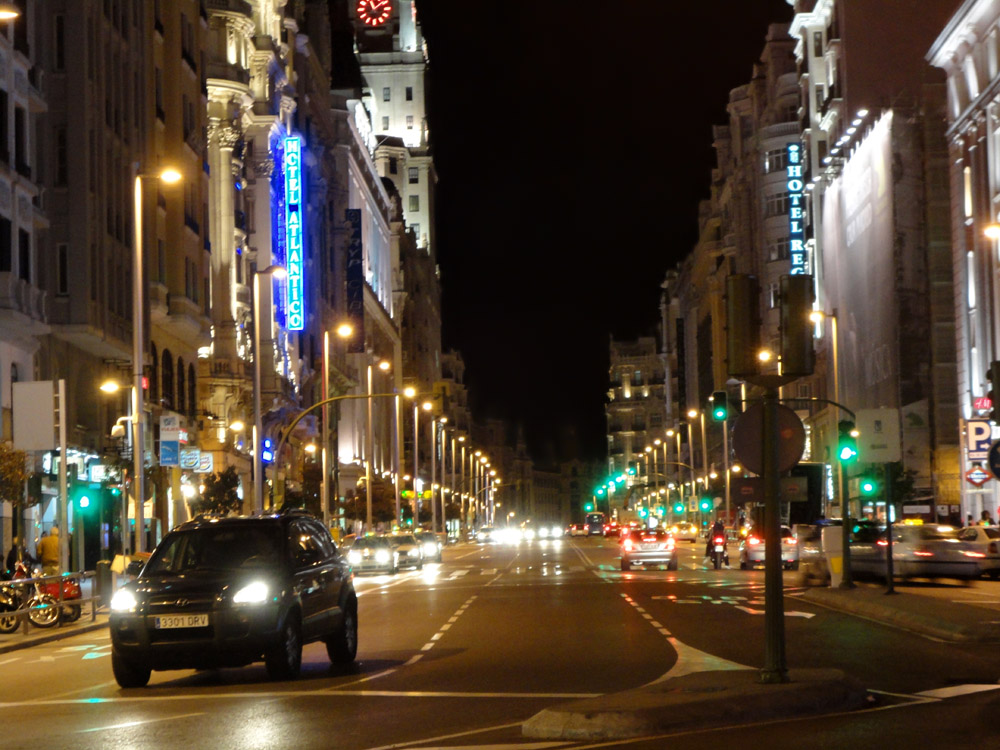 Plaza del Callao.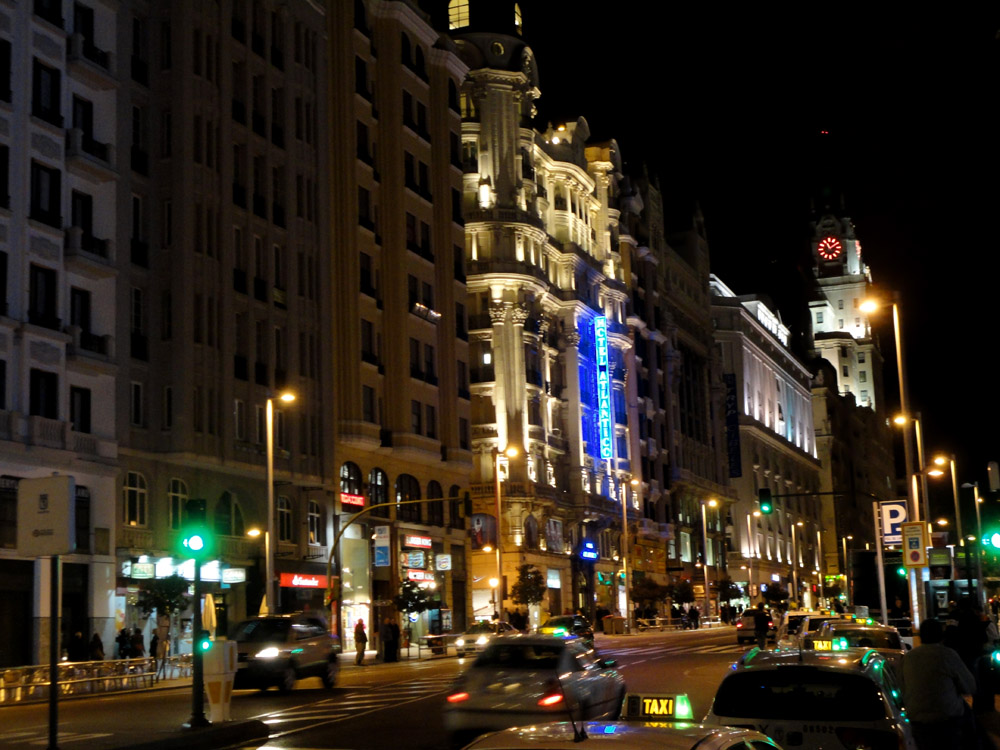 Callao towards Edificio Telefonica.
Plaza del Callao.
Torre Carrion with its blinking neon signs.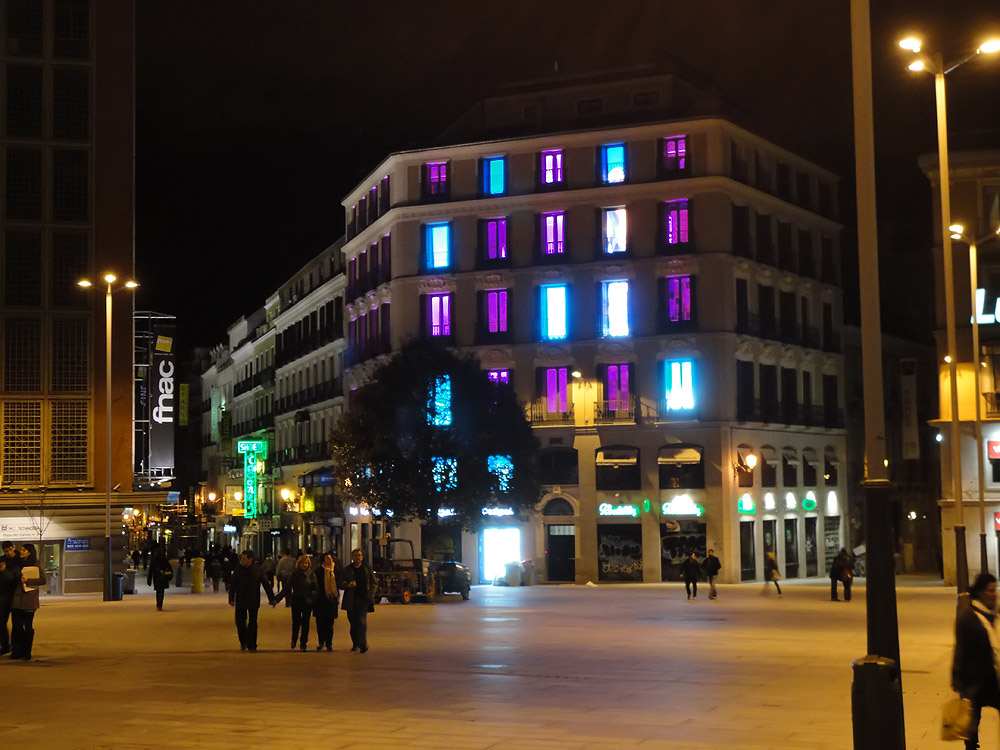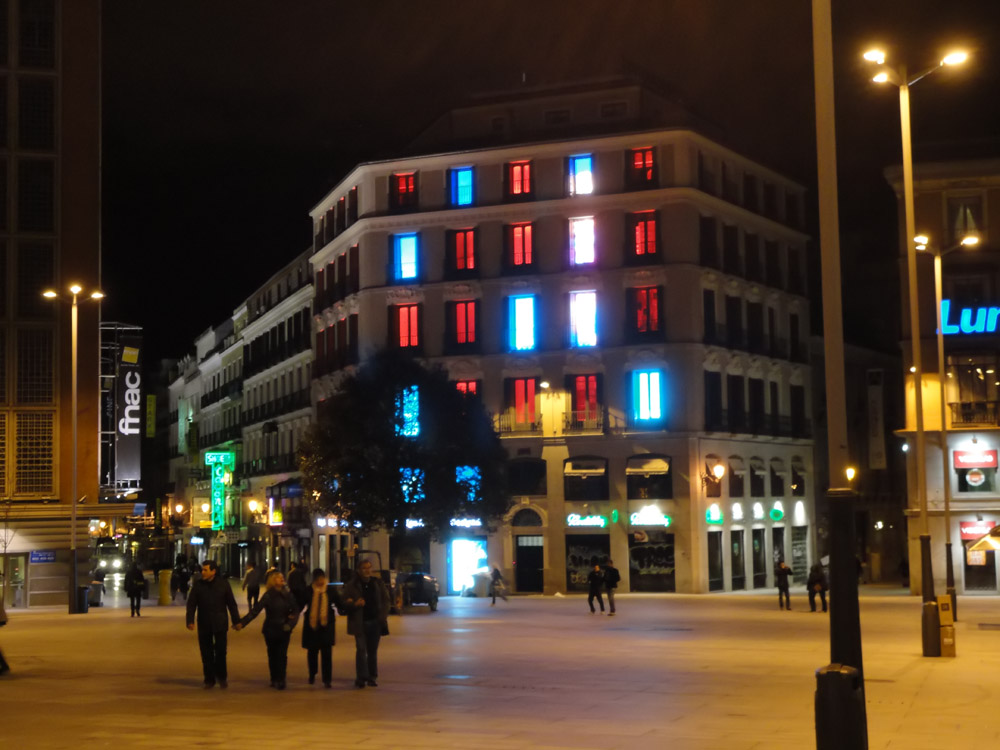 A building at Plaza del Callao with changing colour schemes.
Hotel Atlantico.
Edificio Telefonica. This classic landmark's bottom floor has a base with display windows that sometimes are flashing!
Here Edificio Telefonica's windows are back to normal.
Hotel Senator Gran Via.
Metropol Hostel, McDonalds and a garbage truck.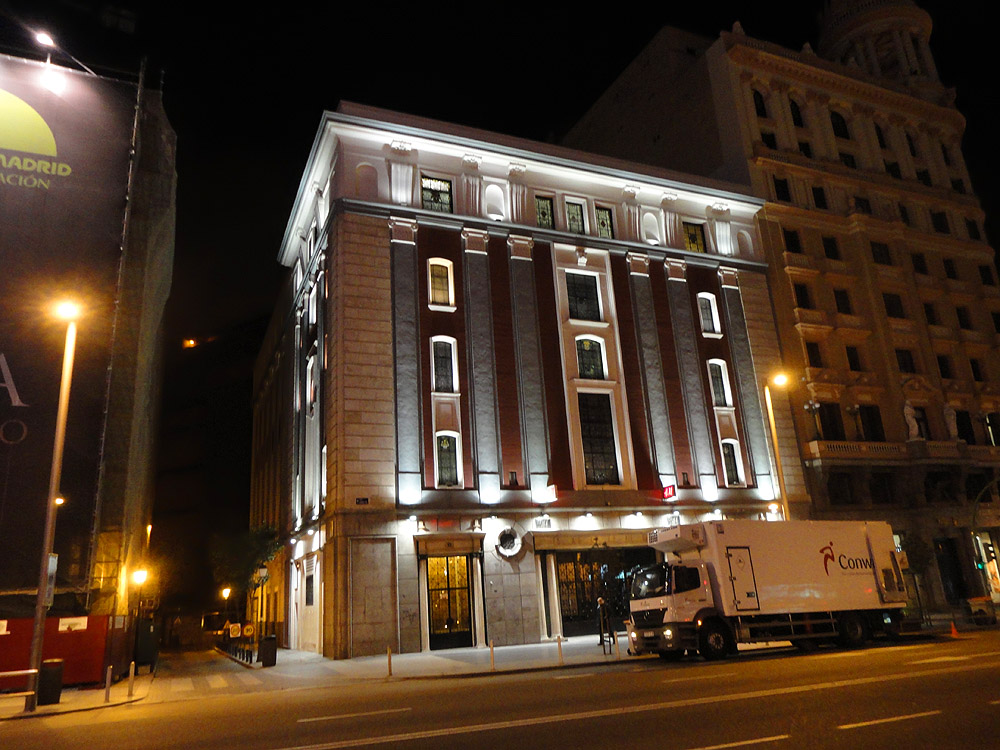 H&M, Swedish cloth brand.
The crossing Gran Via/Alcalá from Plaza Cibeles.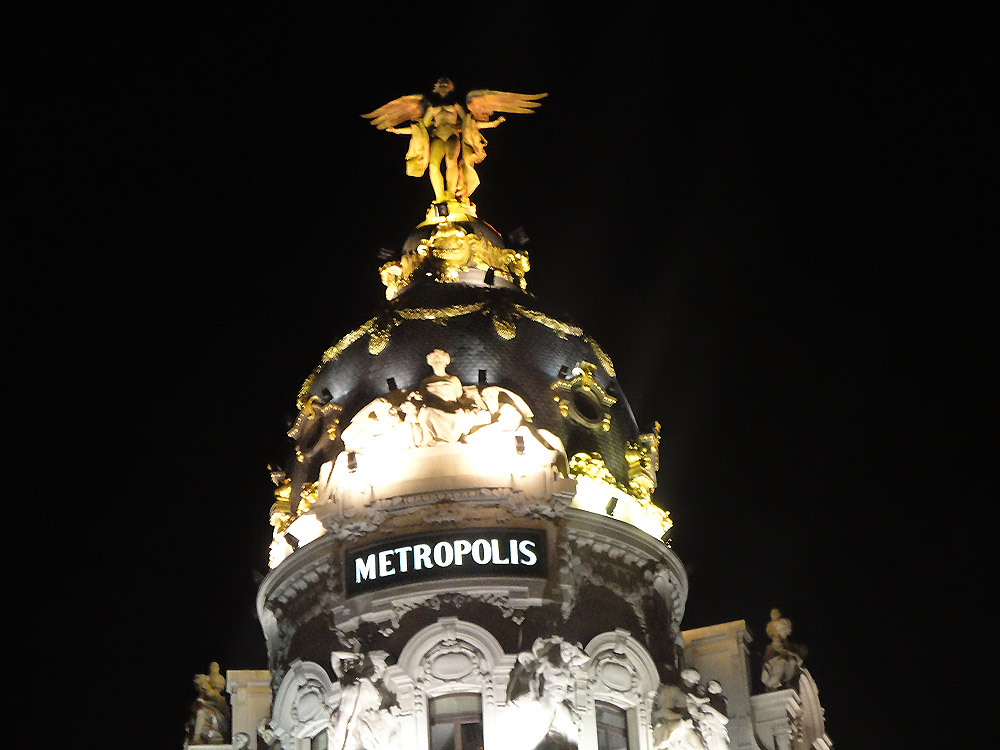 Edificio Metropolis seen from Plaza de Cibeles.