East Madrid: Salamanca, Goya, Plaza Dalí, Paseo de la Castellana, Torre Espana
This page is about the districts immediately Northeast of Parque Retiro and the city center; A small part of the elegant Salamanca and Goya neighboorhouds, Plaza Dalí with its modern sculptures by the famous painter and Torre Espana, the tall TV tower, in the outskirts.
Goya district:
Goya, named after the famous painter, is a district just Northeast of Parque Retiro between downtown and the outskirts. Plaza Dalí and Calle de Goya are important places here.
The intersection Calle de Alcalá/Calle de Goya.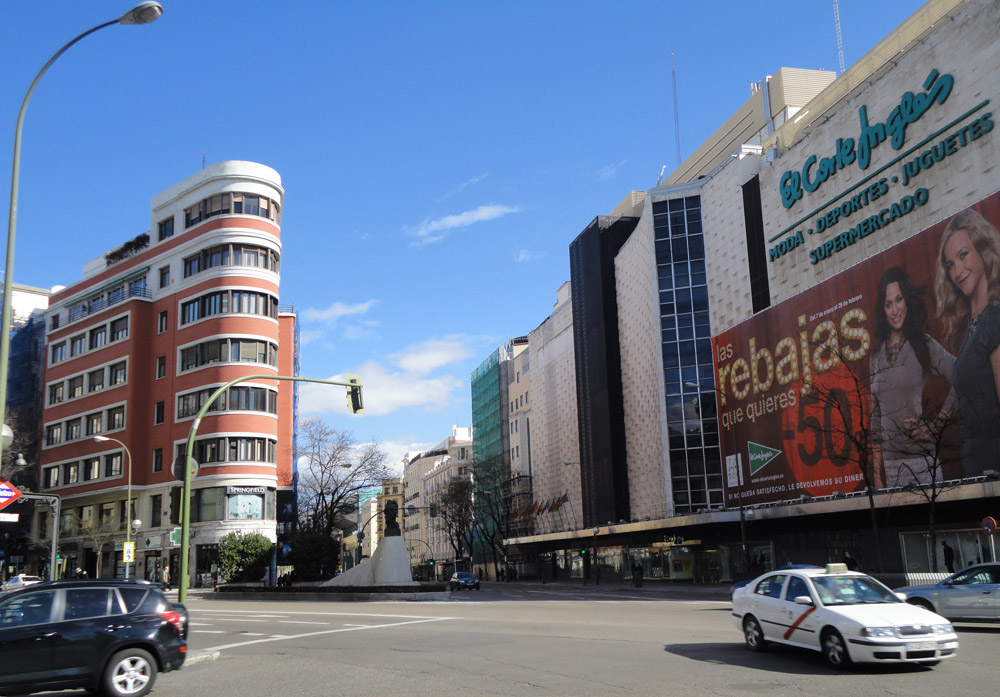 The intersection has yet another branch of El Corte Inglés can be found here.
The Goya statue at the intersection Calle de Alcalá/Calle de Goya.
Calle de Goya.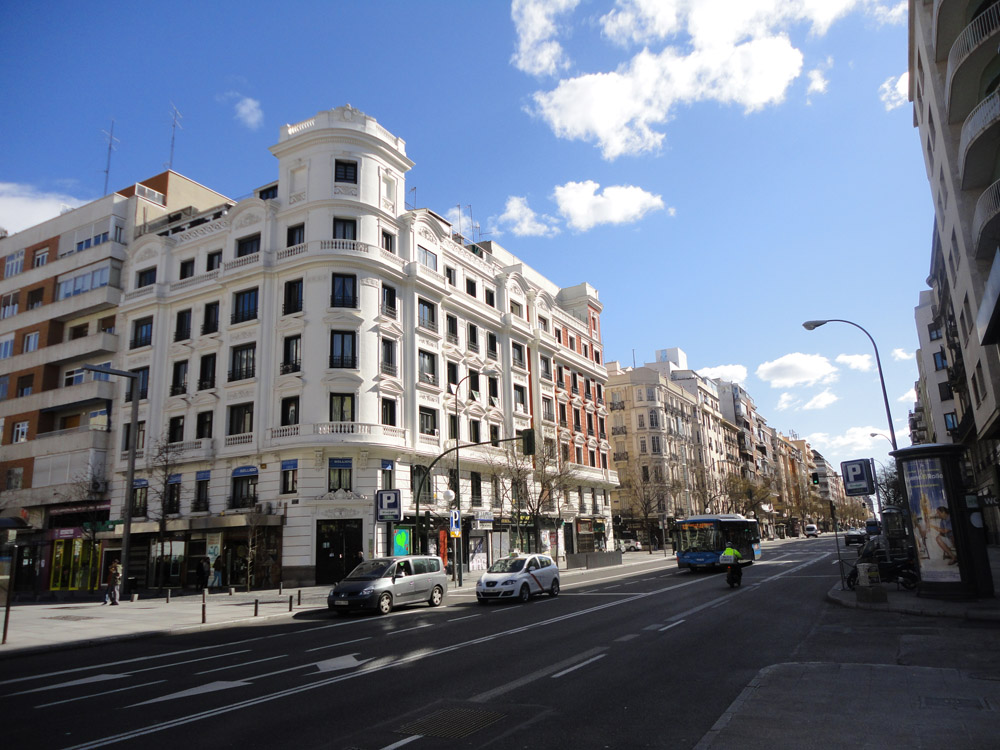 Plaza Salvador Dalí:
Plaza Dalí is the modern square in the heart of Goya district, that was designed by Salvador Dalí himself in 1984.It features sculptures and art by Dalí
and was his last work. It is popular among young skateboard riders.
This mini amusement park next to Plaza Dalí features humoristic copies of famous landmarks.
Art on the street that reminds of car parts. Special...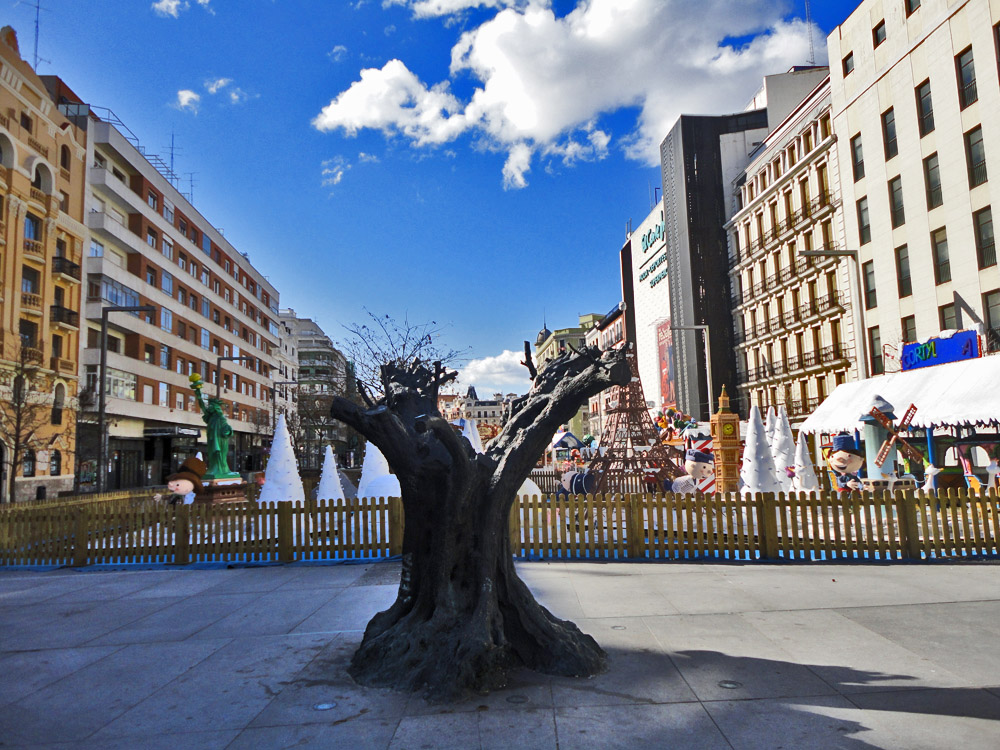 Avenida Felipe II leads to Plaza Salvador Dalí with its dolmen and sculpture and Palacio de los Deportes, a sports and music arena.
The "G" stands for Gala, Dalí´s beloved wife.
Dalí designed a granit dolmen (a portal tomb) and a statue of a human creature on a cubic pedestal.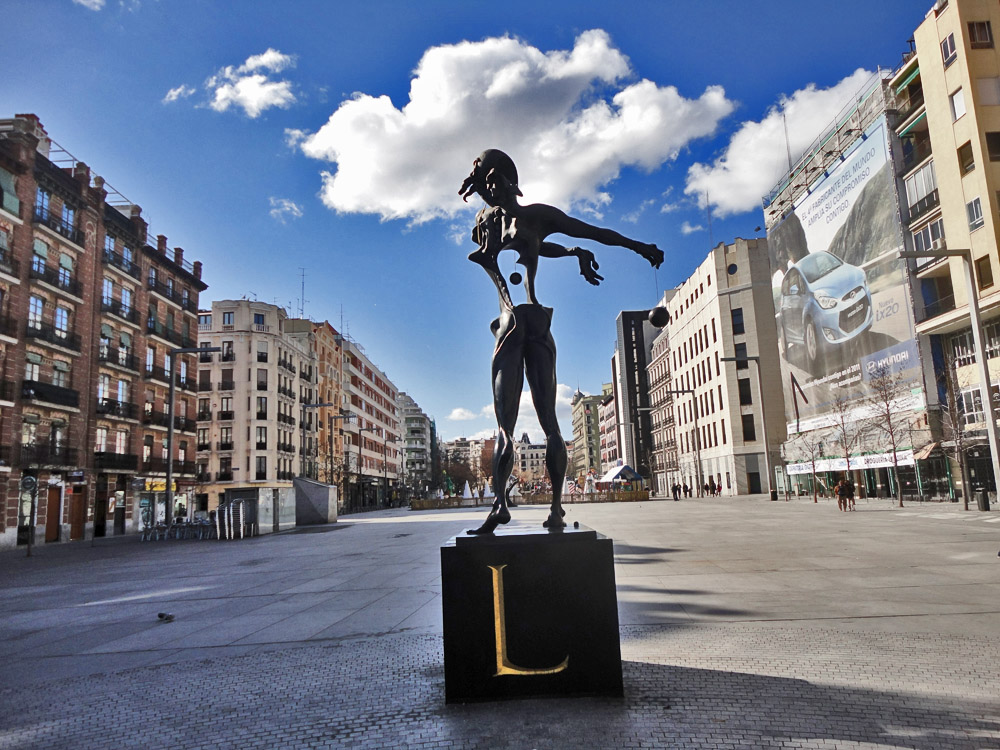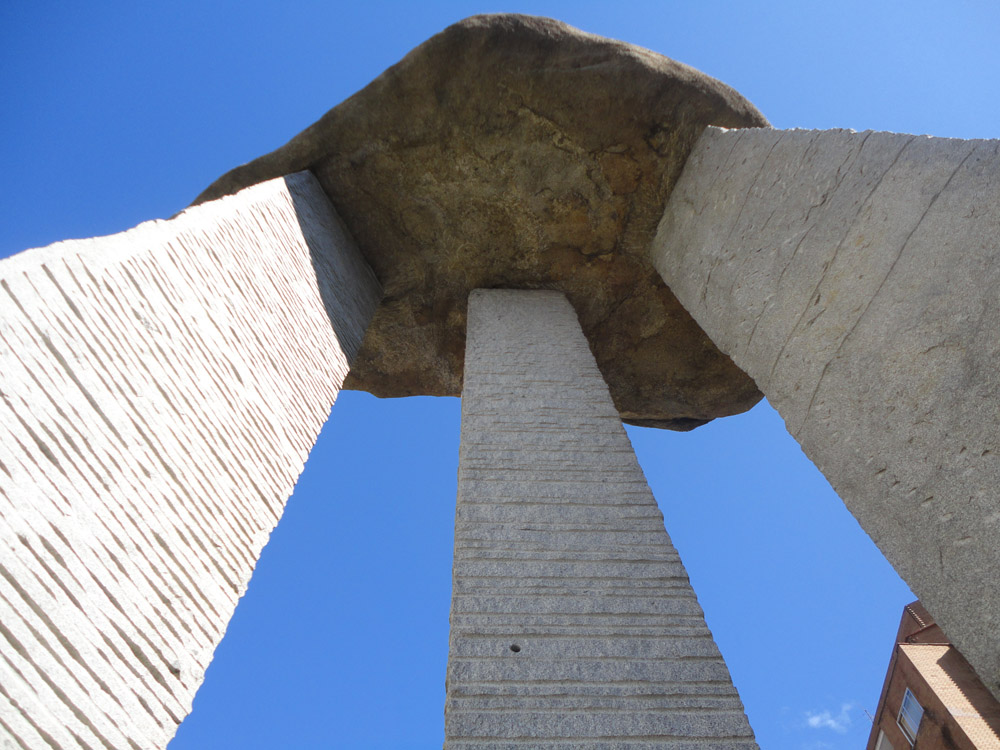 Palacio de los Deportes, an arena that holds sport events (mainly basketball and handball) and concerts. It was built between 2002 and 2005 after the previous arena
was destroyed by a fire in 2001. The left part of the building has a modern glass tower, that is a bit like a more conservative and less spectacular version of Lloyds
Building in London.
In 2002 there were plans to remove Dalí's art. Enthusiasts managed to save only parts of it, so not all of the original art remains today. The dolmen was shortened.
Calle de Alcalá towards the tall Torre de Valencia.
Calle de O´Donnell and Torre España:
Torre España. The tallest TV tower of Madrid is situated in the Eastern outskirts. You can also see a church and some residential blocks here at Calle O´Donell. In the
background you can see the East end of the city.
Torre España is 231m tall and was built in 1982.
Salamanca (around Paseo de la Castellana):
The following pictures are taken at Paseo de la Castellana around the Salamanca district, between Plaza Colón and Castellana district.

Villa Magna Park Hyatt is a 5 star luxury hotel were celebrities as Madonna have stayed. It is next to a branch of El Corte Inglés.
Edifico de oficinas la Union y el Fen. A black 20-storey highrise from 1970.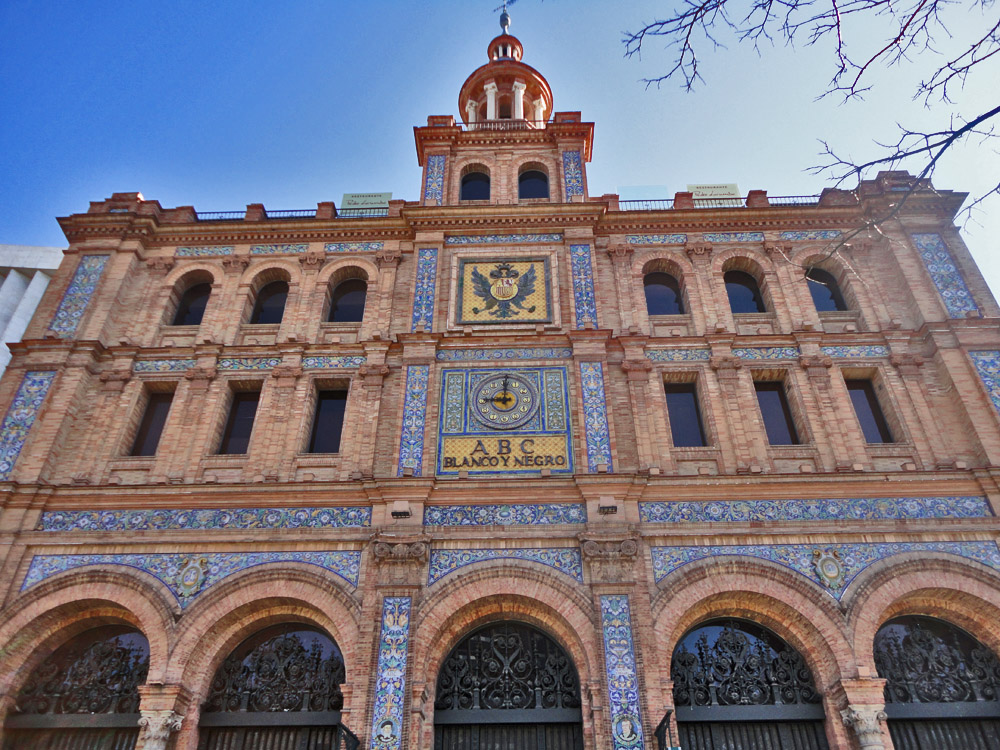 Edificio Blanco y Negro. Originally this building from 1899 housed the Blanco y Negro magazine, and later ABC. Today it houses an elegant shopping galleria.
The Bianco y Negro shopping galleria is today connected with a modern bronze glass building.
A highway crossing Paseo de la Castellana.
Another elegant building in the Salamanca district.
Gta. Cuatro Caminos:
Cuatro Caminos litterary means "Four Roads" and is not sursprisingly a crossing between four large roads. It is also a metro station and a district near Azca business
district, just northwest of the city center.
Calle de Santa Engracia leads to the center of Madrid. Cuatro Caminos has a more residential feeling.