Madrid-Barajas Airport
-Spain's largest airport
Barajas is Spain's largest and most busy airport, and the 4th largest in Europe. It has 4 huge terminal, the largest and most modern one is Terminal 4 that was designed by Richard Rogers. In 2010 almost 50 million passengers used Barajas. It is the international hub of the airline Iberia. The airport opened in 1927. Terminal 3, opened in 2006, is very futuristic with its sweaping elements, elements reminding of a science fiction and strong colours. It is the most unusual airport I have been to. 2 large accidents have been taking place at Barajas the latest years, a car bombing at the parking garage in 2006 and a fatal Spanair plane crash in 2008, killing 152 people.
A Monday evening in February 2011, we landed with an Iberia plane in Madrid Barajas, arriving from Copenhagen. My travel partner had to leave earlier, so I departed alone an early morning one week later with Spanair.
Terminal 4, arrivals: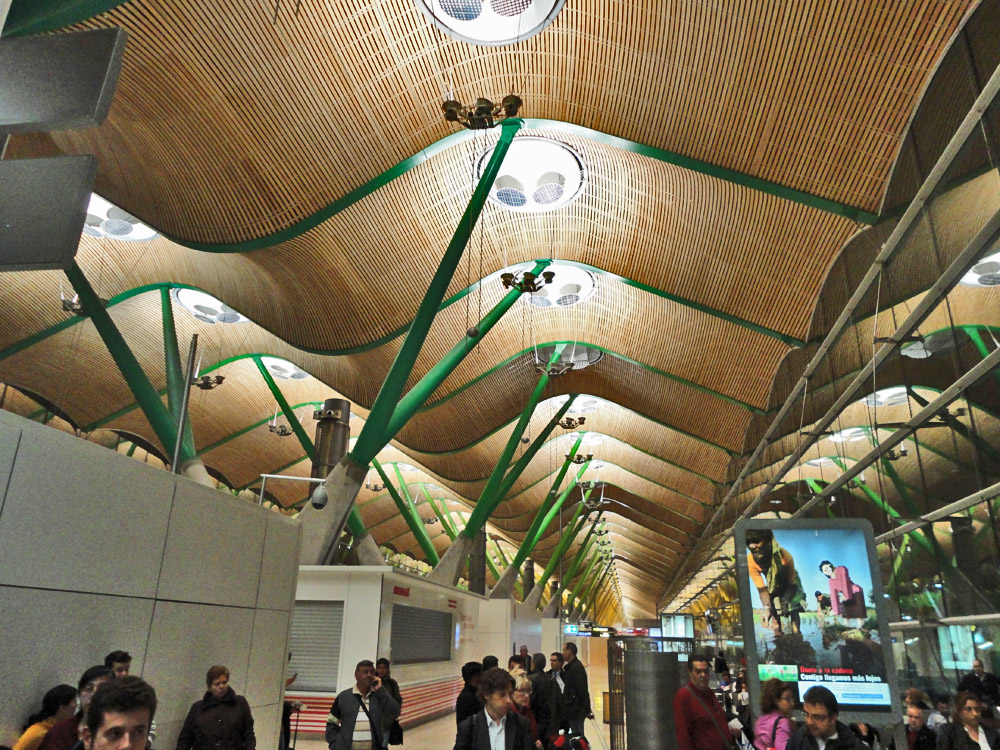 Barajas Terminal 4, were we arrived, were designed by the famous architects Richard Rogers and Antonio Lamela (but for a long time I thought Calatrava was the architect).
It opened in 2006.
Terminal 4 has glass walls that makes light slip in to create a stressful atmosphere. The structure has elements featuring a colour scheme including all the shades of the rainbow.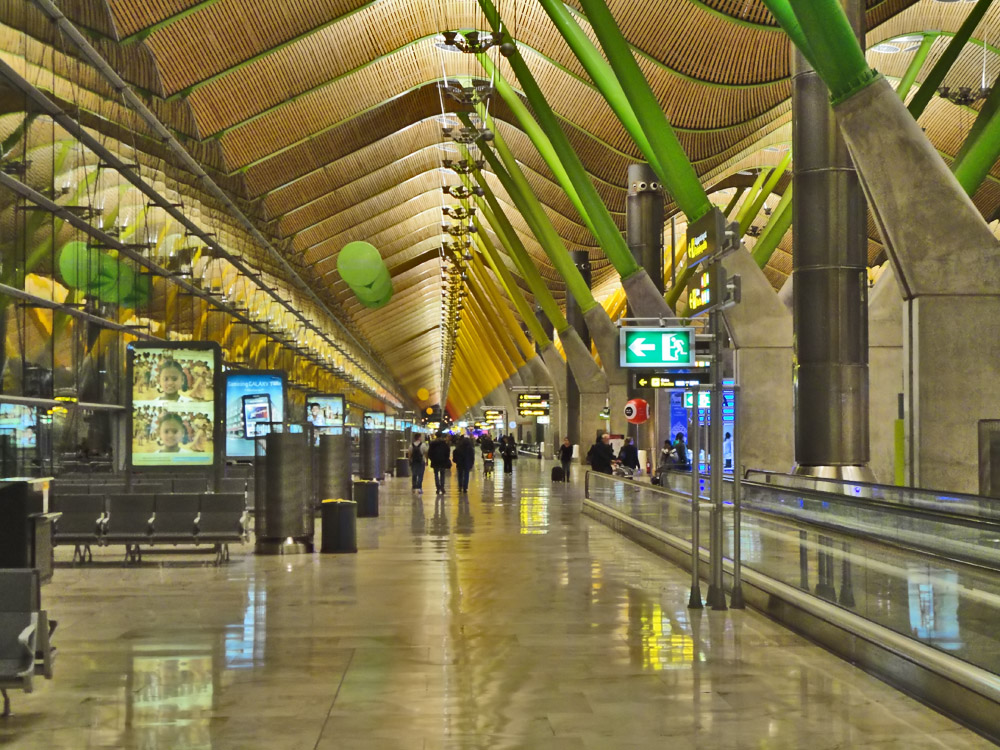 The rainbow colour scheme changing from green to yellow.
The bagage transport band on the arrival hall in terminal 4.
The luggage hall: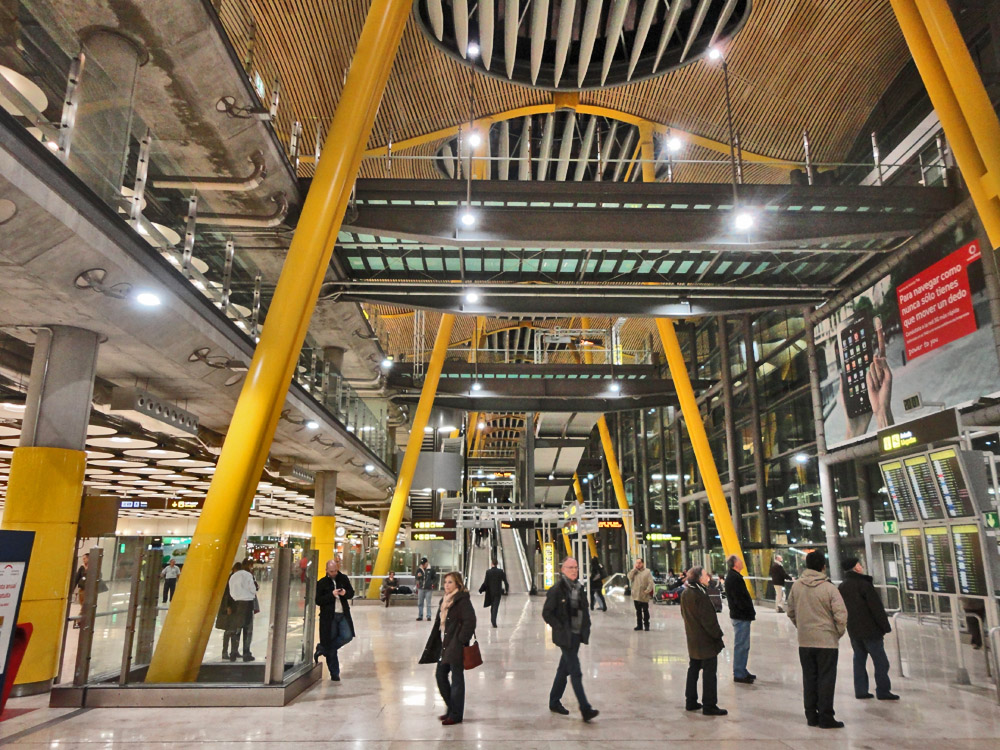 Terminal 4's metro station, the end station of the pink line.
Views from Terminal 4:
We visited Terminal 4 in daylight.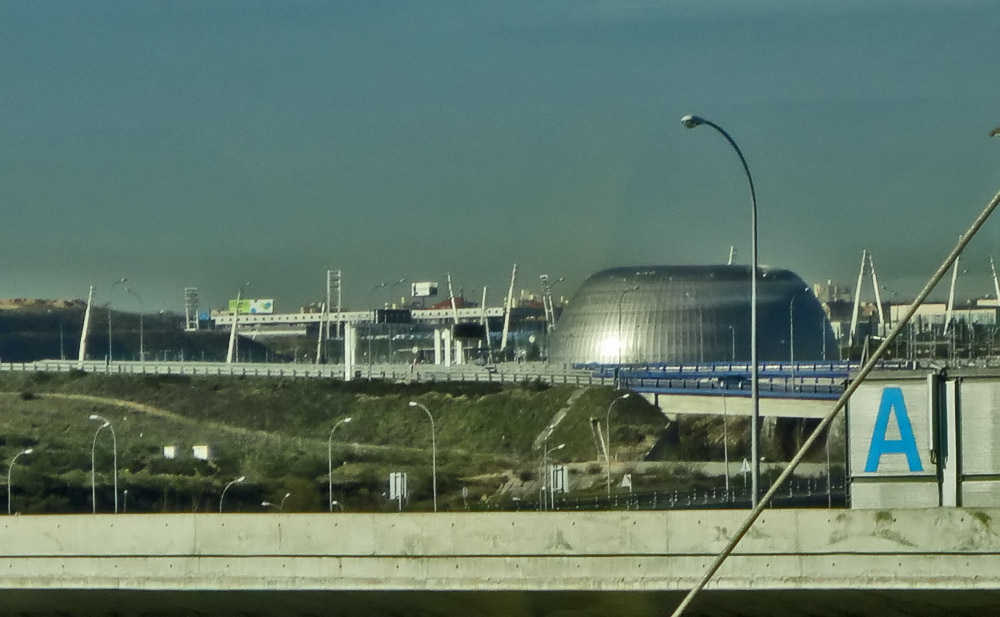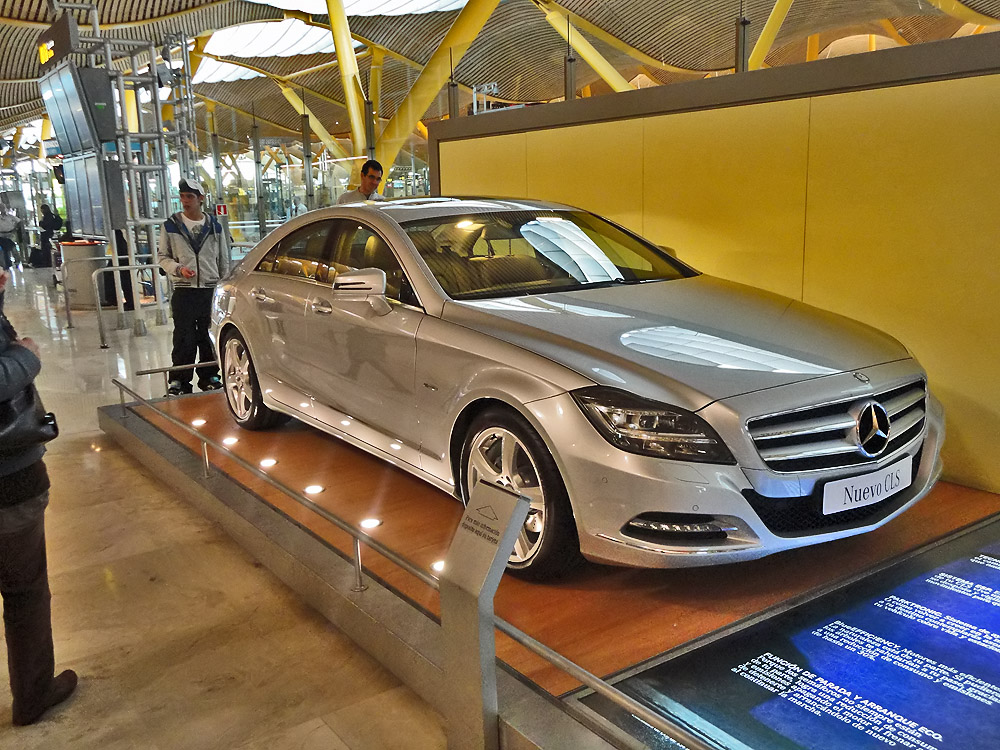 The new Mercedes.
The metro of Madrid Barajas, 2 cool decorations.
Barajas Airport seen from the town of Barajas.
Landing at Barajas: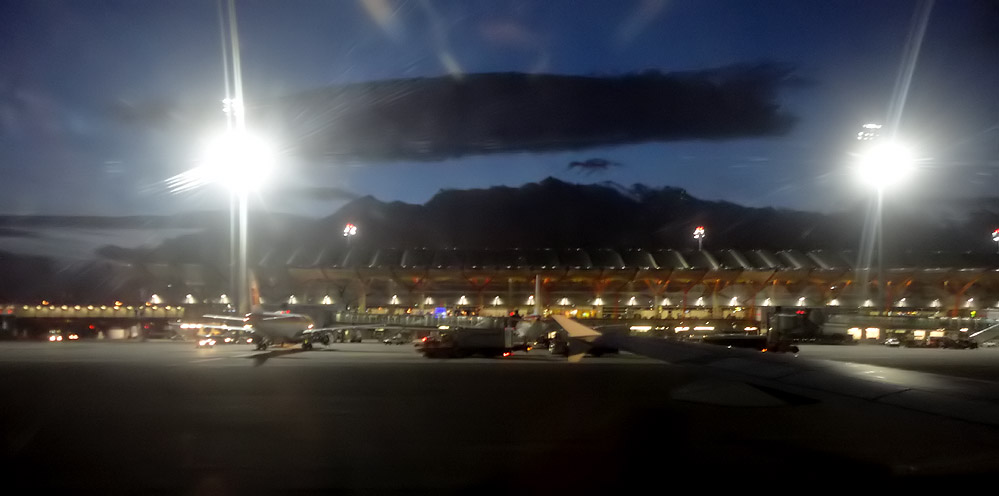 Terminal 4 on the Friday night we arrived.
Taking off from the domestic terminal, destination Barcelona: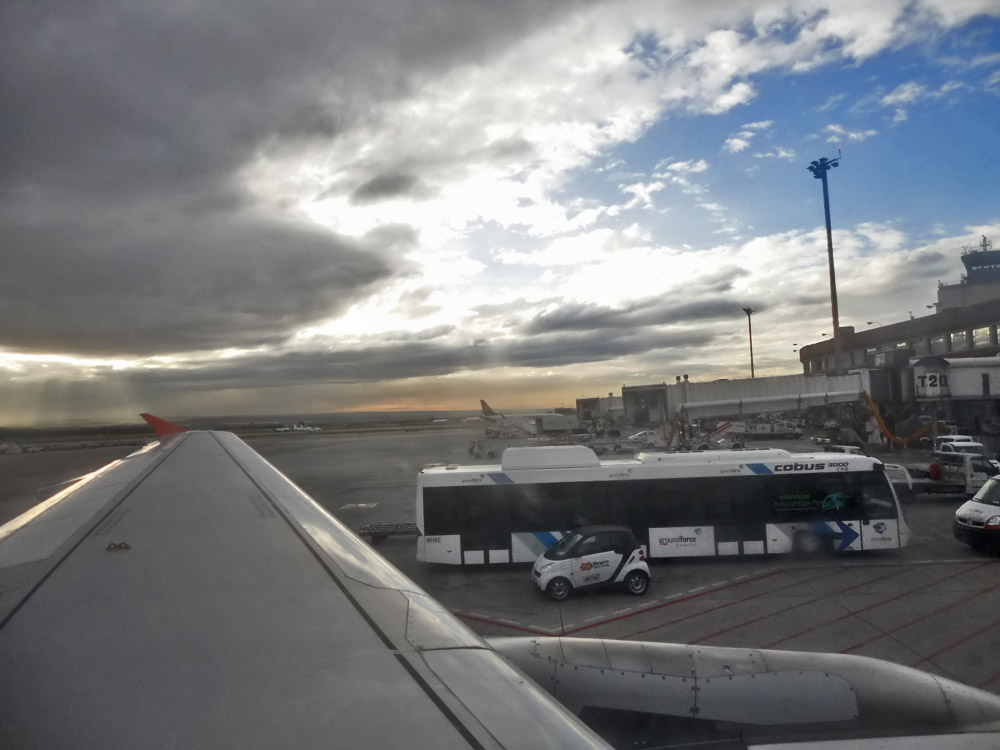 After one week in Madrid, I flew home with Spanair from Terminal 2, the less spectacular domestic terminal. I changed plains in Barcelona. My travel partner had to leave some
days earlier. The air shuttle Madrid to Barcelona is Europe's most busy!
Madrid's Cuatro Torres seen from the plane.
Leaving Madrid for Barcelona and then Copenhagen.

BARAJAS DISTRICT:
At some occasion, when my travel partner had to get the plan home earlier, I took the metro to the district of Barajas.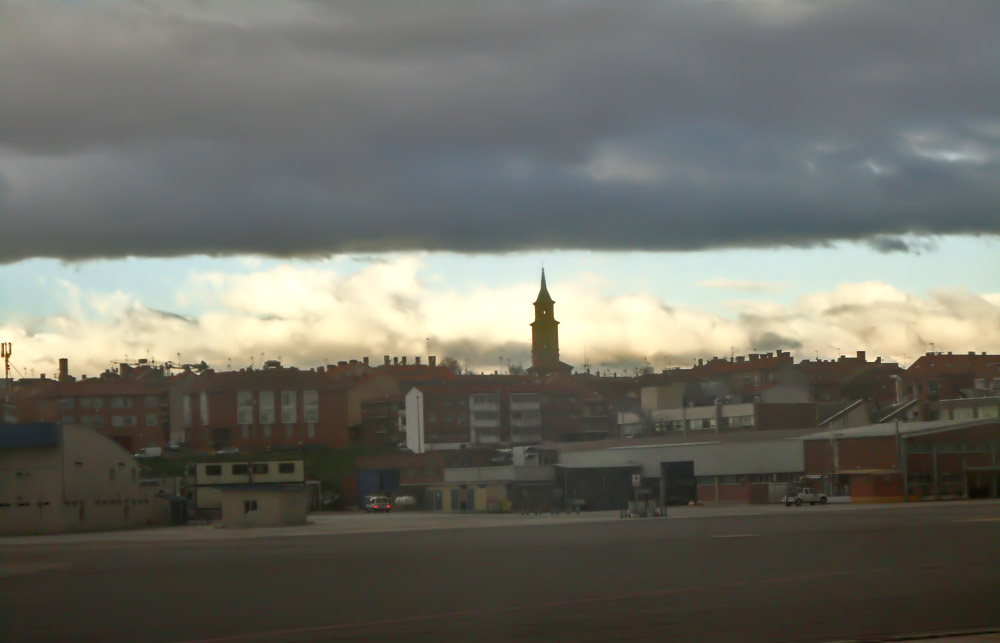 The suburb of Barajas, seen from the plane. With 43 000 inhabitants and an own town hall it feels like an own town, or at least a suburb, but is part of the city of Madrid.
Cuatro Torres seen from Barajas.
Some townhouses in Barajas, near the airport.
The mountains of Sierra de Guadarrama seen from Barajas.
Barajas Airport seen from Barajas "Town".