Atocha Station, Plaza de Emperador Carlos V and Calle Atocha
Plaza de Emperador Carlos V is a square in the end of Paseo de Prado and the hilly and busy Calle Atocha. It is very trafficated and has fountains and sculptures, just like Plaza Cibeles. It is mostly famous for that Atocha, Madrid's most famous railway station where the 2004 terrorist attacks that killed 192 people took place, is situated here. And The world famous modern art museum Reina Sofia is just next to the square. The south gate to Parque del Retiro and Jardin Botanico is also here, just like the Ministry of Agriculture.
The fountain in the middle of Plaza Emperador. Like everywhere in Spain, construction is going on.
Estación de Atocha, the largest railway station in Madrid, is in the south part of the plaza.
Ministerior de Agricultura.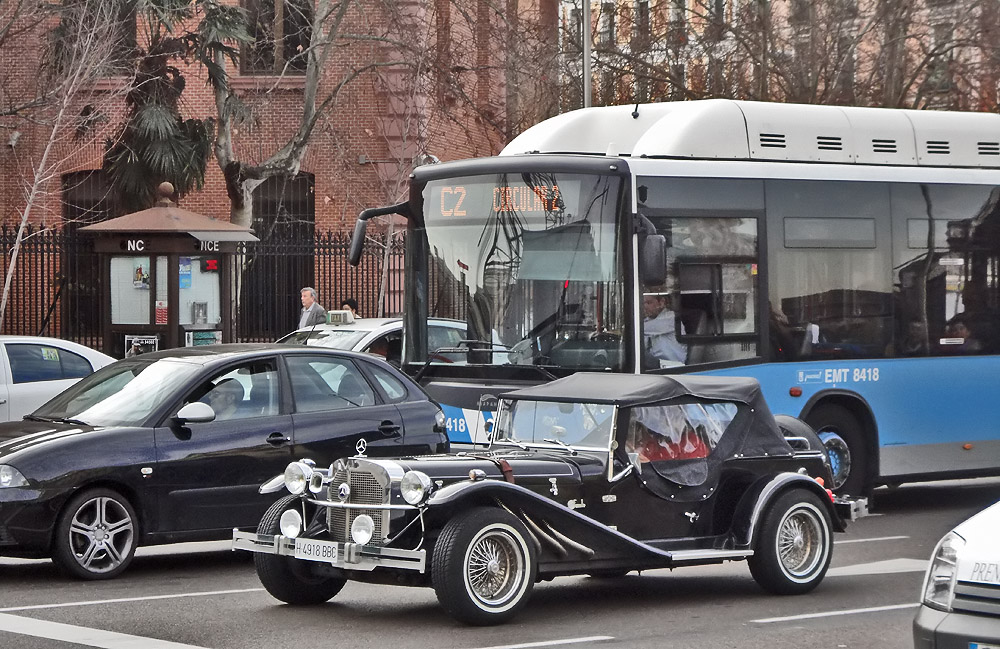 A vintage Mercedes passing Plaza Emperador.


Atocha Station
Estación de Atocha, the largest and oldest railway station in Madrid, lies in the south part of Plaza Emperador. It was built in 1892 and is famous because of its beautiful winter garden, but also for being the place for one of the worst terrorist attacks in Spain; On March 11 2004, islamist terrorists placed bombs in several trains, killing 192 people!
Atocha Station. The national railway company is called Renfe.
The famous winter garden inside the old part of the Atocha Station. In 1985 a new station building was built and the old part was renovated at the same time as this tropical garden was added.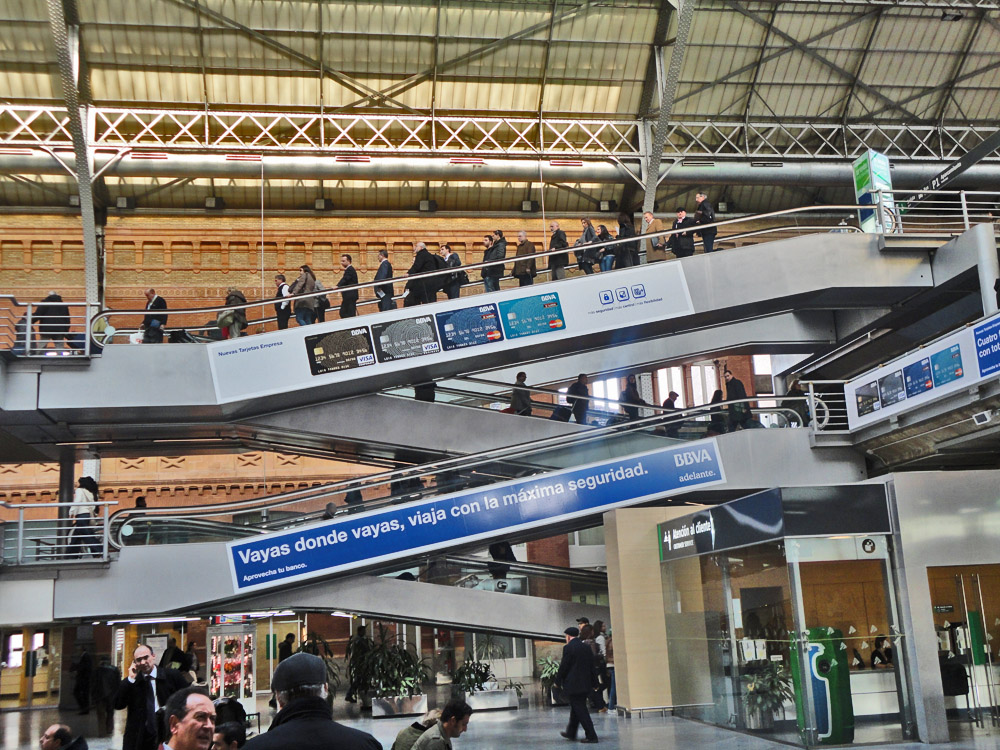 Turtles in the winter garden.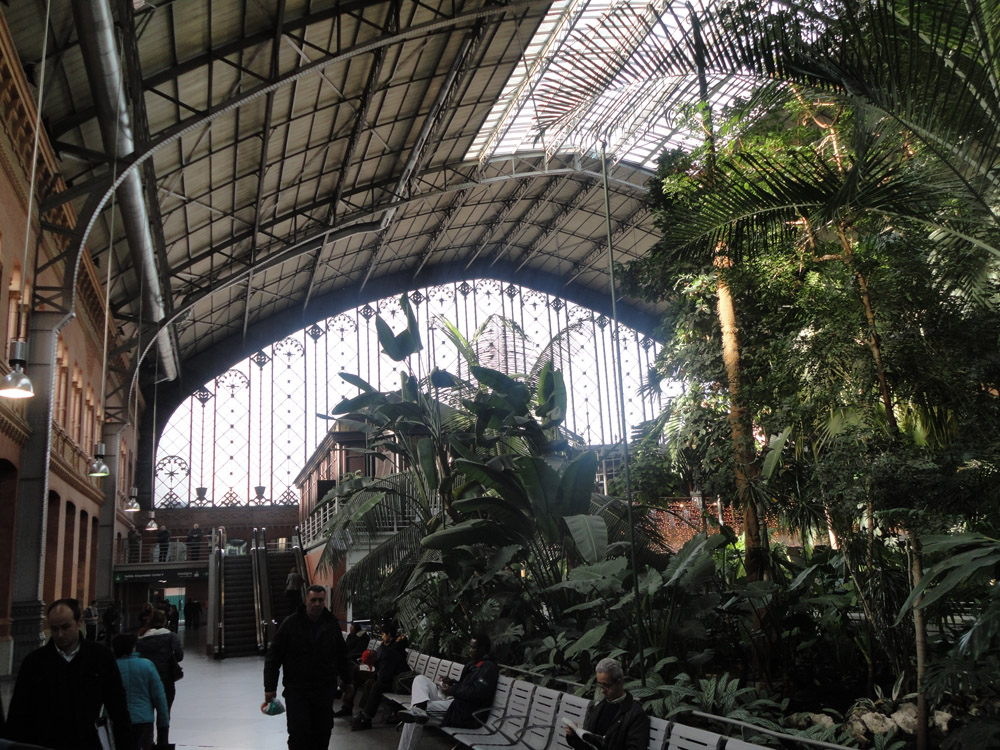 An Uzbekian restaurant inside Atocha.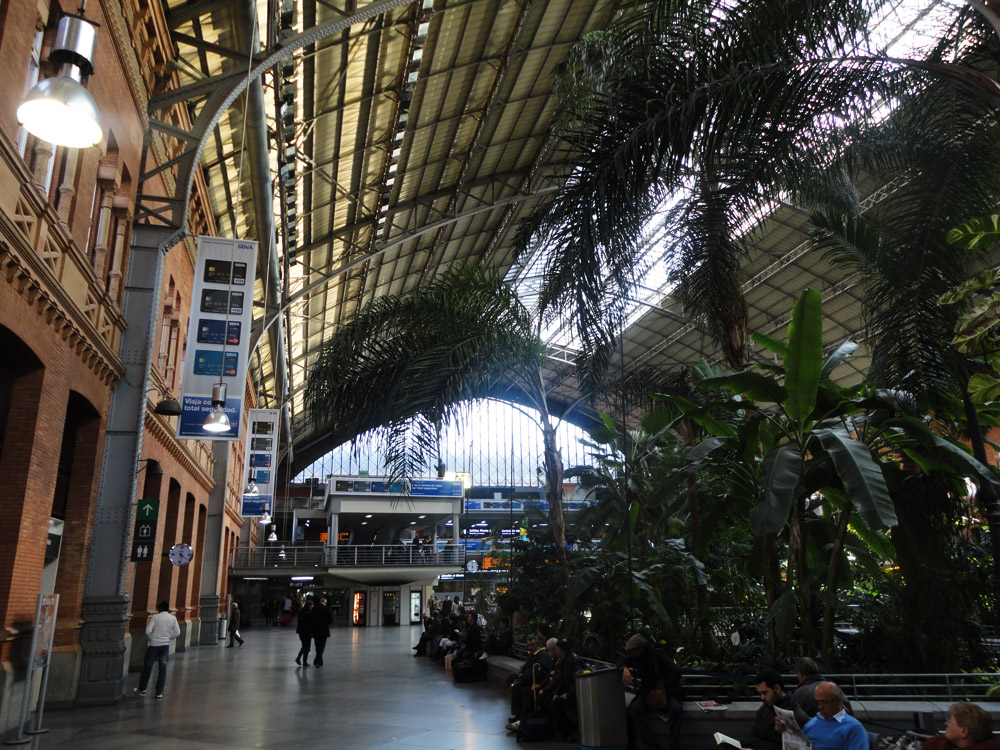 The tropical garden is a nice place to sit and relax.
A highspeed train to Toledo, operated by Renfe. You can find my photos in the Toledo section.
Taxi stands outside Atocha. All Madrid taxis are white with diagonal red stripes on the sides.
Reina Sofia Museum
Reina Sofia´s modern library annex seen from the Atocha Station. The museum is the old part to the right.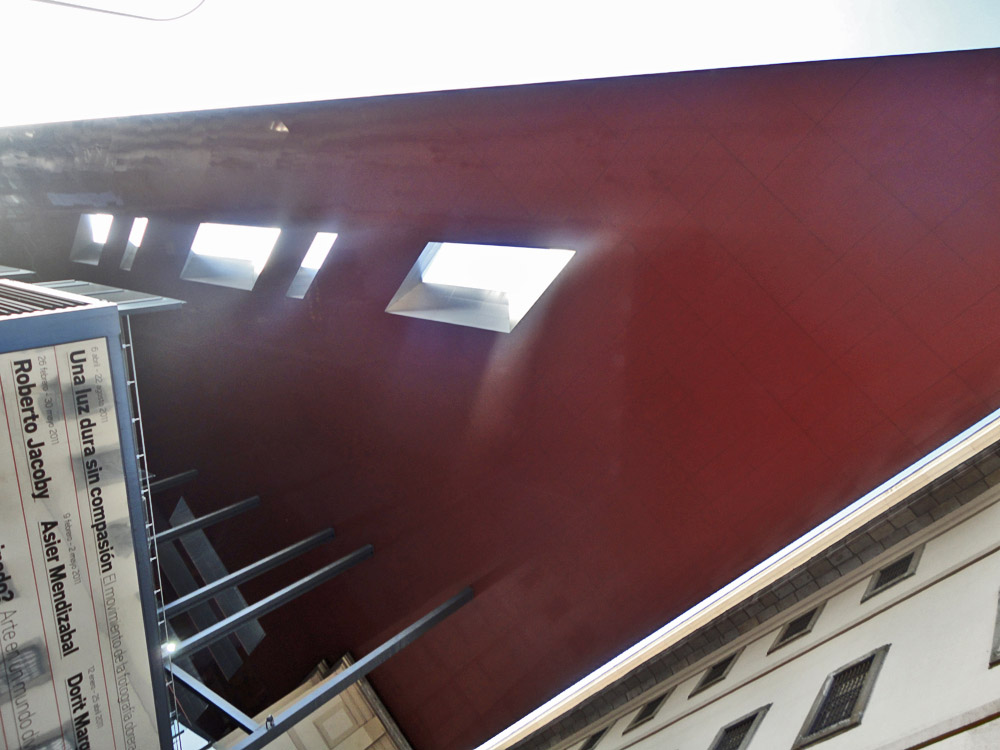 The modern part of Reina Sofia, that houses the large library, a futuristic atriuma and a congress hall, has a very striking design.
Museo Nacional Centro de Arte Reina Sofia. You can look at Reina Sofia and its collections in its own section.
Calle de Atocha
Calle Atocha is a busy, but narrow street that goes on a hill from Plaza Emperador to a small plaza near Puerta del Sol. My hostel, that I changed to after the hotel, was close to Calle Atocha. It is perhaps the most lively street in Madrid, with demonstrations and accidents!
Anton Martin metro station at Calle Atocha. Just a few blocks from were my hostel was.
Atocha is very hilly.
Dogs in a display window! Something you would never see in Sweden.
A demonstration at Calle Atocha, one of many I saw during my week in Madrid. This was at the same time as a rescue team tried to save a man on the ground, some blocks away, and some blocks further the police had stopped a car. So it felt really crazy with all this going on at the same time!
Armed police, trying to gain control of the demonstration. They were catching explosives towards them, creating smoke and a loud noise, something you almost never see in Sweden!
The demonstration turned a bit violent later. And I had to pass it to get to Atocha Staion, were I planned to catch a train to Toledo!
An accident on Calle Atocha. A rescue team tries to save a man on the ground the same time as the demonstration is going on!
A nice restaurant at Calle de Atocha, where we ate paella.
Calle de Atocha is very lively even after dark.