Trafalgar Square
Great Britain's most famous square is a historic traffic intersection. A world famous art museum, a symbolic Lord Nelson a church, fountains, statues and the intersection of 8 heavy trafficated roads characterize this square in the heart of central London. Actually it is a part of the City of Westminster district. It is also vey close to Piccadilly Circus, so we came to this place many times.

Trafalgar Square from the National Gallery. The southern part of the square is called Charing Cross, that is where some of the most important roads meet.

The first picture on our first trip after checking in at the hostel. Note the huge amount of doves and that London Eye is visible in the background.
The weather was a bit grey at this moment, but the sky became blue and clear after our visit to National Gallery of Art.

Lord Nelson´s Column. The 56m high Corinthina column from 1830 topped by the lord himself. Lions surround it, one of many things that made me think of Barcelona when coming to this square. Lord Nelson died at Trafalgar, that explains the name of the square. The statue has just been starting to be renovated.
Note that you can see Big Ben from Trafalgar Square.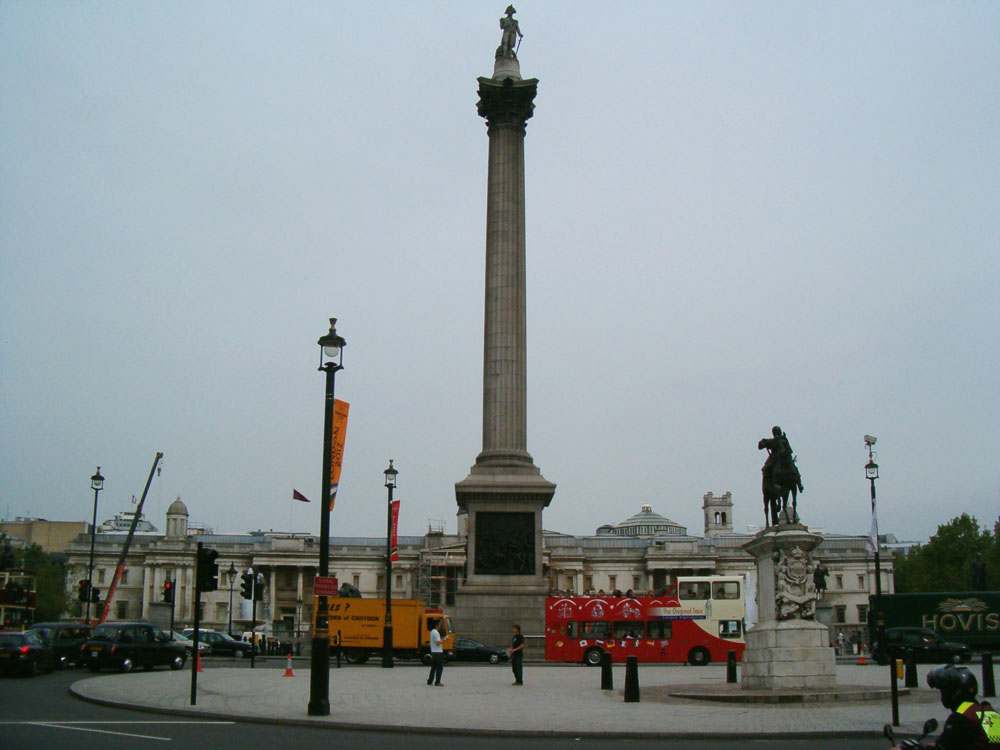 National Gallery of Art is a very large museum with many famous paintings by artists as Turner, van Gogh, Rembrandt and Michelangelo. Unfortunately the facade of the museum was under renovation, ruin part of the impression of the whole square. And unfortunately it was not allowed to take pictures inside. A more positive thing, though,is that the entrance fee is optional. The museum is so large that we and the other visitors needed a map to discover all the beautiful rooms decorated with god. Website: http://www.nationalgallery.org.uk/

When we visited the National Gallery, the contemporary artist John Virtue had a temporary exhibition about his Turner inspired
paintings of London's skyline that he had made from the roof of the museum.

St. Martin-in-the-Fields. Famous church from 1726 with an architecture heavily influenced by the churches in USA. Its tower is just 56m high.


The most notable change of the square since 1999 when I was there last times, was that they had removed the heavily trafficated road right in front of the museum
and made a walk for pedestrians instead, making the square more open and alot nicer. At less one hard road less to pass. This evening picture was taken from the
entrance of the museum in 1999 just as the first one, so compare!