Soho
Soho is the district right north of Piccadilly Circus. Our hostel was actually in the beginning of Soho, so we went there many times, both at night and day. Soho is a nice shopping and pub district at daytime, but it becomes a very messy entertainment district crowded with drunk people in the late evenings. A strange thing about London is that all pubs close alreay at 11 o´clock and then people go to clubs, but if you don't intend to pay the entrance to a club, you have to go home after 11! There is a SoHo in New York too, but it has nothing to do with the Soho of London. Soho is bordered by Oxford Street in the north, Shaftesbury Avenue in the south, Regents Street in the west and Charing Cross Road in the east.

Soho's streets are crowded with tourists at daytime and have many different types of stores.


Bröderna Olsson, a Swedish restaurant in Soho!

This is as unusual as an empty street in 1999.


Soho is after dark crowded with drunk people that want to party. Judging from all the
ambulances in the area and the sirens constantly sounding, it might be a dangerous area at night.
Chinatown

London's Chinatown is very little and only consists of about 4 streets, bordered with these Chinese red gates. It is situated in the middle of Soho.

The strange thing about Chinatown is that about 80% of the people with saw there looked Asian, but it seems they just walked around inside these gates.
Covent Garden
Covent Garden has a lot of theatres, 1000 restaurants, the Royal Opera House and many stores. Almost all buildings are historic. It is situated just to the south of Oxford Street, east of Soho.

There is a famous market in Covent Garden.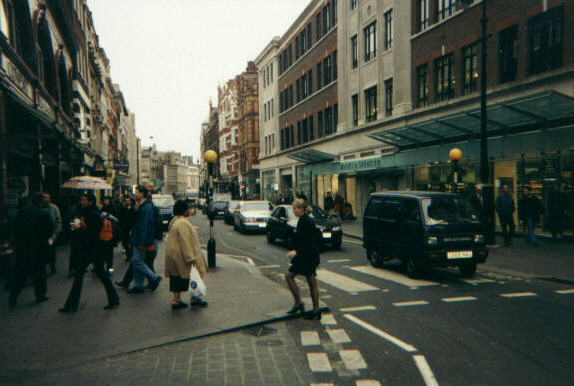 A photo from 1999 outside the typical English supermarket chain Mark & Spencer at Covent Garden.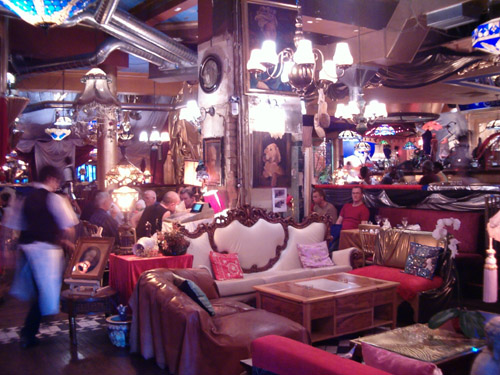 Papageno, a restaurant with a Mozart theme.