After visting Hyde Park, we went on a old double decker to see Bayswater, Paddington, Kensington and Notting Hill from above. It was very nice because there was many trees along some of the streets and the houses and the stores looked very good. These districts are situated west of London's city center and northwest of Hyde Park.
Bayswater

Bayswater Road. This nice road on the northern edge of Hyde Park is heavily trafficated by double decker buses.

This alley was very beautiful and reminded of southern Europe.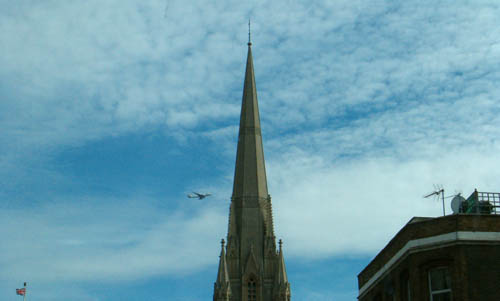 A church in the Bayswater area. Note the plane and the British flag to the left.

Paddington
This is the district is situated right north of Hyde Park and Bayswater, famous for its Paddington Station. This part of London reminded me of the outskirts of some large American city. I think this part was both nice and interesting, because it shows the common day life of London, a bit away from the tourist attractions.

This street I recognized from a dream. When I came there I thought it looked exactly like a street that was in a dream I had some months ago. But there was some Japanese people in the dream. Suddenly I found a sushi restaurant and the guy in the photo store where we went was Asian. Fortunately we didn't got robbed, like in the dream.

Paddington Station. We wanted to see this nowadays busy station, one of London's largest, because the bear "Paddington" that liked marmelade, had hat and was very popular among children in the 80s. Of course there was a stall that sold the bear.
Notting Hill
Notting Hill became famous when the movie with the same name (starring Julia Roberts and Huge Grant) got famous. But when we was there, we hadn't seen it yet (but now we have), so we didn't know that we sat right outside the same gate to Holland Park as the actors in the movie when we were there. We missed Portobello Road and Notting Hill's famous market, but we captured the great atmosphere and looked on the typical expensiveNotting Hill townhouses.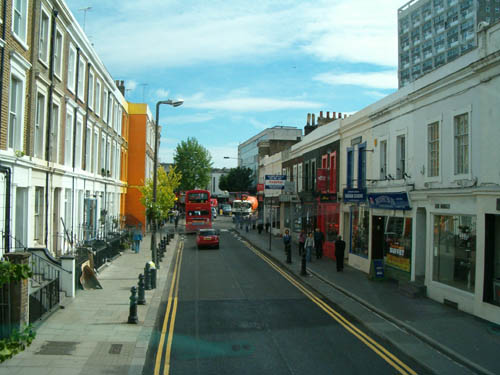 Notting Hill from the double decker.

This street was very nice with its exclusive residences. Note the unusual old Rolls-Royce parked on the right side.
A got a feeling that Notting Hill was a bit continental, like southern France or something.

An interesting house in Notting Hill's town center, where we waited for the bus.