This page is about the 3 of the most exclusive districts in central London: the borough of Chelsea and Kensington and Knightsbridge. We made a bus trip through all these districts, including Notting Hill, Bayswater and Paddington.
Chelsea

Chelsea is famous because Sex Pistols was founded on its Kings Road (and because of the football team). Today, it is a very fashionable road. The mayority of the cars that where driving on Kings Rd looked very expensive (Ferraris, Jaguars, and Rolls-Royces where driving buy the whole time). On the ground floor, there are expensive stores such as Calvin Klein, Cartier and Gucci. But the strange thing is that the facade of the upper floors of the same buildings looks very worn and dirty.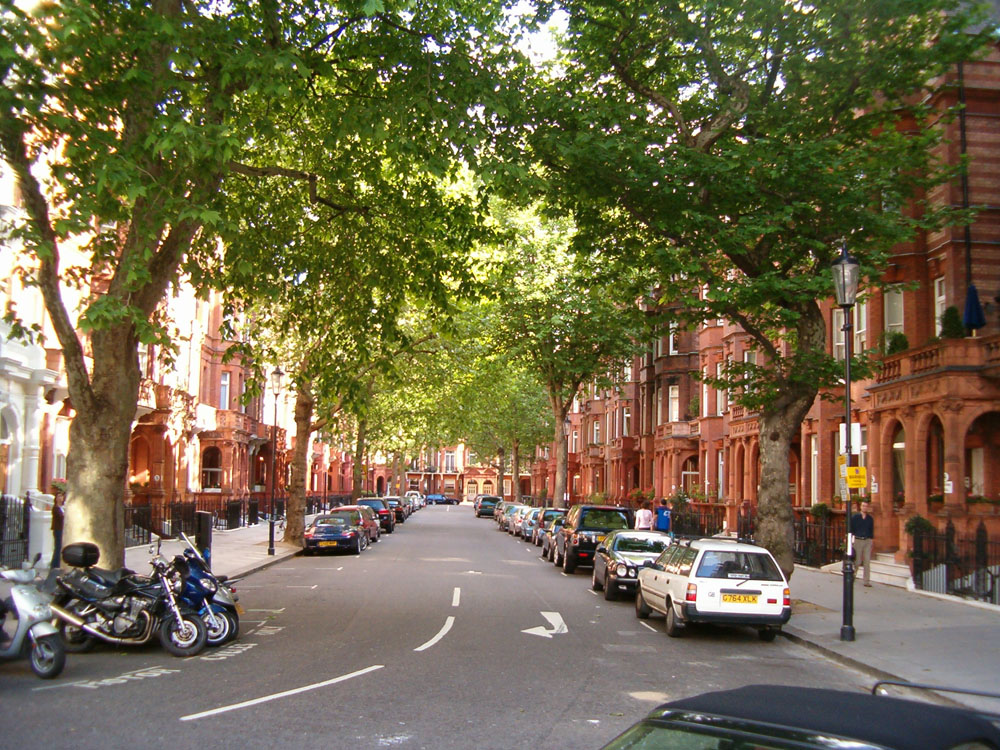 We got off the old double decker bus near Sloane Square and came right in the middle of the famous flower market, that unfortunately (because my girlfriend is very interested in flowers) just had ended. It lasts 24-28 May and we just happened to arrive on 28 May just when the whole annual show just stopped! Then we walked through the Chelsea Bridge above Thames and back again. We walked Sloane Square and there we found the beginning of the famous Kings Road.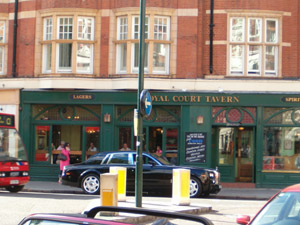 Sloane Square. The latest and newest Rolls-Royce was temporatily parked outside. But I must admit it is strange they had garbage cans right outside an expensive restaurant. And on some places people through litter on the pavements. Even more strange is that there are large districts in London without garbage cans so there is no place to through the trash except for the pavement. Afraid of terrorists?

Kings Road.



At Kings Road, we recognized a map of Stockholm we went inside and it was a Swedish designer shop. The staff even talked Swedish.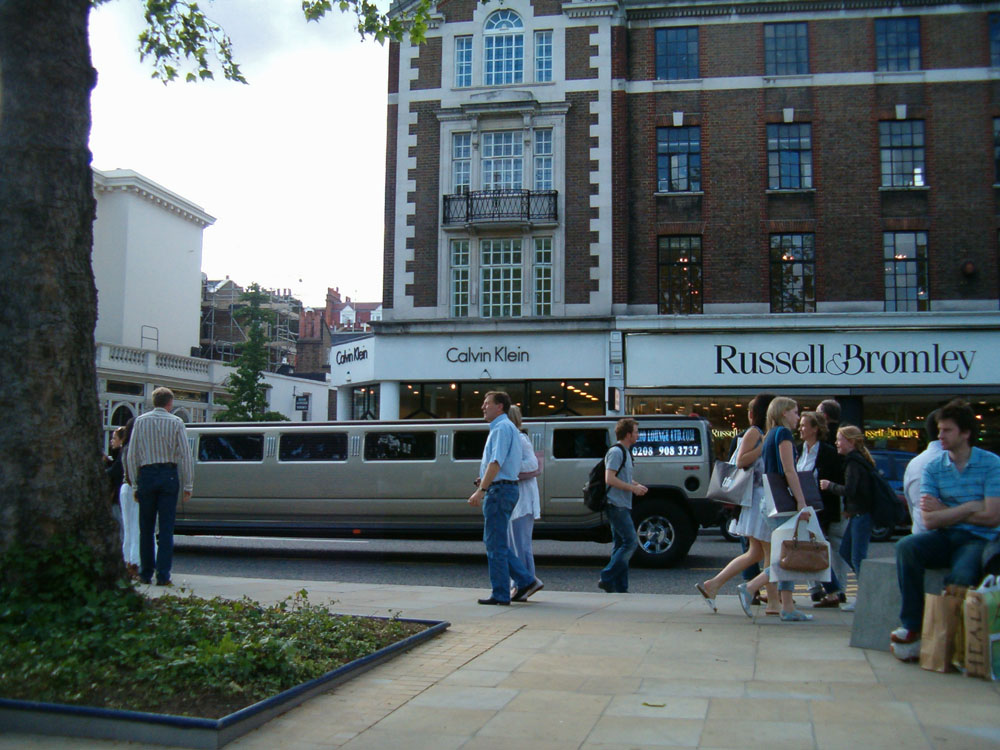 A Hummer Limousine passing by a Calvin Klein store on Kings Road. Have you ever seen this before?

A green, exotic store front.

A small street in Chelsea. It was very calm despite it borders the pretty busy Kings Road.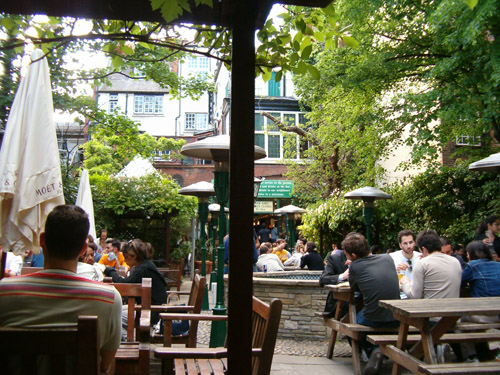 This Chelsea pub at Kings Rd is called Henry Bean. We went inside to take a bear, since we found its bear garden very nice.
Kensington
Kensington is one of the richest parts of London. We just get off the bus and visited some stores on Kensington High Street. Then we walked along the street towards Holland Park, to get to Notting Hill.

Kensington High Street. The main road in Kensington. We visited the Swedish cloth store H&M, the British supermarket Mark Spencer and a jewelry.

South Kensington. In 1999, I tried to find Kensington, but just found South Kensington that was also very nice.

Kensington Garden is Kensington's nice park that is bordering Hyde Park and Knightsbridge (the skyscraper Knightsbridge Barracks is there).

Knightsbridge


The whole district Knightsbridge is Harrods, the world's most fashionable department store, at least it feels like that when you are on Brompton Road. We began our second day with visiting this large and extremely exclusive store. It was important, because on the other trip me and my friend missed it because we found out it was closed on Saturday when we was there. We even went a 2nd time to buy a birthday present for my sister. After getting in through the doors, passing the guards, it almost felt like a shock, because of the cleanliness and the contrasts to the "outer world".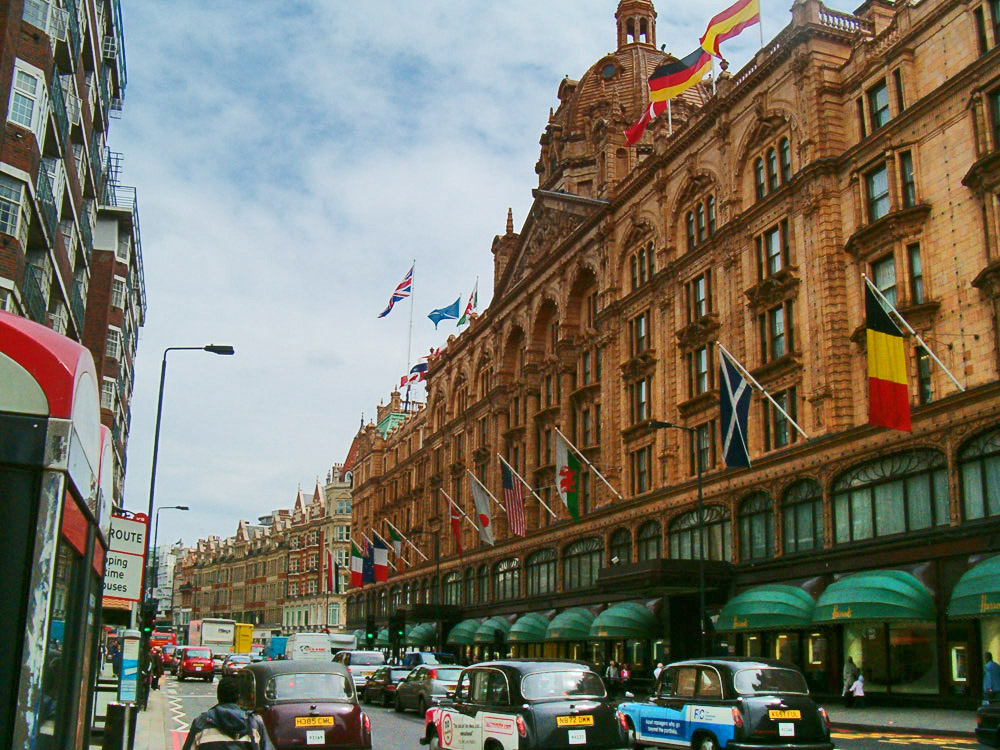 The famous facade of Harrods. The staff was snobbish, but at least we got a test each for an expensive parfume, so may be we didn't look so poor after all.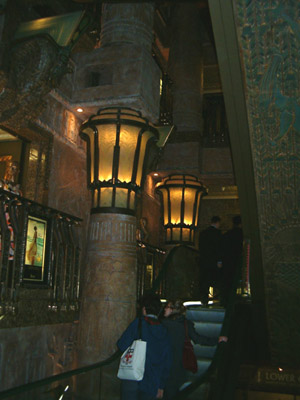 The "Cleopatra escalator hall".

The sfinx of Harrods.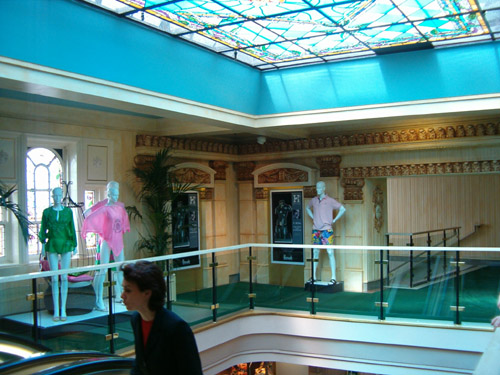 Two other escalator halls.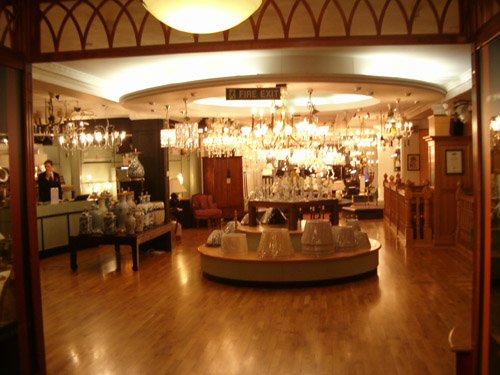 The lamp department.


Exclusive gifts in the basement.

The food hall in the basement is famous. It has exclusive food from all over the world and of course - crystal chandeliers!

Mandarin Oriental, an Asian luxury chain hotel.