Canary Wharf
Docklands is the modern harbour district of London in the borough of Tower Hamlets. I have heard it was redevelopment of a very rundown area until the late 80s. But now it consists of modern office buildings, residential buildings and commercial complexes. And it has UK:s most impressive skyscraper cluster, Canary Wharf right at the Thames, since UK:s tallest building, One Canada Square, got company with 7 other skyscrapers, up to 200m tall. Since I totally missed this area in 1991 (One Canada Square stood alone in the skyline then), this was the first time I saw the cluster close in reality (even if the bus from Stanstead passed by this cluster already when we arrived). Docklands is situated to the east of central London, opposite Greenwich on the north side of Thames.

We had to take the modern lightrail above ground to get to the Docklands area from The Tower of London. It was warm and sunny when we left central London, but of course the sky was starting to get dark and grey just when we arrived in Canary Wharf. But that didn't prevent me from taking photos.

Canary Wharf skyline. One Canada Square alias Canary Wharf Tower is not only dominating the skyline with its silver facade and pyramid top, it is also Great Britain's tallest building and one of Europe's tallest (235m, 50 floors). This picture is taken from Greenwich. From the left: 40 Bank Street, 25 Bank Street, One Canada Square(Canary Wharf Tower), 25 Canada Square(Citygroup Centre), 8 Canada Square(HSBC Center) - (these 2 are 200m each and are London's 2nd and 3rd tallest buildings), 10 Upper Bank Street (front), 5 Canada Square (Bank of America) and One Churchill Place (Barclays Bank).

One Canada Square. Nicknamed Canary Wharf Tower, this is UK:s tallest building. The height is 235 meters to the top and it has 50 floors. It was designed by the famous architect Cesar Pelli and was completed in 1991. I think it looks very nice with its silver facade and pyramid roof. There is a flashing aircraft warning sign on the top of the pyramid of one of Europe's tallest office buildings.

In a very short time in 1991, One Canada Square was Europe´s tallest skyscraper until Messeturm in Frankfurt (and later also other taller ones) was completed.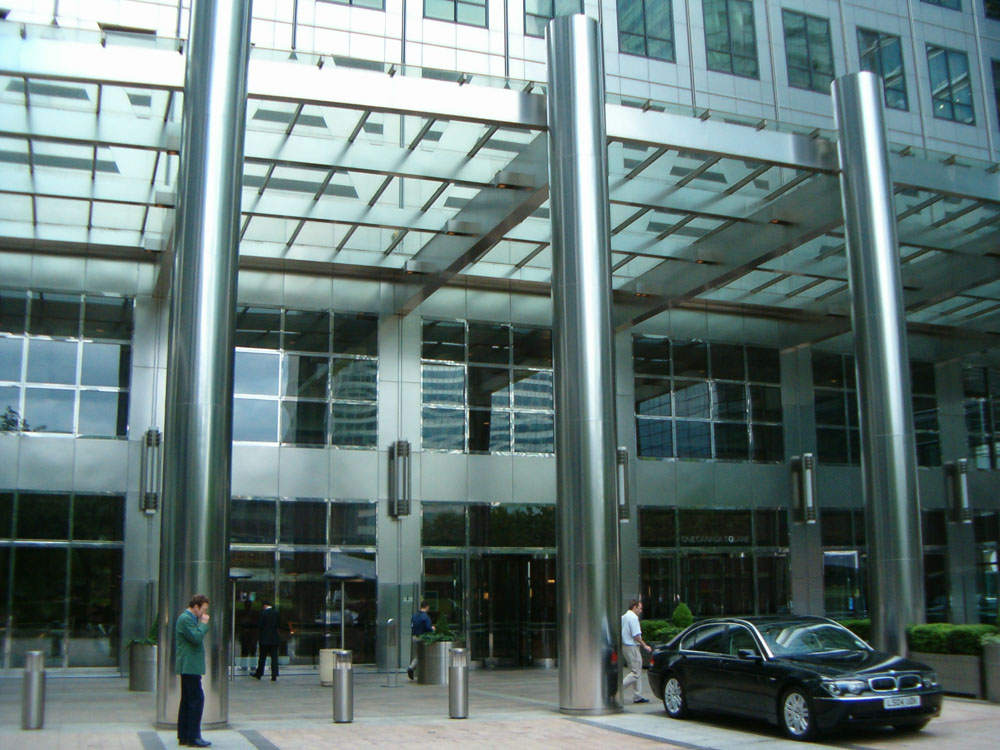 The entrance to One Canada Square.



The lobby is integrated with Canary Wharf Shopping Centre, a large shopping mall with 200 stores, divided in 3 parts.

The mall is, that was the first place we came to after getting off the train, has an underground escalator atrium in the center topped with a glass dome where you can look up towards UK:s tallest building.

25 Canada Square, better known as Citygroup Centre. It is sharing its title as UK:s 2nd tallest building with 8 Canada Square, because both are 200m tall and have 45 floors. It was completed in 2001.

8 Canada Square, better known as HSBC Centre, UK:s headquarters of the world renown Hong Kong and Shanghai Bank Corporation. This building was completed in 2000.

UK:s tallest building One Canada Square surrounded by the two 2nd tallest buildings in the UK even if they look taller in this picture.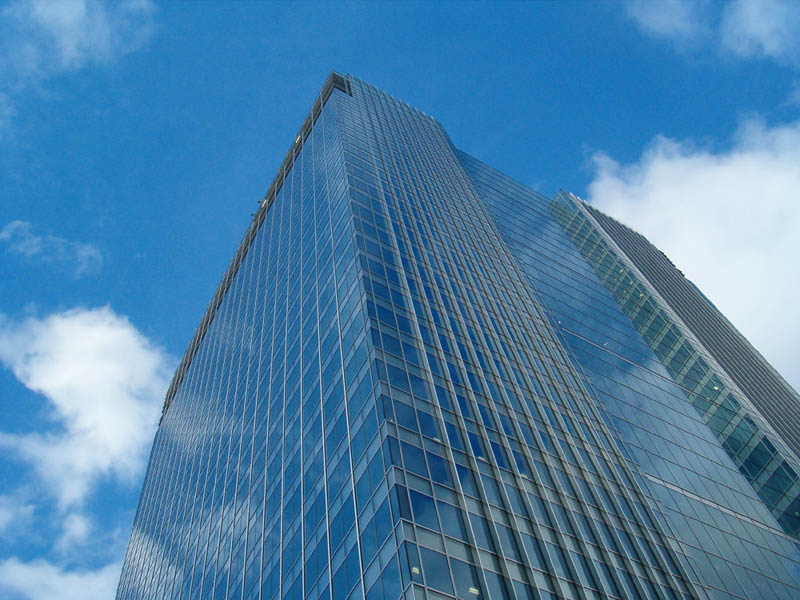 One Churchill Place, better known as the world HQ of Barclays Bank. At 156m and 32 floors London's 7th tallest building and Canary Wharf's 4th tallest. Completed as late as in 2004, the building is designed to be extremely resistant to terrorist attacks.

No. 1 West India Quay. This 34-story building (111m), completed in 2004 and standing a bit away from Canary Wharf on West India Quay, was beaten by the taller Turning Torso in Malmö in a competition in Cannes about "the best new residential building in the world".

Canary Wharf's own Wall Street with Millennium Dome in the center in the distance.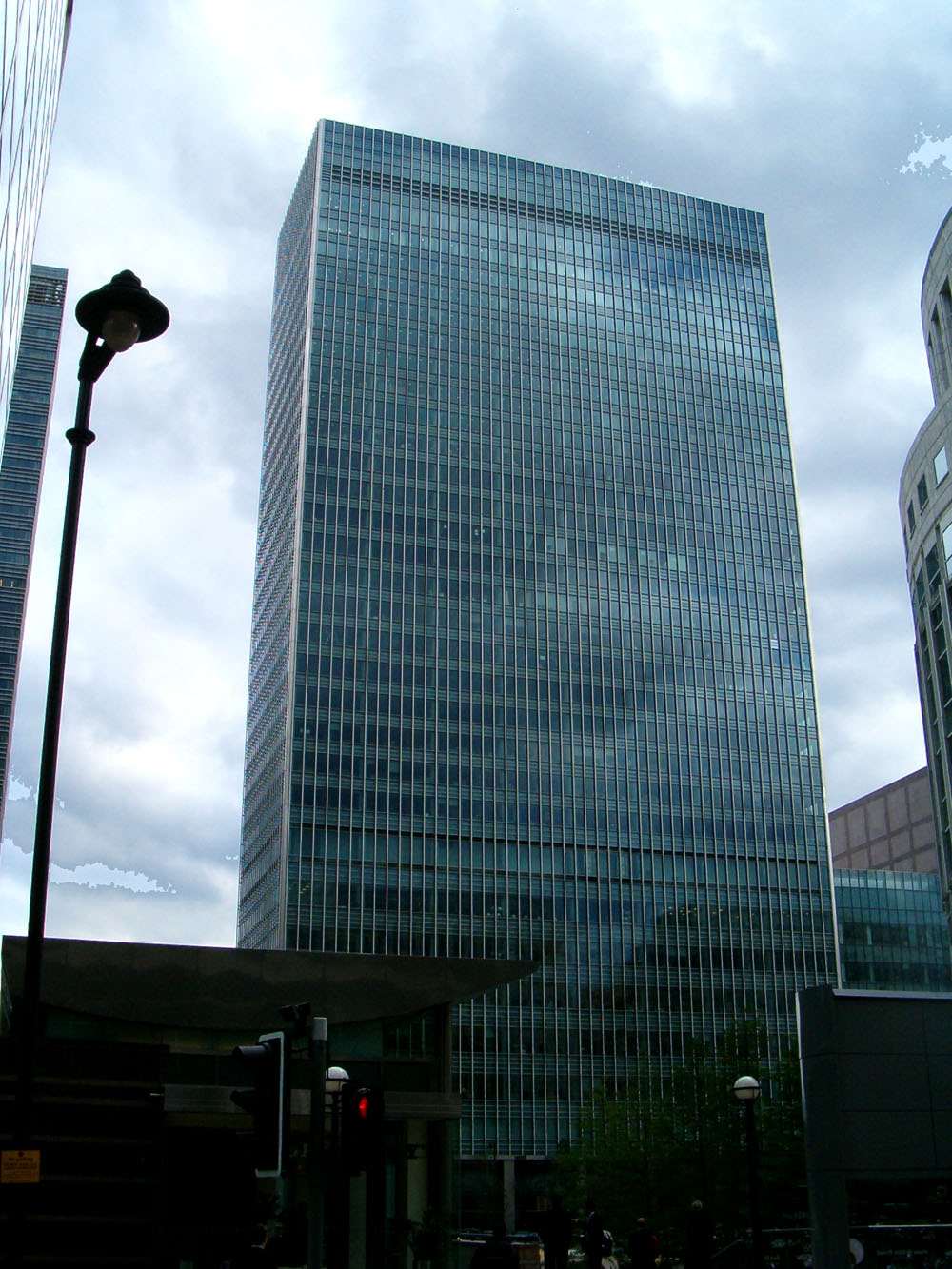 25 Bank Street. This 70s Manhattan styled skyscraper is 153m and 33 floors tall.Completed in 2003.


Bank Street.

10 Upper Bank Street. 151m, 32 floors, completed in 2003. You can also see the huge entrance to Canary Wharf Station here.

Bank of America. Not so tall, but very modern. This building had big safery with many guards.

Millennium Dome as seen from Canary Wharf. More about that in the Greenwich section.
Both the dome and the skyscrapers of Canary Wharf had large advertizement about the
bid about London getting the Olympics in 2012.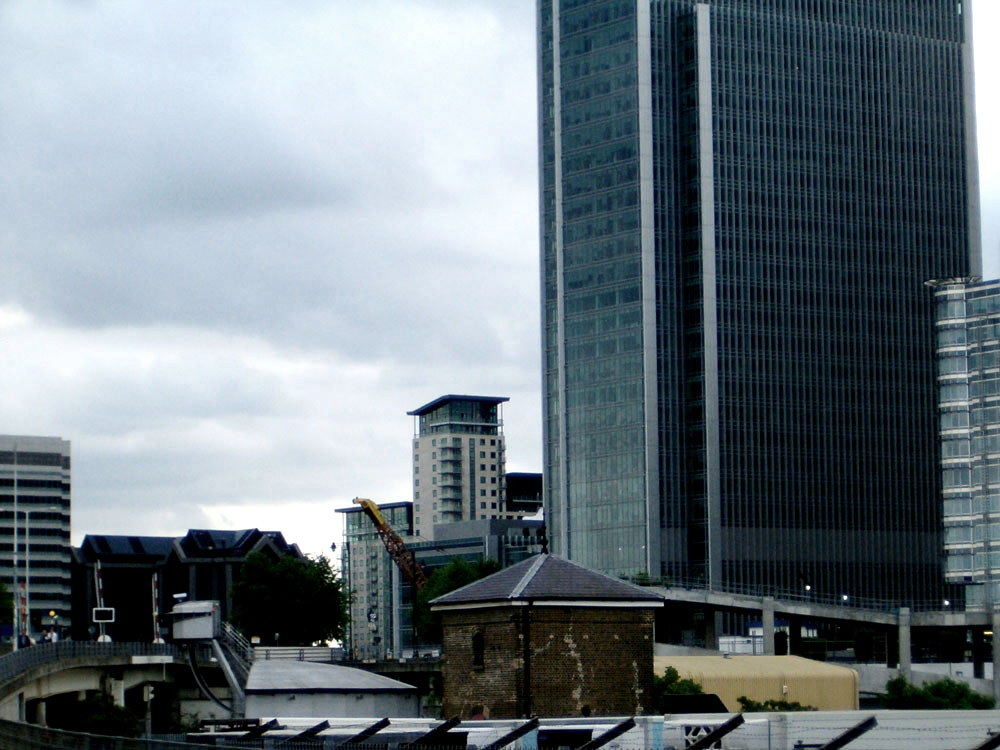 We have a copy of this small highrise with curved roof (that is dwarfed by 25 Bank Street) in Malmö.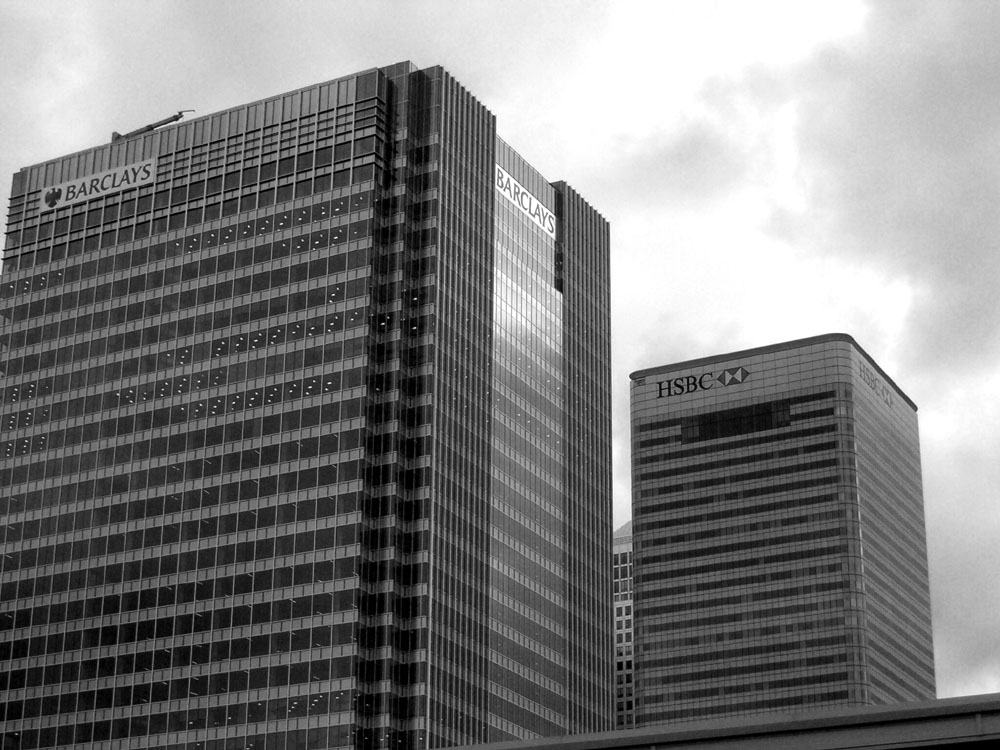 Citygroup Centre and One Churchill Place are the first 2 of these Canary Wharf images: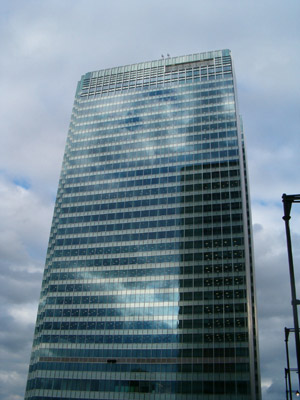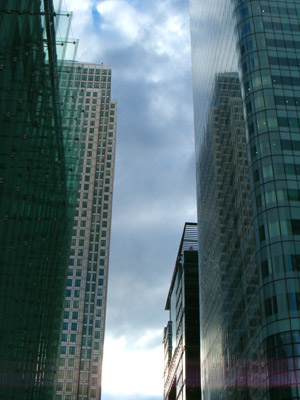 London City skyline with Swiss Re and Tower 42 to the left far behind West India Quay.