Vesterbro
Actually Vesterbro, that means "western bridge" is the district there many Swedish tourists arrive, since hovedbangården (the central station), there the trains from Öresundsbron (The Sound Bridge) stops, is there. Vesterbro begins just a few blocks from Rådhuspladsen in central Copenhagen, but contains most of the city´s entertainment. Large theatres, concert halls, cinemas and Tivoli, are all located between central Copenhagen and Vesterbro as well as Tycho Brahe Observatory and the former Carlsberg brewery. To watch pictures from Tivoli, click here.
Hovedbanegården (the central station). This where you arrive when going from Malmö, where I live. It has a large shopping center inside. It was opened in 1911 and was heavily renovated in 1994. It was drawn by Heinrich Wench.
Hovedbangården, the Central Station). This large train station at Vesterbrogade near Rådhuspladsen has connections with Malmö and the rest of Sweden via Öresundsbron.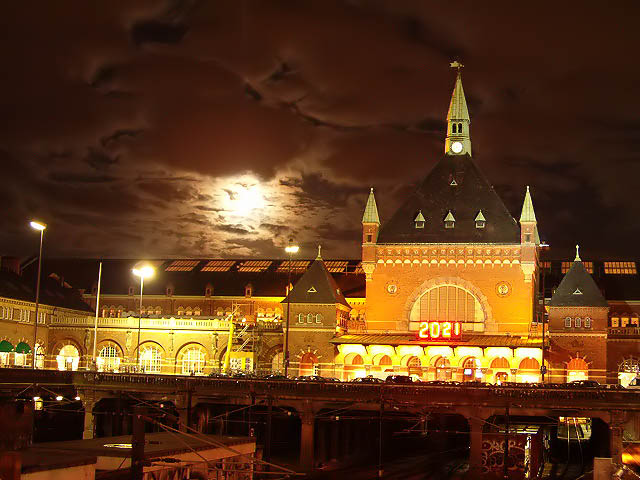 The central station after dark.
Next to the central station with a new building at Tivoli and Plaza Hotel to the left.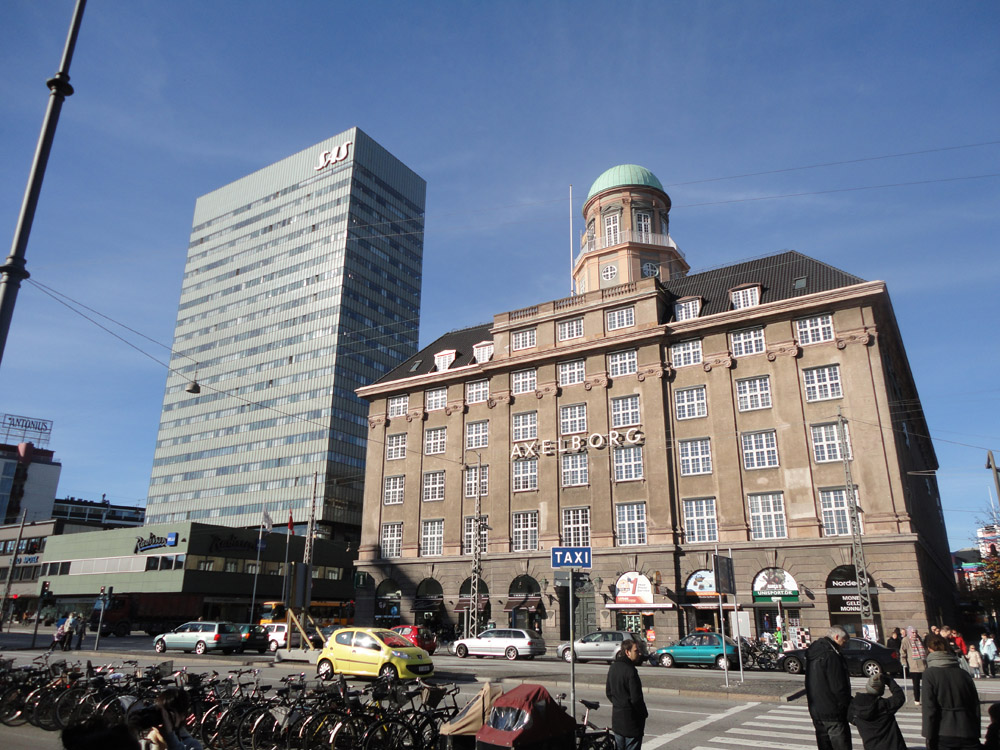 Radisson SAS Royal Hotel (left). Central Copenhagen´s tallest highrise. 70m, 22 floors, built 1960. The hotel has furnitures designed by the famous Danish designer Arne Jacobsen. To the right is the much older Axelborg building.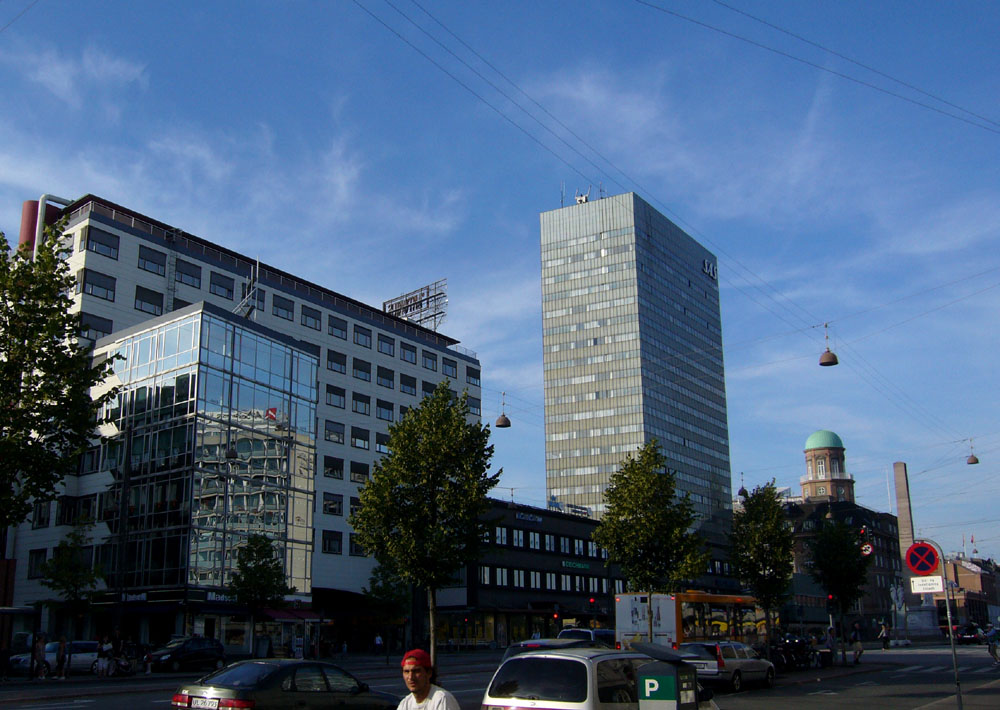 Vesterbrogade towards Rådhuspladsen.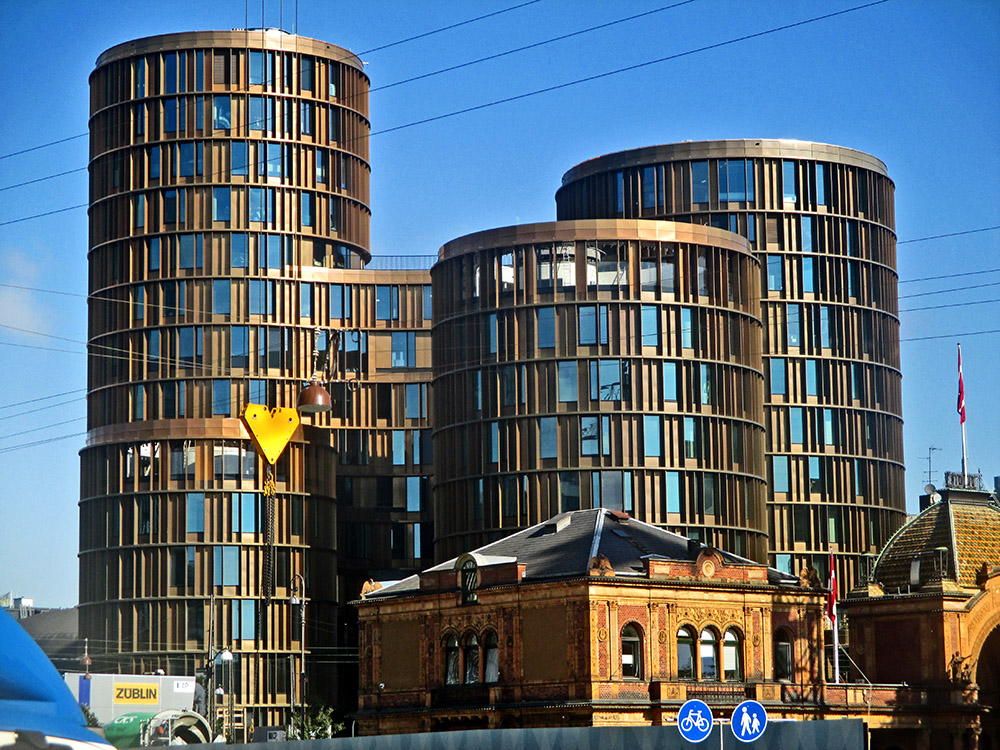 Axel Towers under construction (2016) at Vesterbrogade. These golden circular highrise towers, that replaced La Scala, will host a hotel, shopping and offices.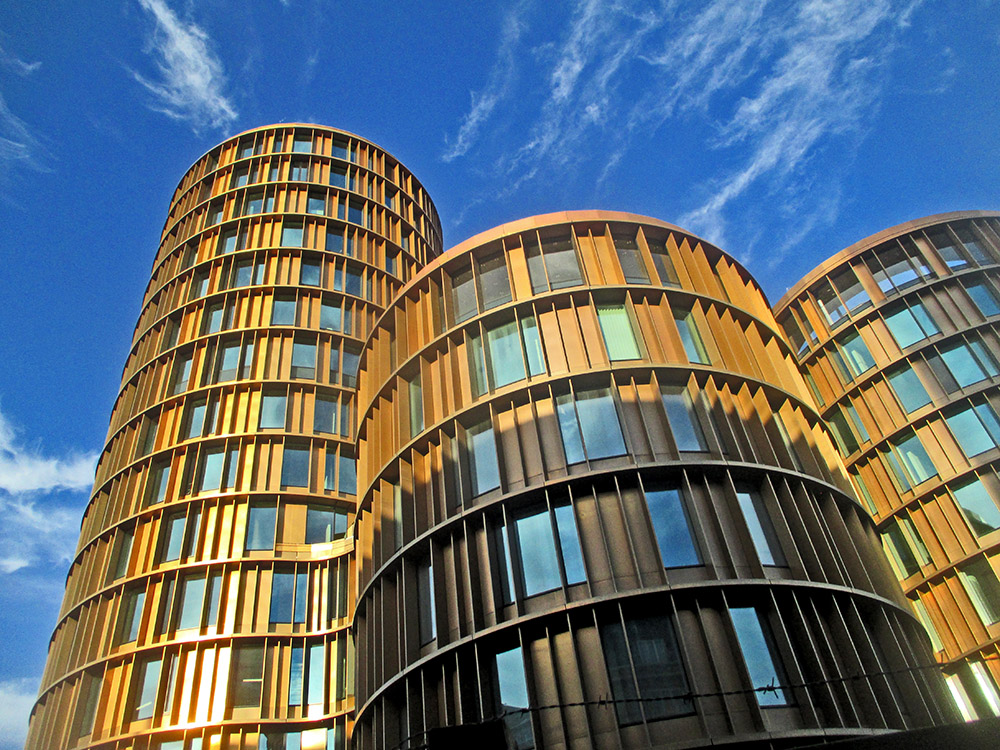 Axel Towers.
Tivoli (click here to visit). The park was founded in 1843 and is the world's 2nd oldest amusement park, after Dyrehavsbakken also in the vicinity of Copenhagen. It has served as a model for several parks and even buildings all over the world. It is Scandinavia's foremost tourist attraction with over 4 million visitors a year.
Tivoli's main entrance on halloween. Click here to visit!
Hotel Nimb, the oriental side of Tivoli, opposite the station.
Town Hall and entrance to Tivoli.
The newly rebuilt office building between the central station and Rådhuspladsen.
One of the yellow double decked buses of Copenhagen, here between Tivoli and the Central Station.
Sculptures of old Greek gods.


Himmelskibet, a freightening 80 m tall carousel tower at Tivoli seen from the central station!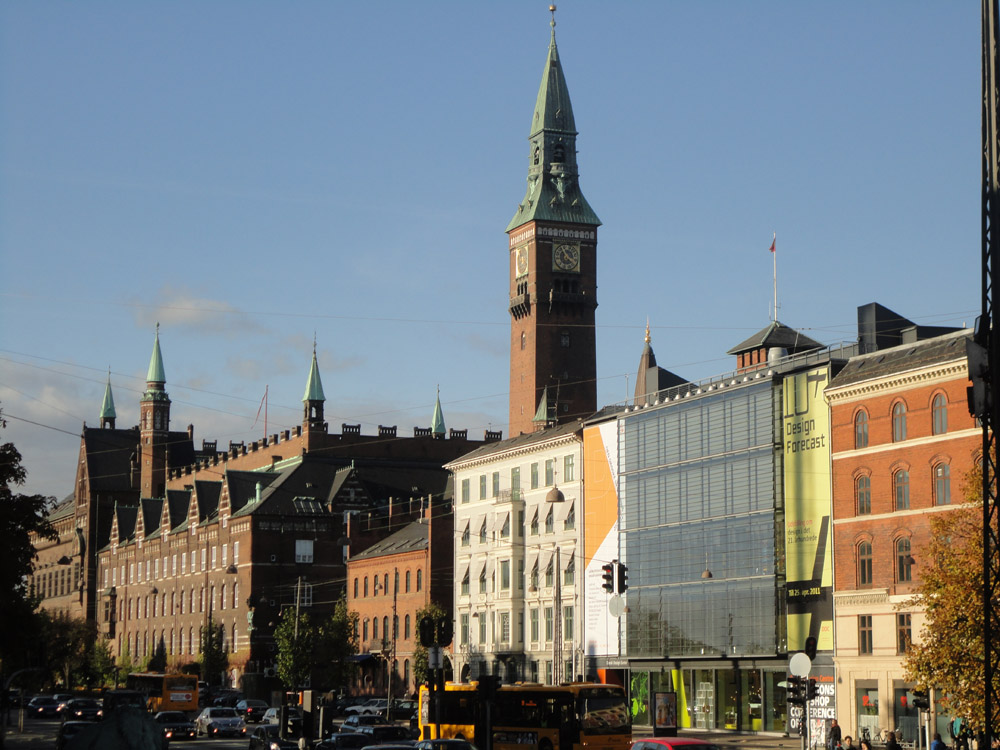 HC Andersen Boulevard with Danish Design Center and City Hall.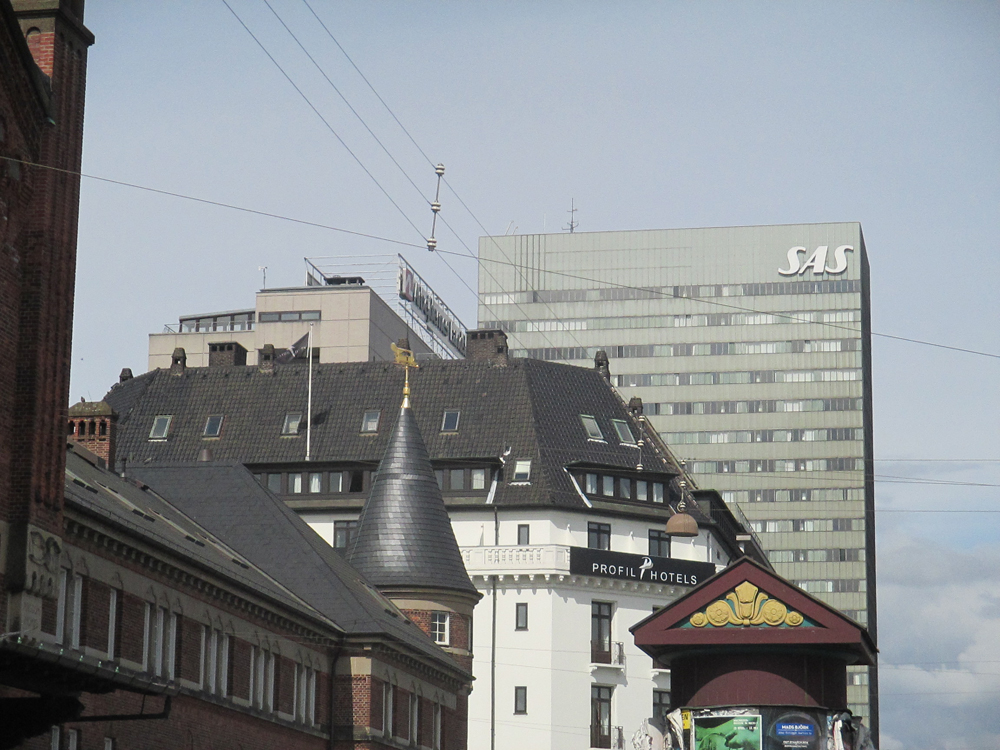 Radisson SAS Royal Hotel, Plaza Hotel and Central Station.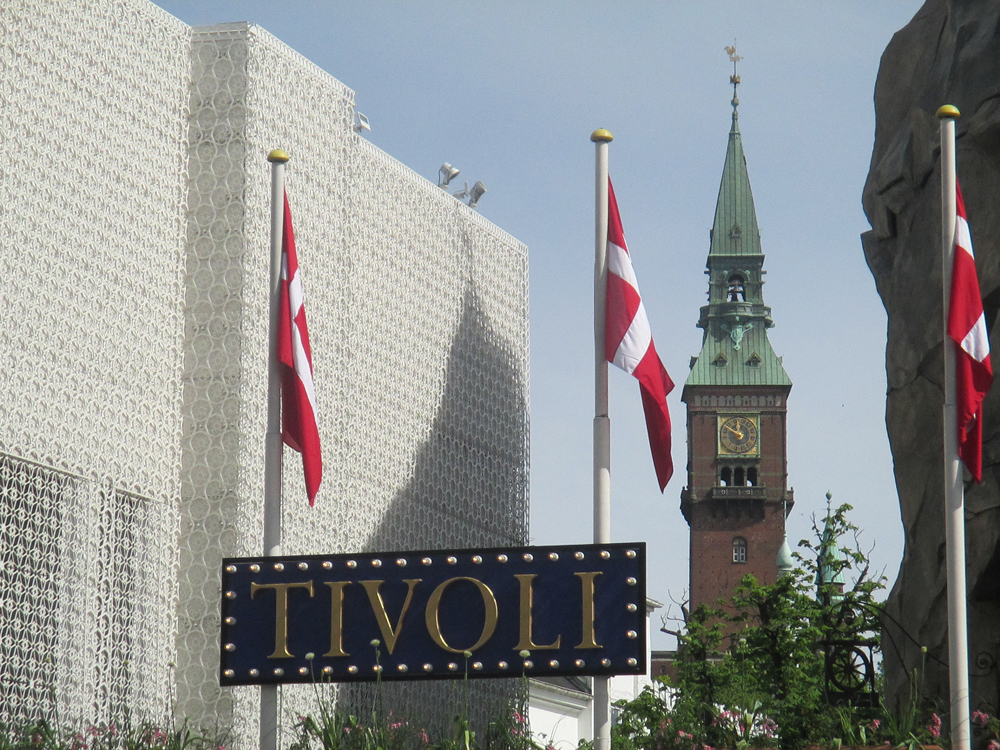 Tivoli and Town Hall Tower.
HC Andersen Boulevard with Tivoli.
Ny Carlsberg Glyptothek, a huge musuem dedicated to ancient art, sculptures and history. Visit it here.
A historical castle like building on the back of the city hall.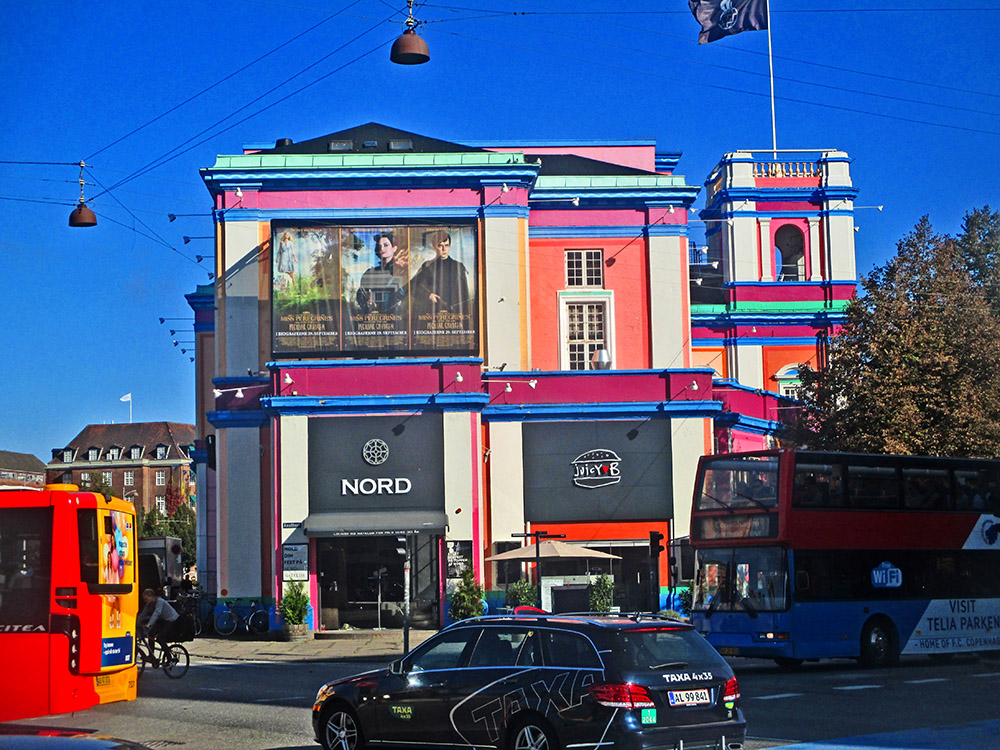 Palads, a colourful cinema complex with 17 auditoriums.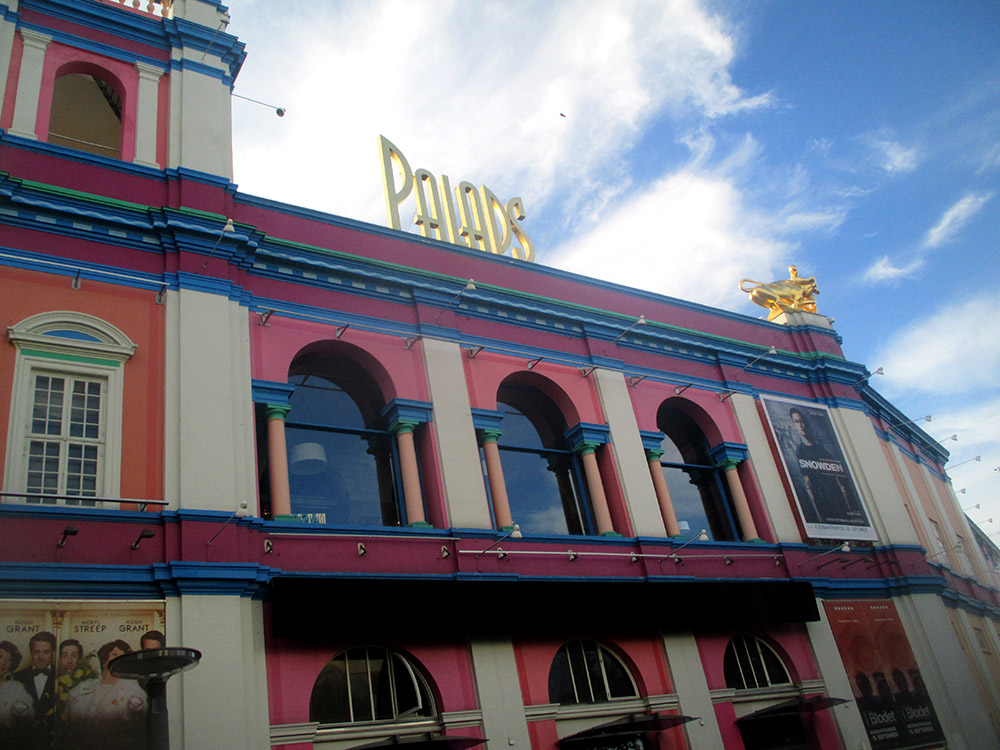 Paladset, an extremely colourful movie theater. Just next to the grey Radisson this odd looking pink building is an obvious contrast.
Pumpehuset, a great concert venue near Rådhuspladsen.
Detail of a building near Rådhuspladsen.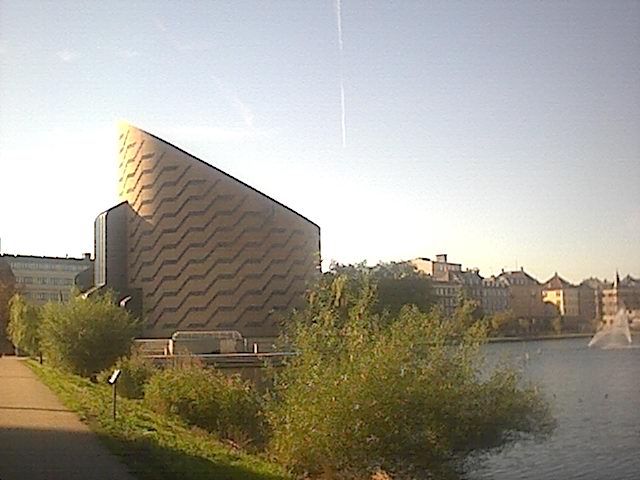 Tycho Brahe observatory. Inside this exciting brick building, built in 1989, there is not only an observatory,
even a IMAX (3D) movie theater.

A close view of the observatory with Scandic Hotel Copenhagen in the middle and SAS Royal to the right.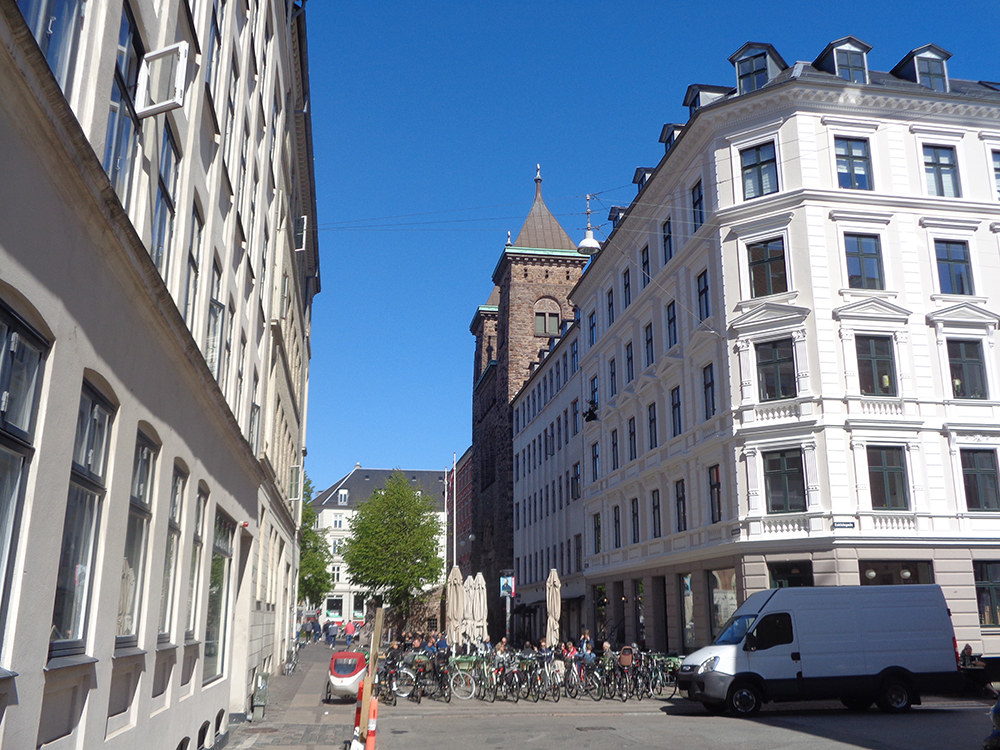 Vesterbrogade towards Ströget and Radisson Blu Royal Hotel.


Vesterbrogade. If you are tired of Strøget, go westwards instead!
Vesterbrogade is a picturesque, partly hilly road that reminds a bit of Paris.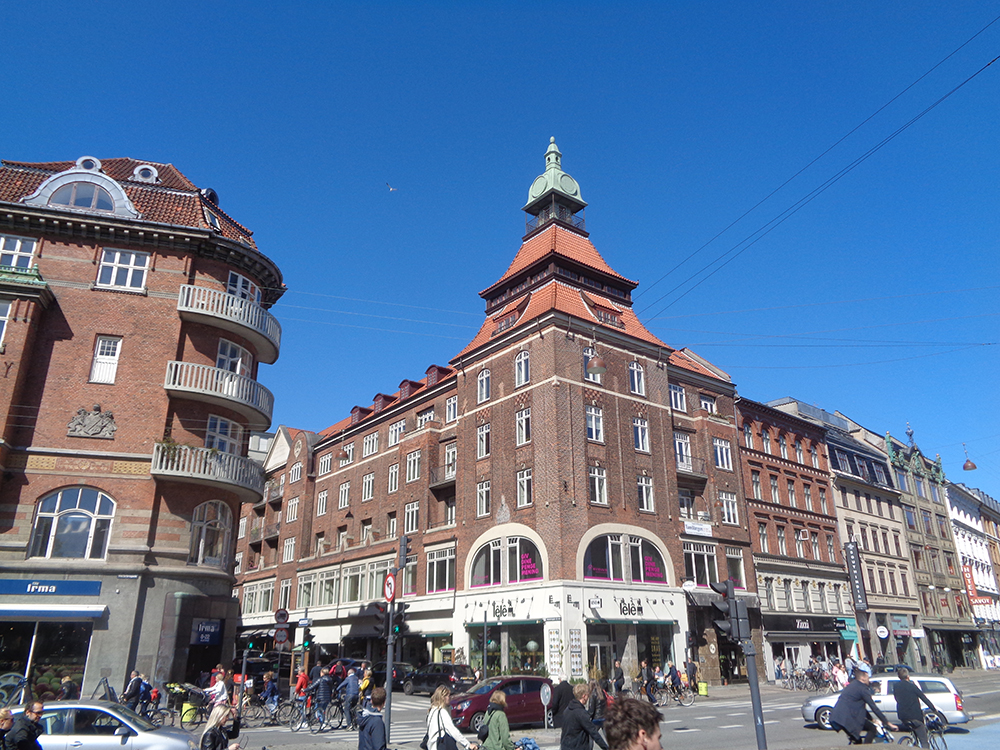 Vesterbrogade.
Vesterbrogade with Scandic Hotel Copenhagen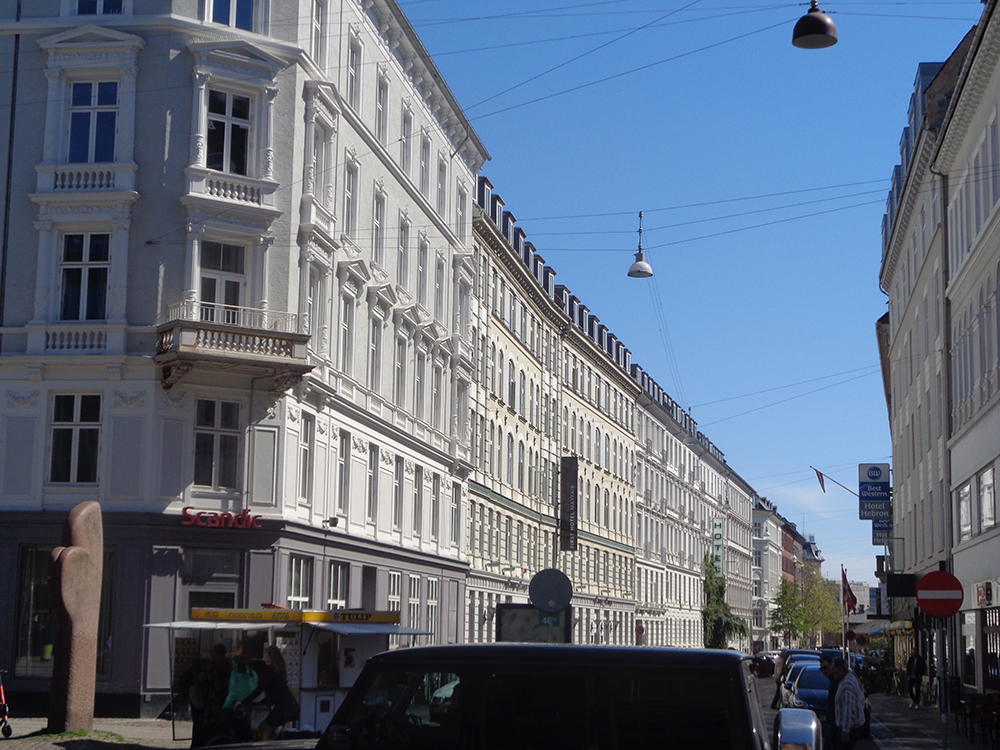 Webers, another Scandic hotel at a side street to Vesterbrogade.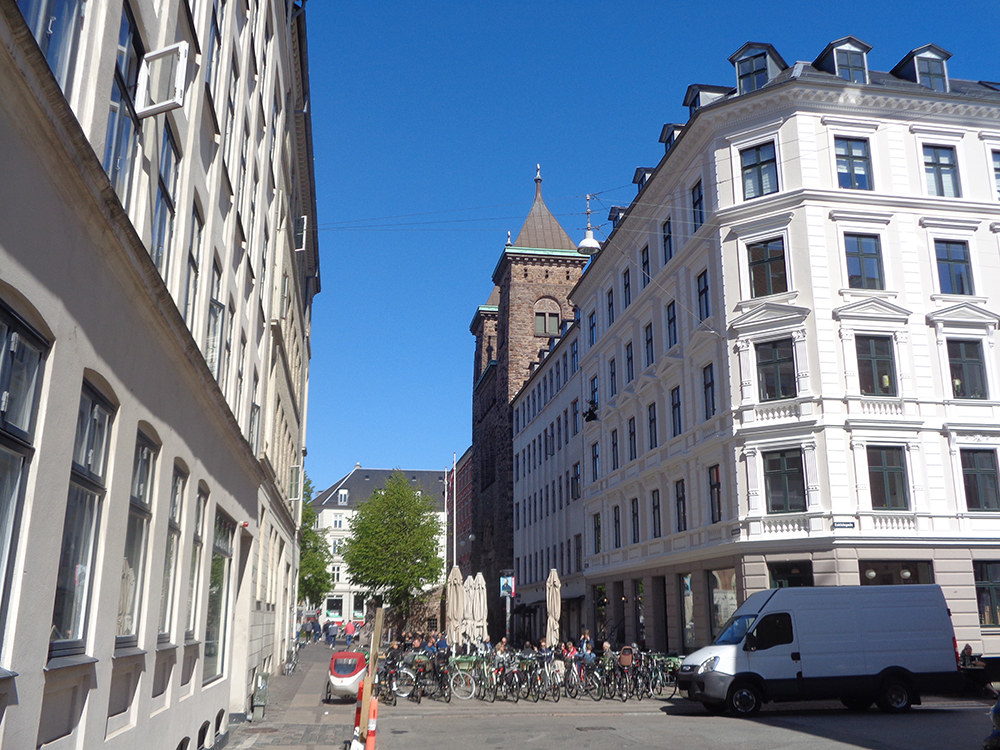 Vesterbro.
Painted backside of a Vesterbro building.

Construction work in front of the Tycho Brahe Observatory, Scandic Hotel and SAS Royal.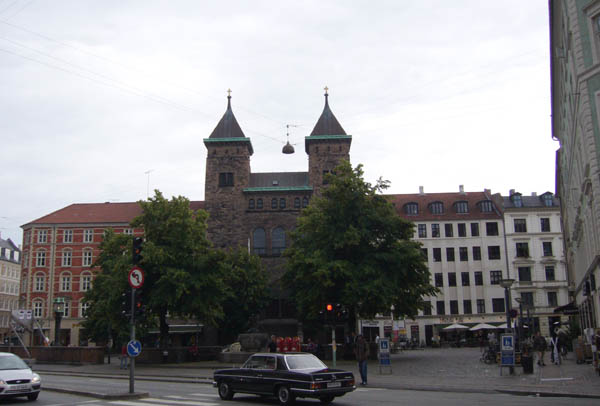 Vesterbro Torv with Eliaskirken, a Romanticist church from 1908.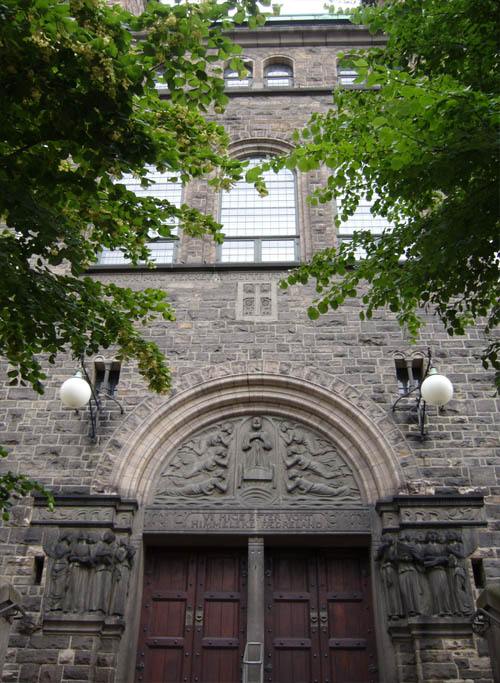 The architect of the Elias Church, Martin Nyrop, also drew Copenhagen's wellknown Town Hall.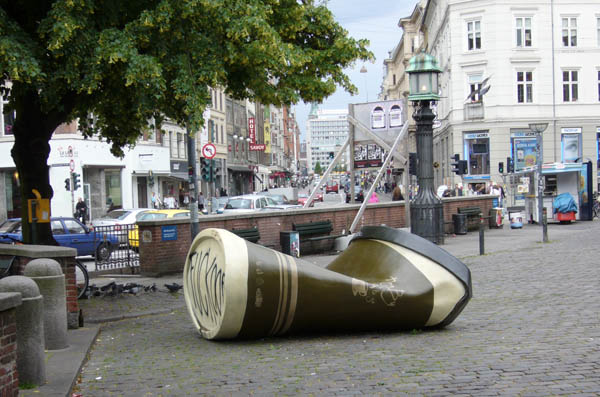 It seems it is not forbidden to throw huge beer cans on Vesterbro Square!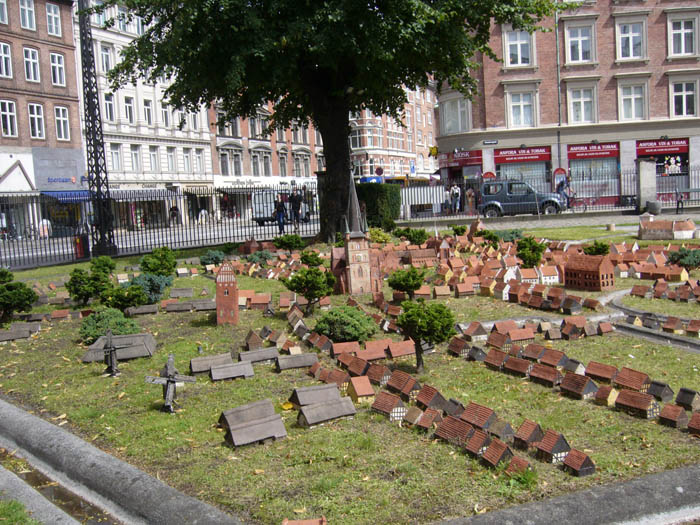 Right outside the entrance to Copenhagen's Town Museum is this model of København many centuries ago.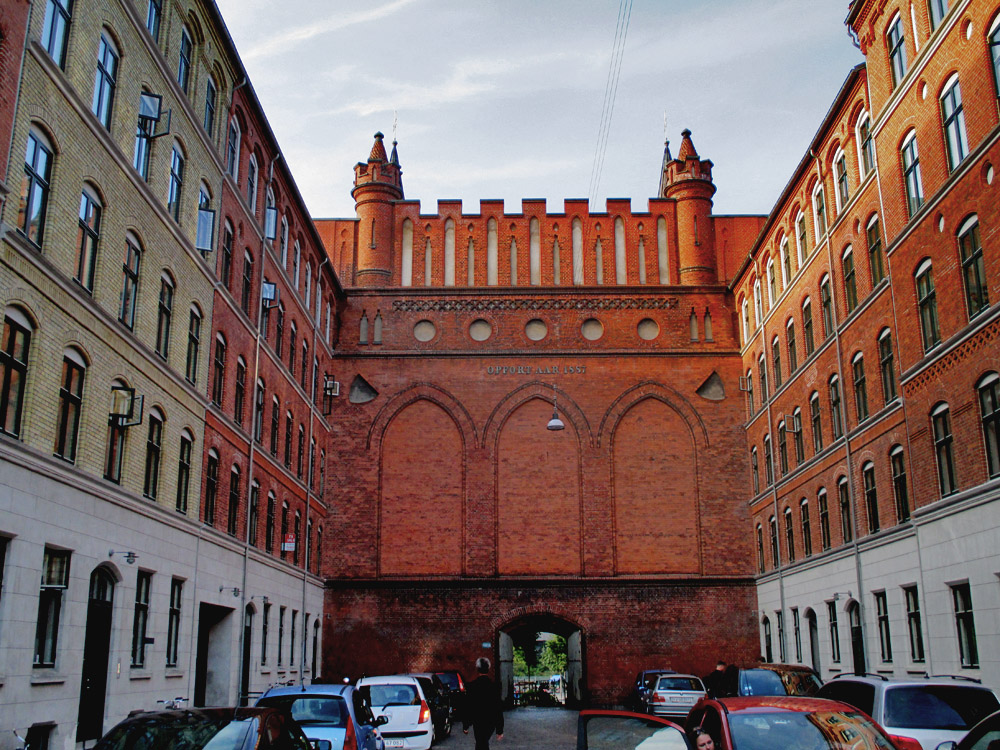 A romanticist building at Vesterbrogade.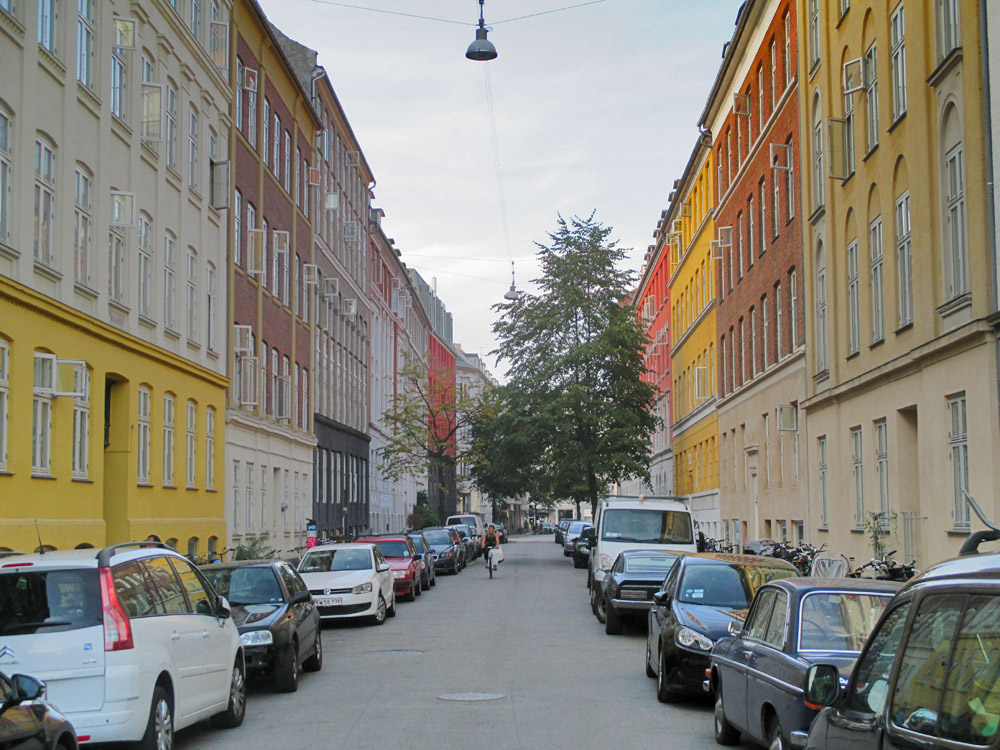 Side street to Vesterbrogade, that reminds of Berlin.

Istedgade, a former notorious street in Vesterbro close to the city center. It begins with hotels and tourist attractions but soon transforms into a row of sex shops, gay clubs and visible prostitution mixed, and then transforms into quarters with oriental restaurants and shops. Even though the area has undergone a gentrification, it still partly feels pretty rough.
All photos above is of Istedgade.
Rough architecture between Istedgade and Vesterbrogade.
Kristikirken (Christ Church) is situated at Enghaveplads where Istedgade ends. It is built in limestone and has green details,
perhaps the most exotic and special church in Greater Copenhagen. Enghaveplads seem to be a major meeting place for
homeless people.

Kristikirken.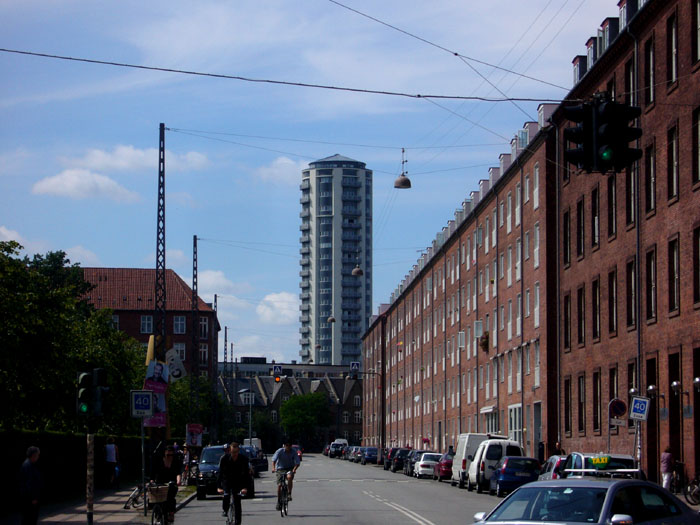 Enghaveparken towards Kongens Bryghus.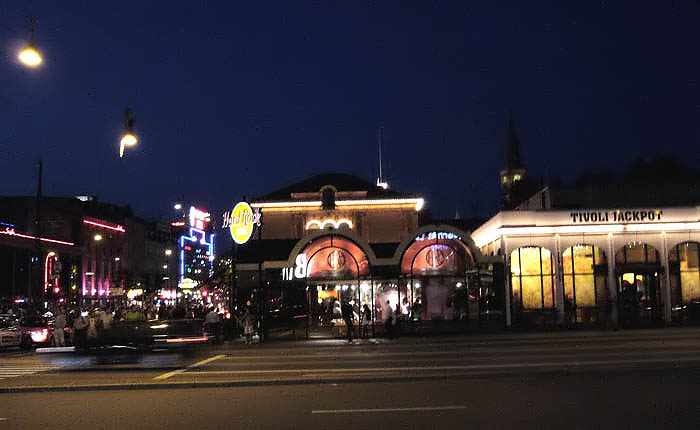 Hard Rock Café at Tivoli with the towering Town Hall in the background.
Pubs at Tivoli and the new glass building.
The recently rebuilt Industriens Hus (House of Industry) that used to have an ugly brick facade, seen from Vesterbrogade, with Rådhuspladsen in the background.
Accord record store.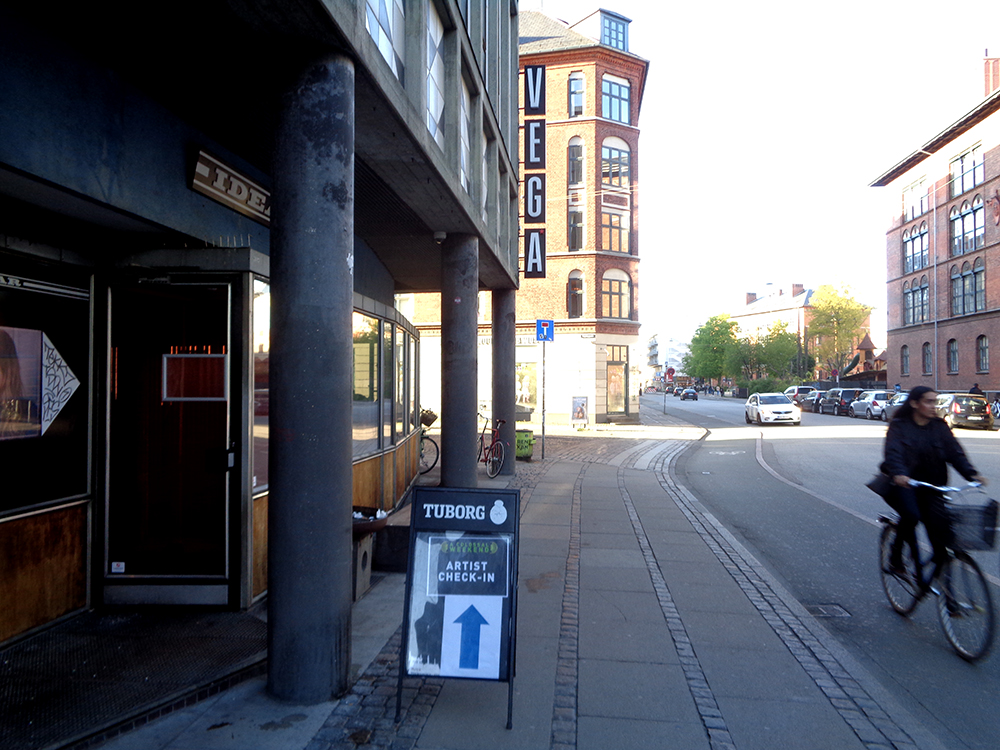 Vega, a famous live venue with 70s atmosphere.
An old VW at Vesterbro, many vintage cars are well preserved in Denmark.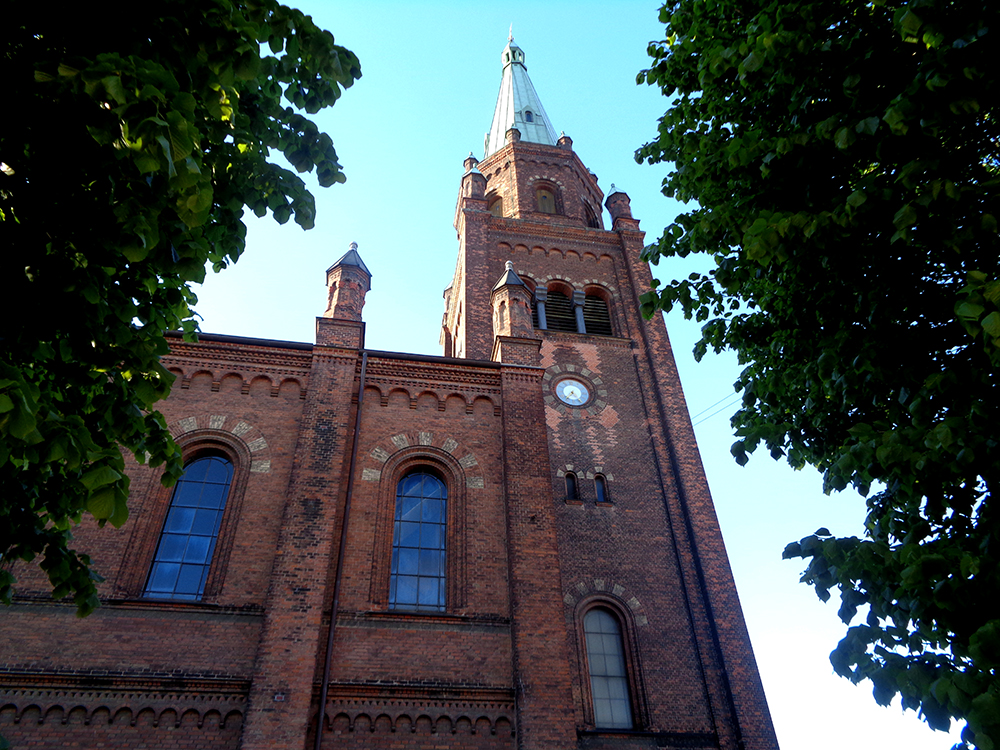 St Matteus Kirke, a red-brick church at Vesterbro.
Vesterbrogade near the border to Frederiksberg.