Runde Tårn and its views:
Runde Tårn (Round Tower) from 1642 is situated on Kobmagergade, near Stroget. Actually part of a church, Trinitatis Kirke (Trinity Church), this is Copenhagen´s premier public observation point. There is no elevator, you have to walk upwards through a spiral walkway to get to the outdoor observation point at the top. The entrance is just 25 DKR (2012). Though just 42 m and 9 stories, Runde tårn offers an incredible view over the city and its surroundings.
The observation deck is on the top of Runde Tårn.
The views from Runde Tårn:
Panorama from Runde Taarn. Click on the picture to view a larger version.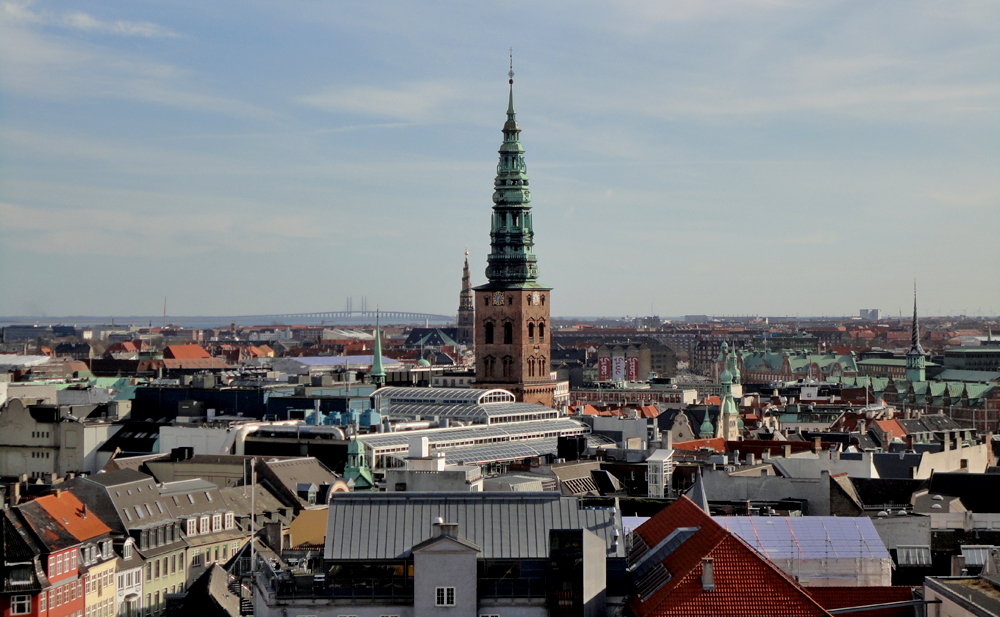 1.Öresundsbron towards Sweden.. 2.Vor frelsers kirke (Church of Our Saviour). 89 m, 1696. 3.Skt Nikolajs Kirke(St Nicholas church). 90m, 1829.


4.Christiansborg (castle). It's tower (106m) from 1928 is Copenhagen´s tallest structure together with Rådhustornet.
5.Radisson SAS Scandinavia Hotel. 86m, 26 floors, 1973. 6.Helligåndskirken (Church of the Holy Spirit).
Click for a larger version of the panorama!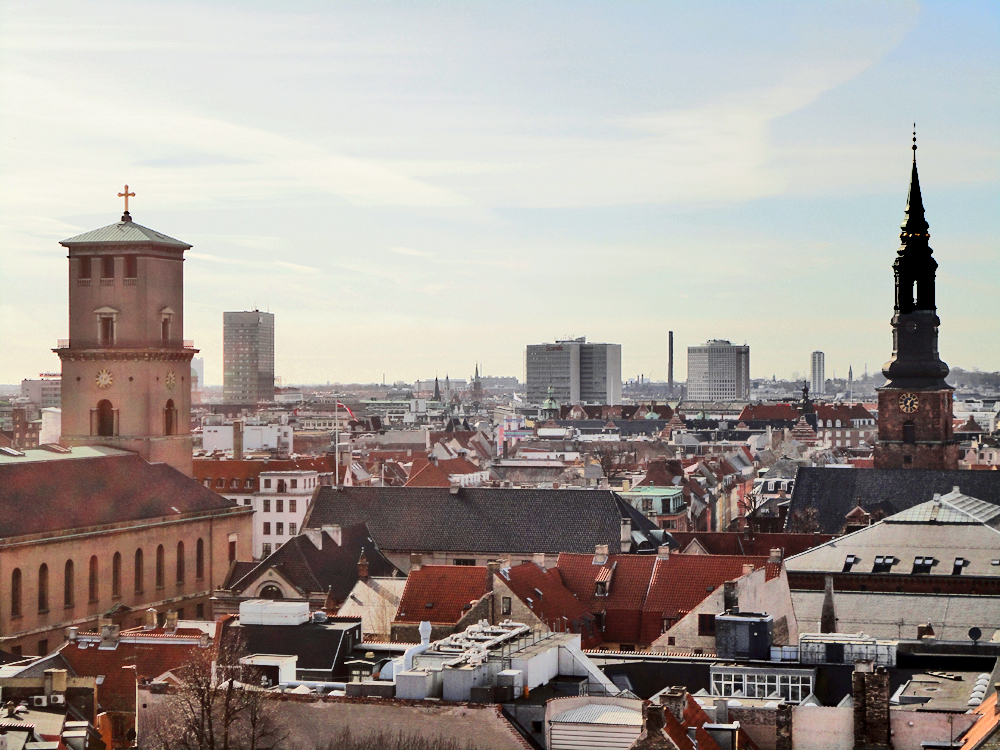 7.Rådhuset(City Hall Tower). 106m, 1905. Copenhagen´s tallest structure together with Christiansborgstårnet. 8.Palace Hotel. 9.Avedøre Powerplant.
Tallest part 90m, the chimney is even taller. 10.Vor Frue Kirke (Church of Our Lady/Dom) in the foreground. 11.Radisson SAS Royal Hotel. 70m, 22 floors,
1960, tallest highrise in downtown. 12.Scandic Hotel Copenhagen City. 62 m, 19 floors, 1971. 13.Codanhus, Frederiksberg. 66m, 21 floors. 14.Kongens
Bryghus. 70m, 21 floors. 15.St Petri Kirke. Note that Carlsberg HQ, the city's tallest highrise, and KAS Herlev, Scandinavia's 2nd tallest building are not visible.
Click for a larger version of the panorama!
Christiansborg, Radisson Scandinavia and St Petri Church.
Blue March sky above the City Hall.

In the background, behind the Royal Theater, you can see Malmö, Sweden, dominated by Turning Torso! To the right is Kronprinsen.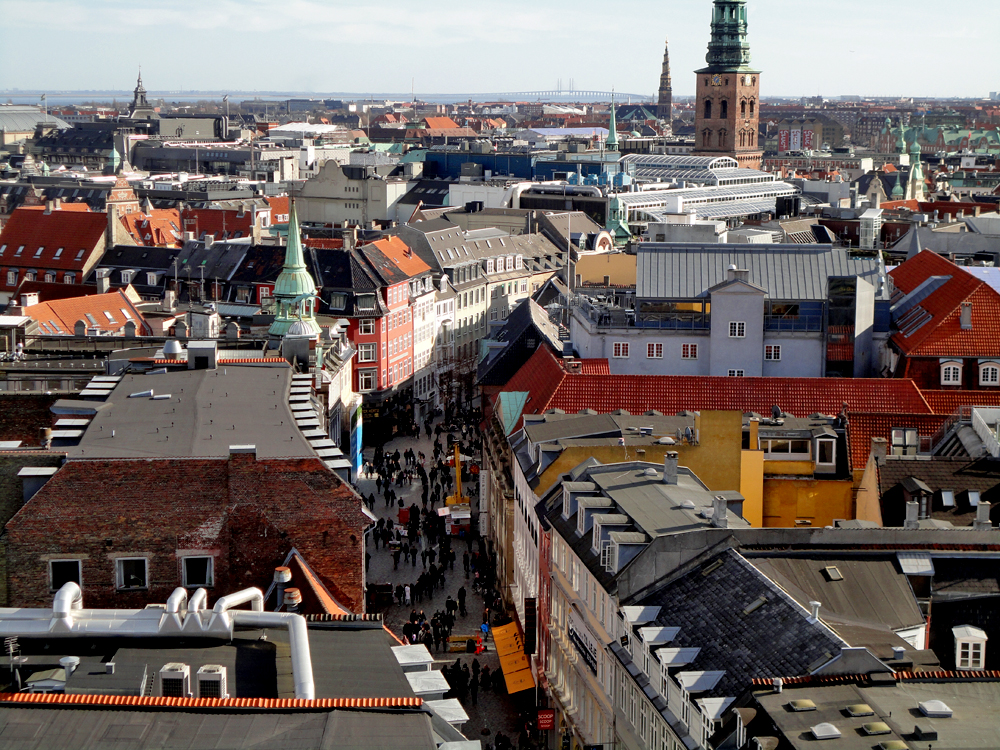 Looking down at Kobmagergade.
Modern highrises in Osterbro. Sweden in the background.
Visitors enjoying the view of Runde Taarn. The entrance fee is only 25 dkr.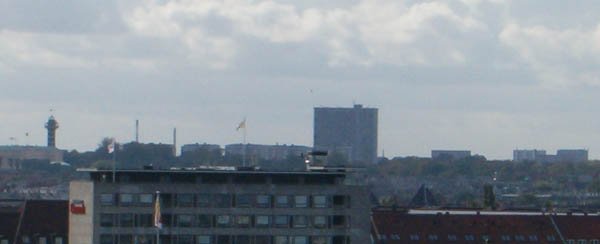 Domus Vista, Scandinavia's tallest residential building until Turning Torso was completed. 102m, 40 floors.



Rosenborg Castle.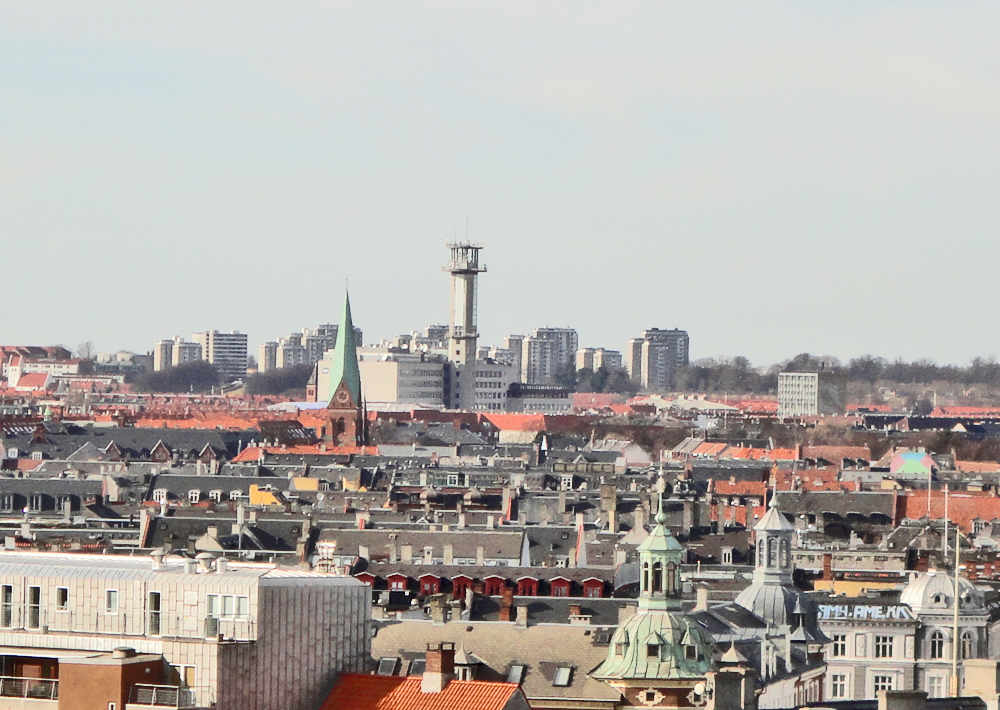 Towards Skt Andreas Kirke and the TV Tower. The botanical garden is to the right of it.



Also the fence is beautiful, especially since you can see the roofgardens through it.
The old city center in the foreground and 60s highrises in the background.
Osterbro with Rigshospitalet, the hospital famous from Lars von Trier's early 90s TV show "Riget".
Looking down towards Trinity Church, that is connected to Runde Tårn.
As you can see there are no stairs, it's a plain circular floor that is sloping that leads to the top, where a steep, narrow staircase leads to the top.
Inside Trinitatis Kirke (Trinity Church), the church that is connected to Runde Tårn.