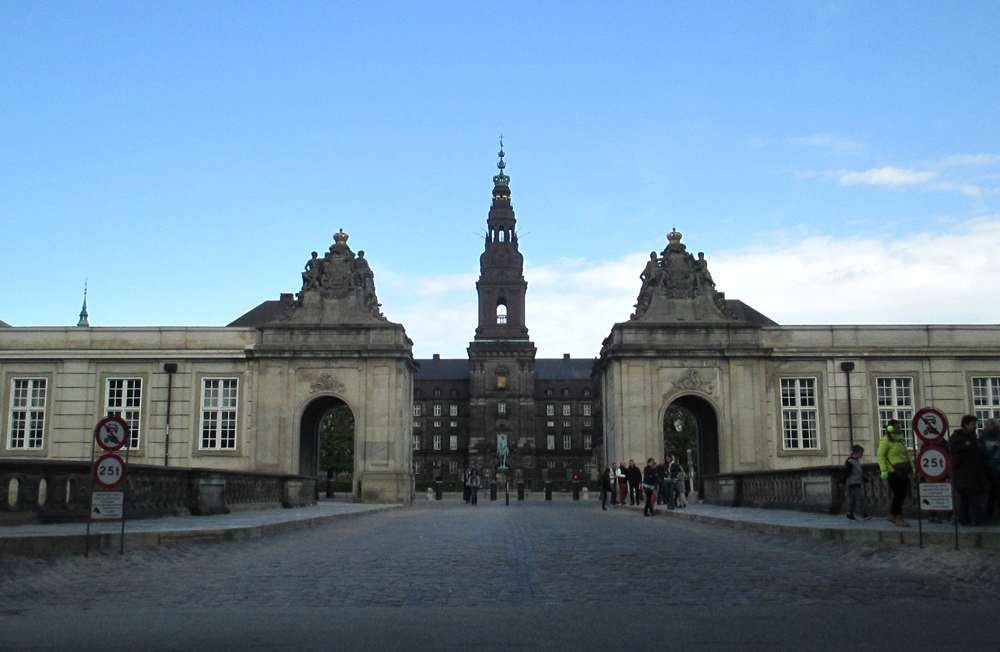 The majestic backside of Christiansborg Castle.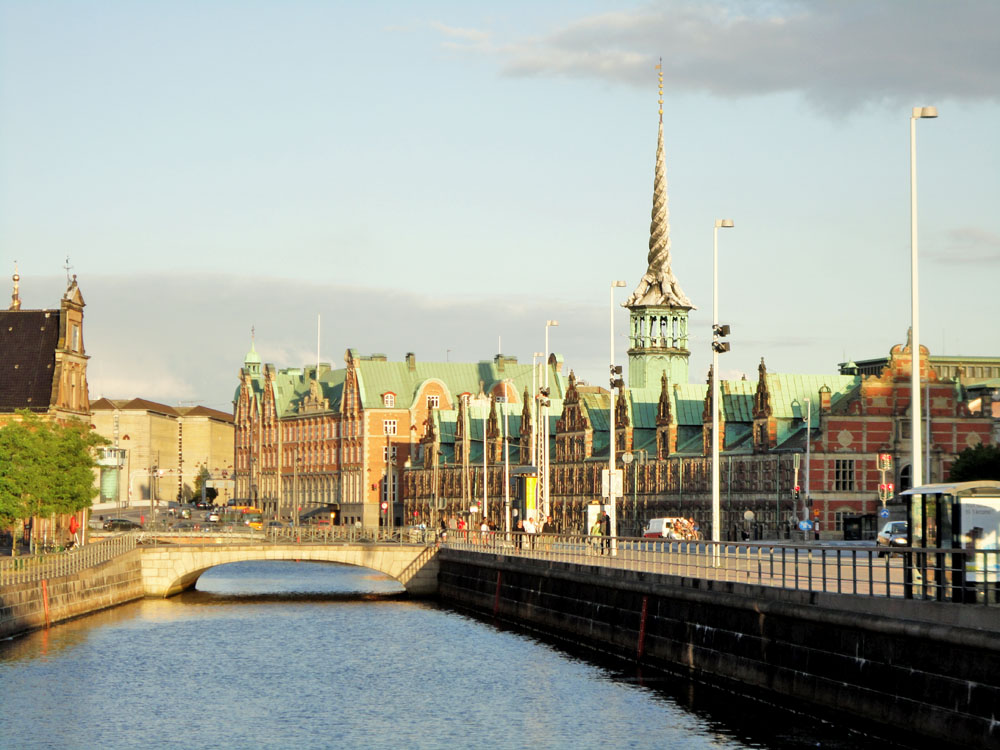 The Bourse (Børsen), in downtown Copenhagen has an exciting roof with the "dragon spire", the top is at a height of 56 m. The building, built by Christian IV in typical Dutch Renaissance style, was Denmark's oldest stock exchange. It was completed in 1640 and is, just like Christiansborg, situated on the Slotsholmen island.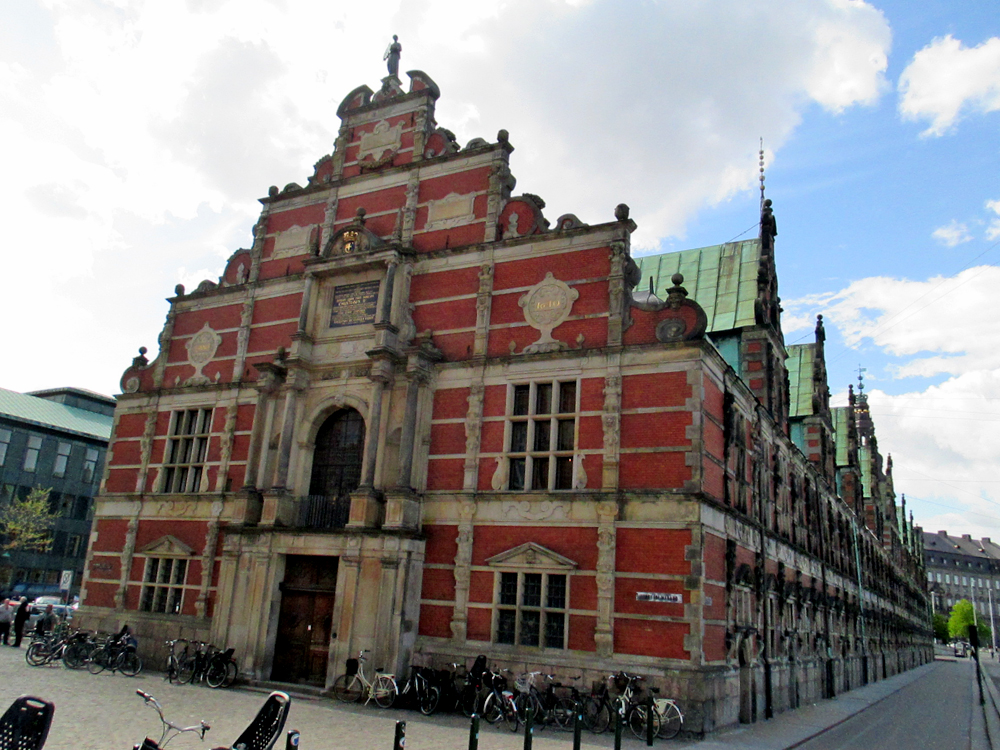 Details of the Bourse house.
Sankt Nikolajs Kirke from 1829. At 90m this is Copenhagen's tallest church.


Sankt Nikolajs Kirke as seen form Amagertorv, one of 2 small squares at the heart of Strøget.
Has the gravitation diappeared at Amagertorv?
The Metropol building at Strøget.
A parallell street to Strøget.
Kobmagergade.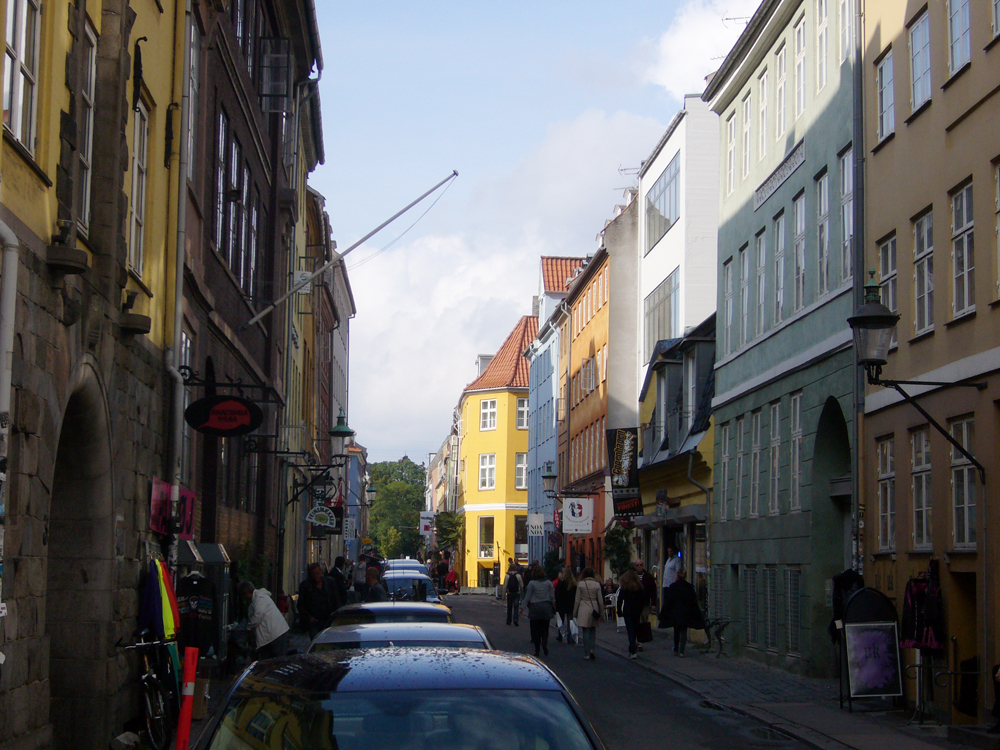 Larsbjornsstraede is the most hip side street to Strøget with record stores, cloth stores for young people and rock clubs.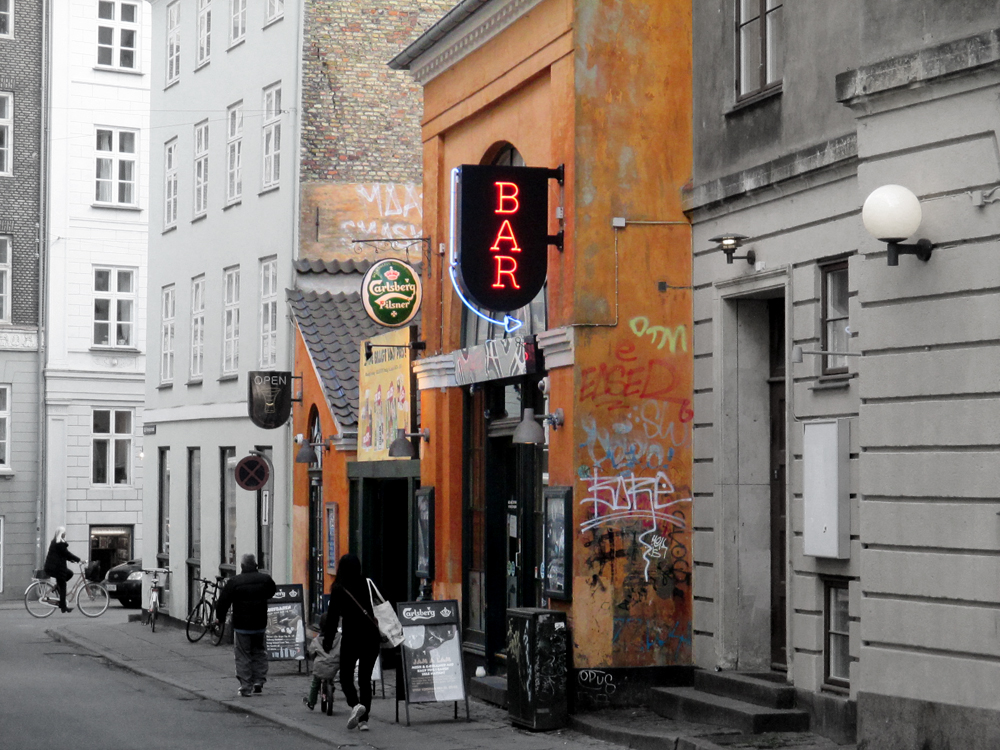 Larsbjornsstraede.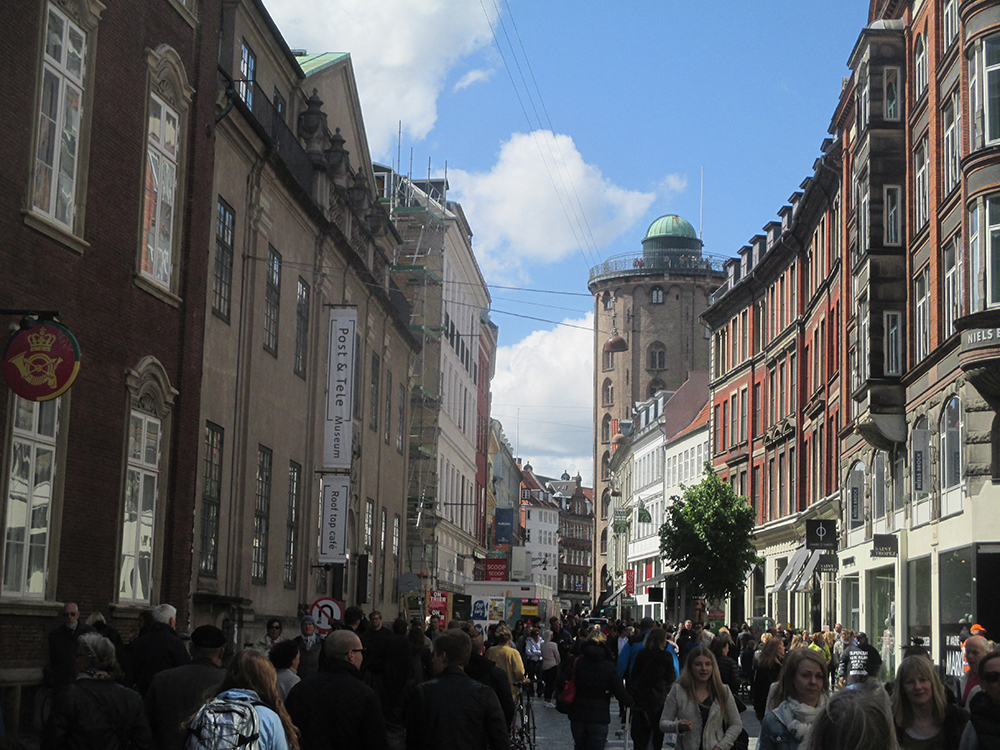 Runde Tårn (round tower) from 1642, as seen from Købmagergade, a typical Danish street. Actually part of a church, this is Copenhagen´s premier observation point. You can see the views from it in the skyline section.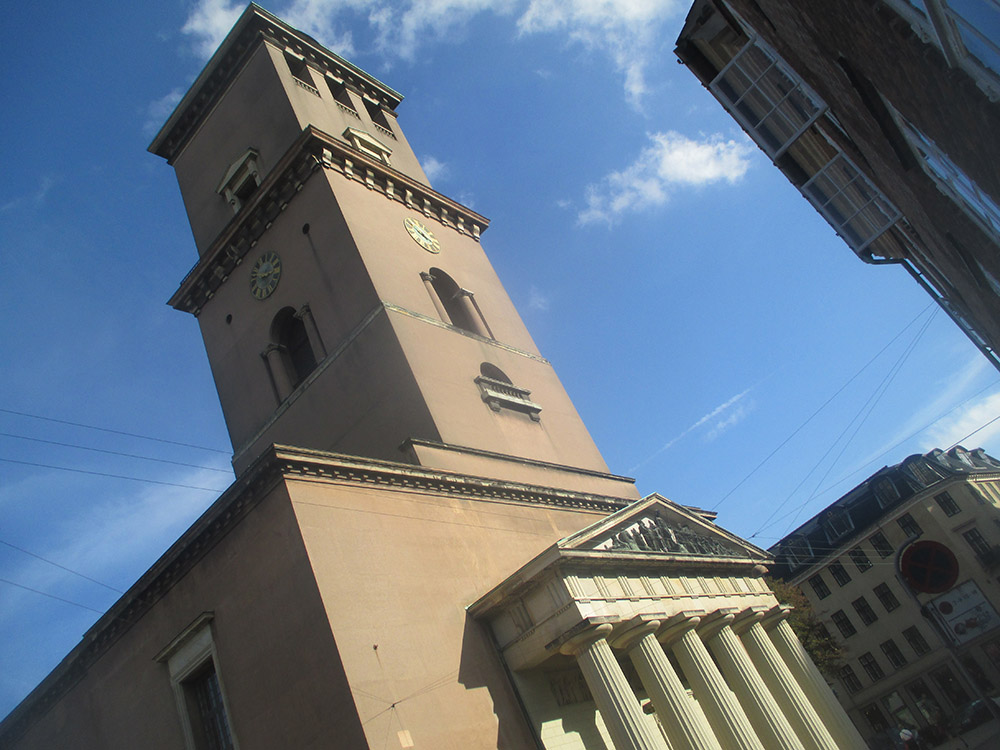 Domkirken. Vor Frue Kirke, the cathedral of Copenhagen is situated at Frue Plads, close to Strøget, and is the main building of the University of Copenahgen. The current church is from 1827, but there was a church on this place already in the 1200s.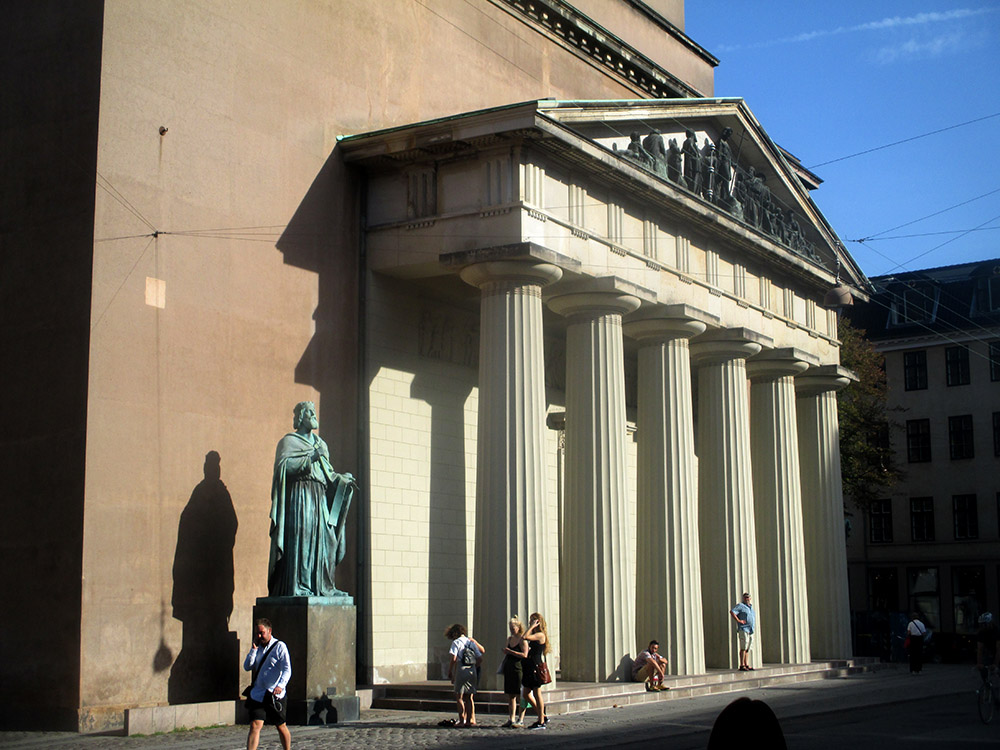 The entrance to the Cathedral (Vor Frue Kirke - Church of Our Lady), built in neoclassical style. It was designed by Christian Frederik Hansen.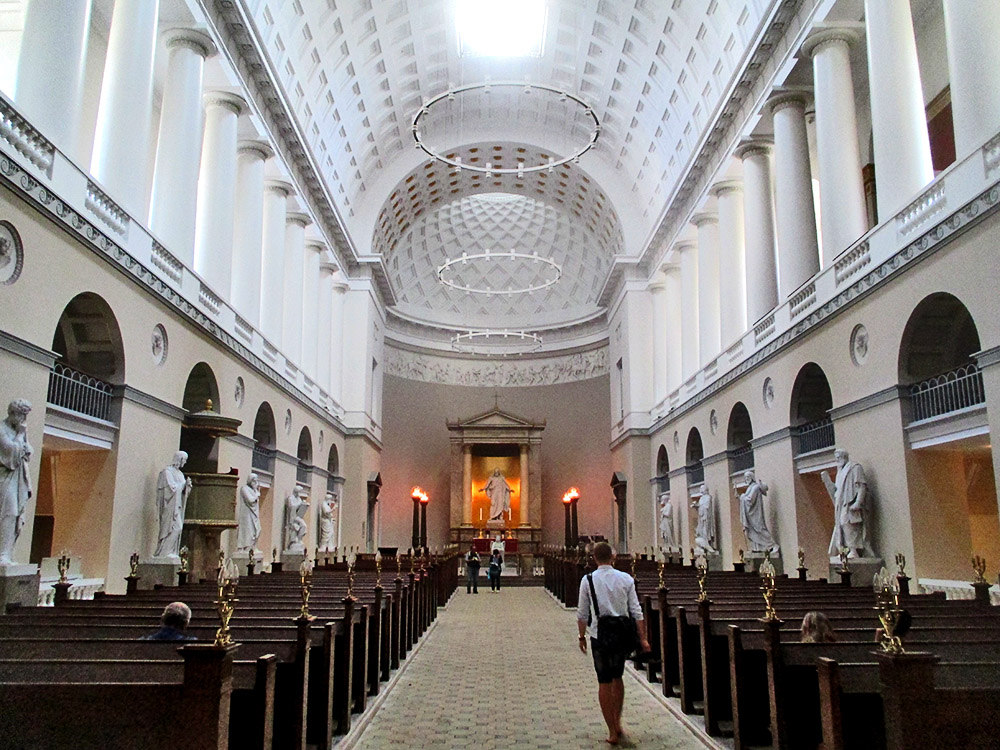 Interior with statues by Bertel Thorvaldsen depicting Jesus Christ and his Apostles. The cathedral (Vor Frue Kirke) is 63m high and 83m wide.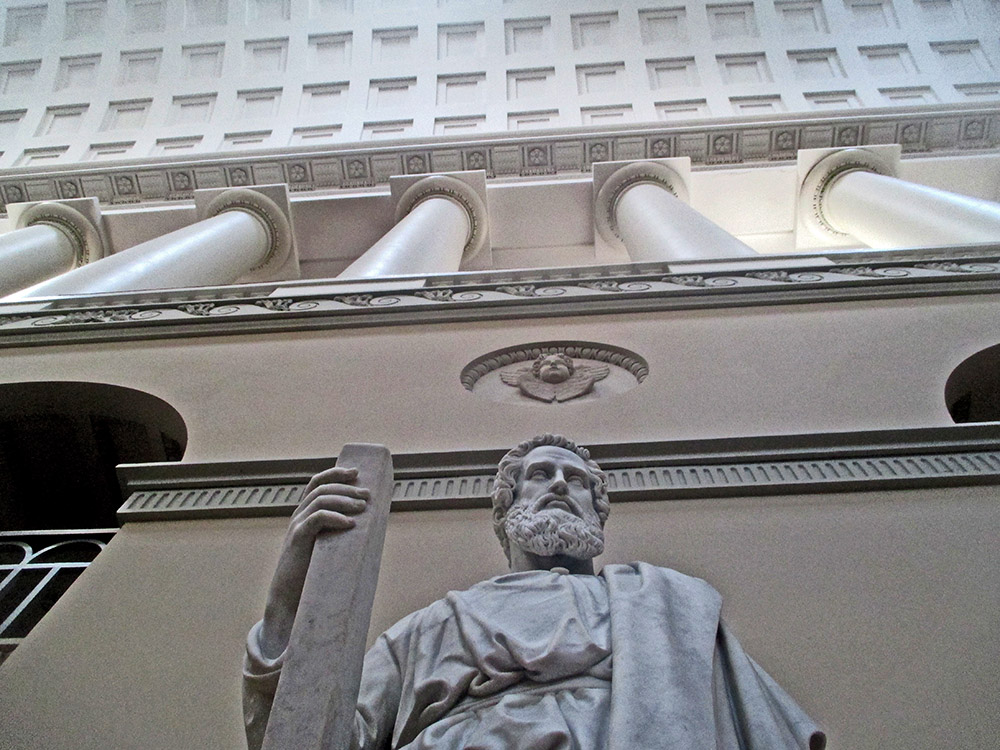 Looking up to the roof of the cathedral. Until 1648, many kings have been coronated there. Monday-Saturday morning a live act of worship is broadcasted there.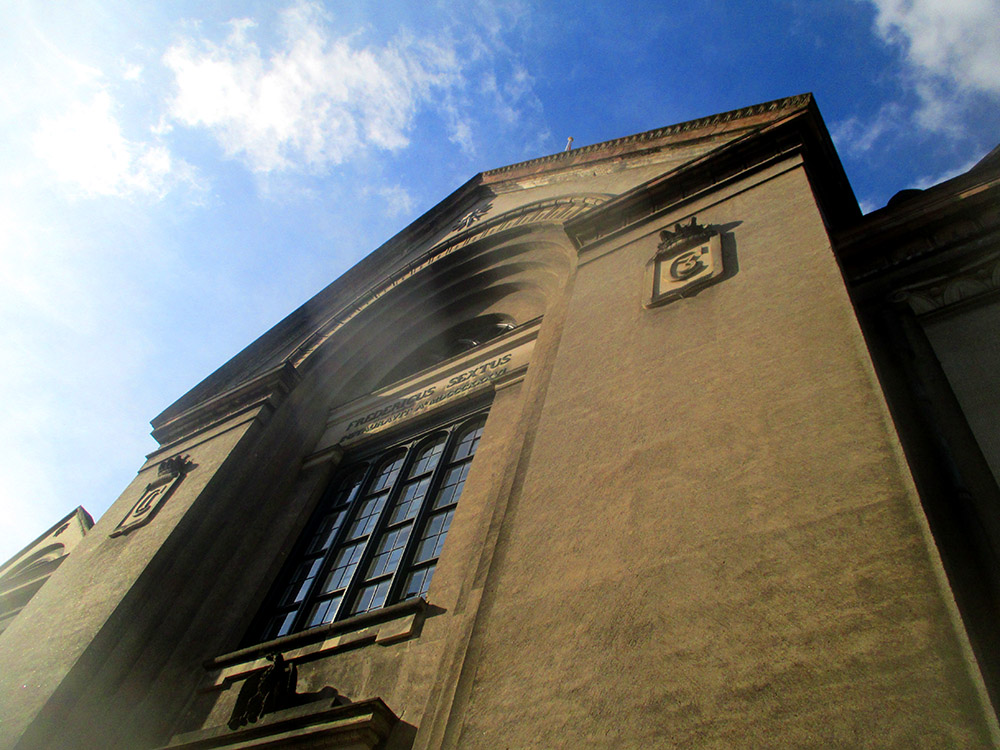 The University of Copenhagen, opposite the cathedral.
A nice parallel street to Strøget.
Amagertorv in the middle of Strøget.
Diverse architecture.
Diverse cars.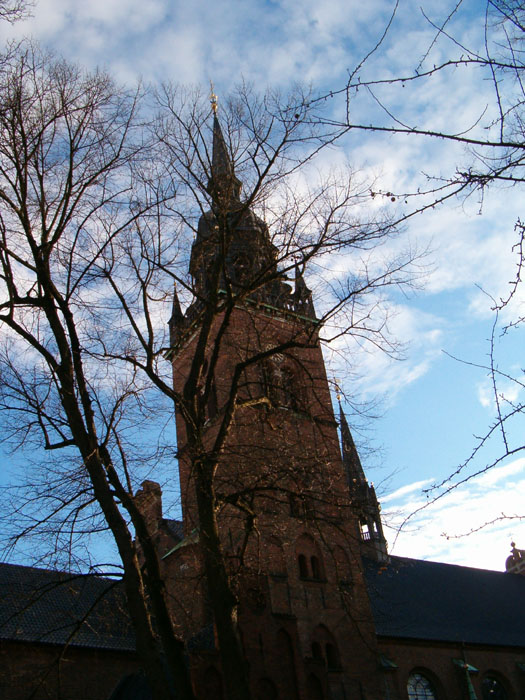 Helligåndskirken (Church of the Holy Spirit). This church is situated right at Strøget.

The Supreme Court (byreten) of Denmark was formerly the city hall of Copenhagen. It is situated at Nytorv.
Nytorv (New square) is a square in the middle of Strøget (not to be confused with the much larger Kongens Nytorv). It is situated opposite Gammeltorv (Old square).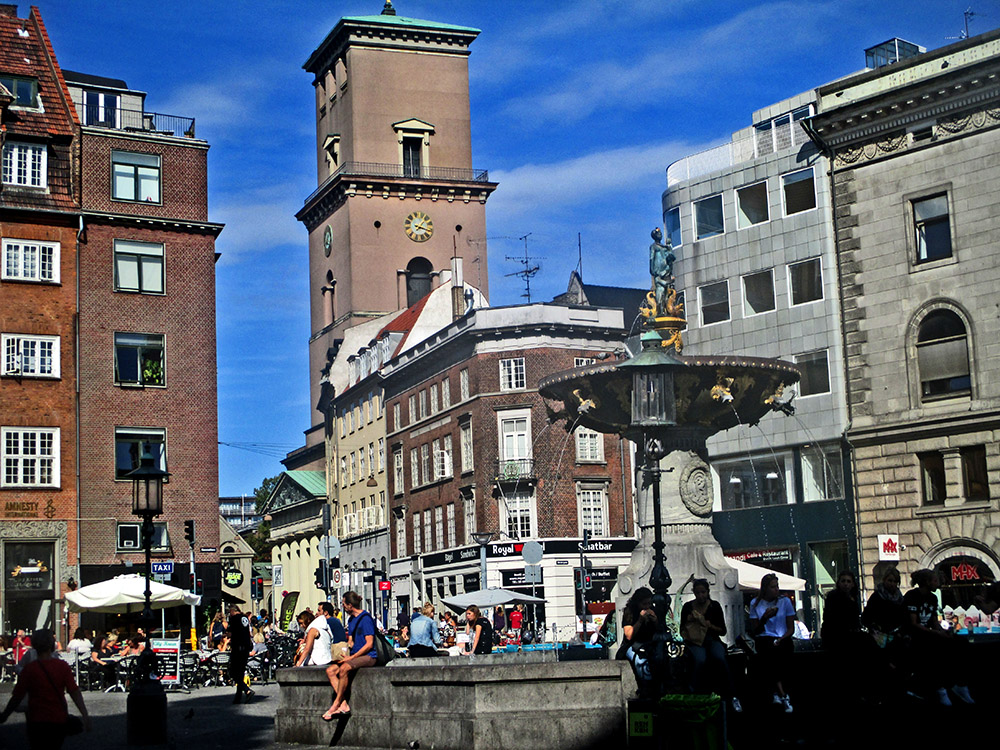 Gammeltorv (Old square), opposite Nytorv, with the Cathedral (Vor Frue Kirke) in the background. The fountain is a popular place to sit for tourists.
An arcade from Strøget to a parallel street, a bit British in style.

Panorama from the left: The bourse house, Christiansborg, the supreme court, St. Nikolajs Kirke and Riksbanken.

Towards the old town city center.
Amagertorv, the square in front of the larger square Hojbro Plads at Christiansborg Castle.
Soap in the fountain at Amagertorv.
Street musician playing all instruments at Amagertorv.
Gråbrødre Torv (Greybrother's Square), a square with an oldtime atmosphere and many pubs and restaurants between Strøget and Skindergade.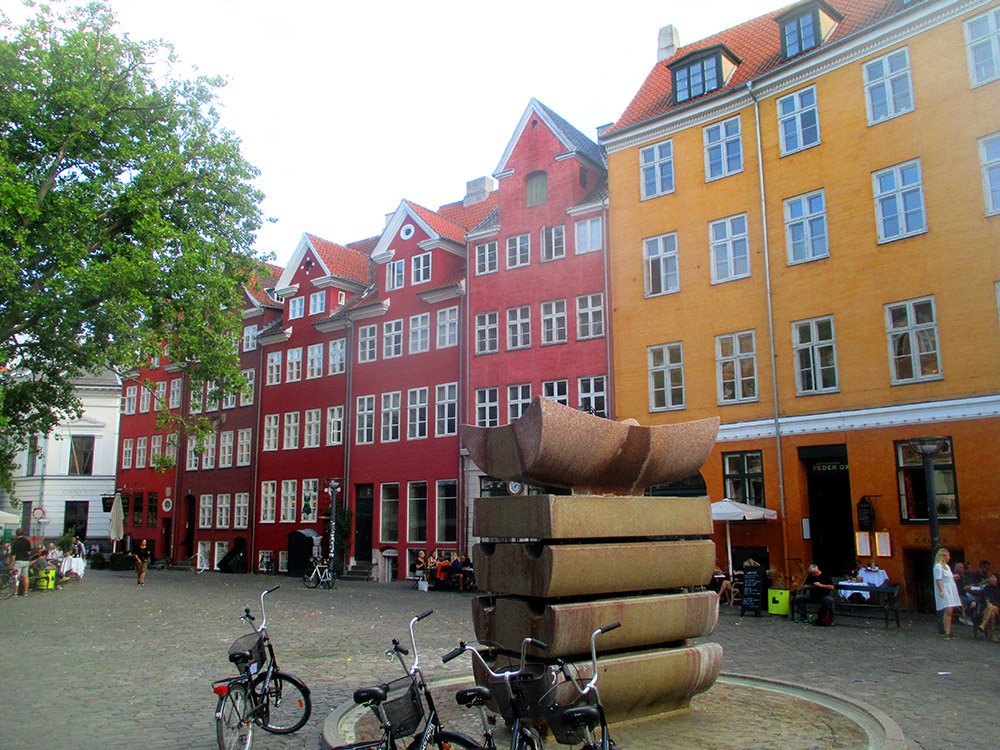 Gråbrødre Torv, a small but very colourful square.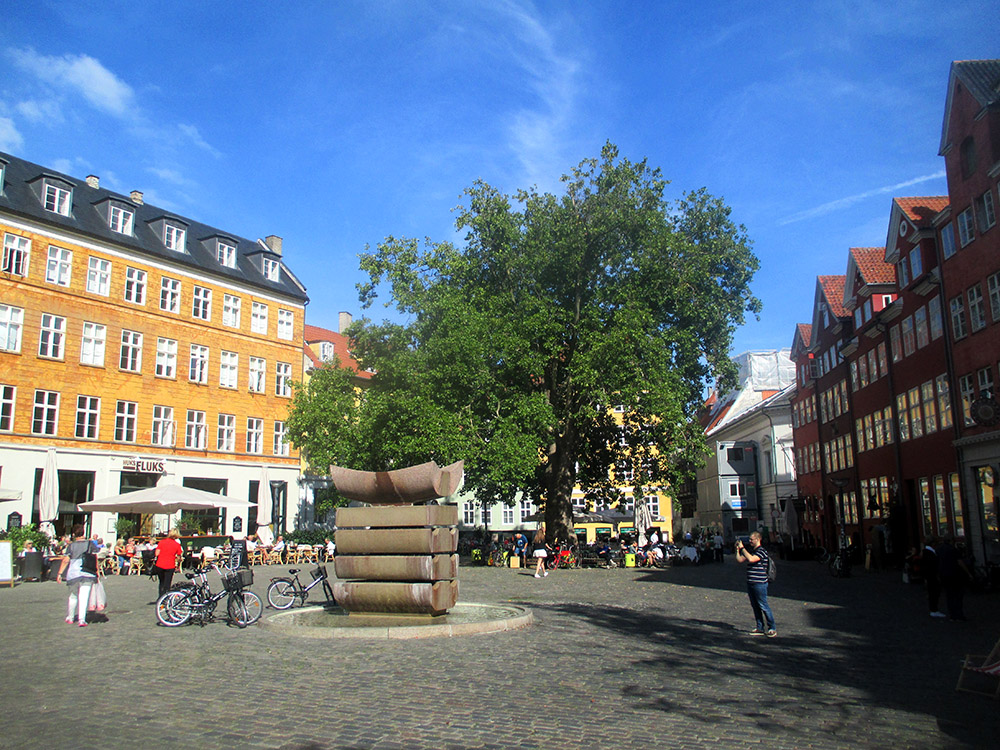 Gråbrødre Torv. Tried a guacemole burger at Sporvejen, a restaurant decorated like a streetcar.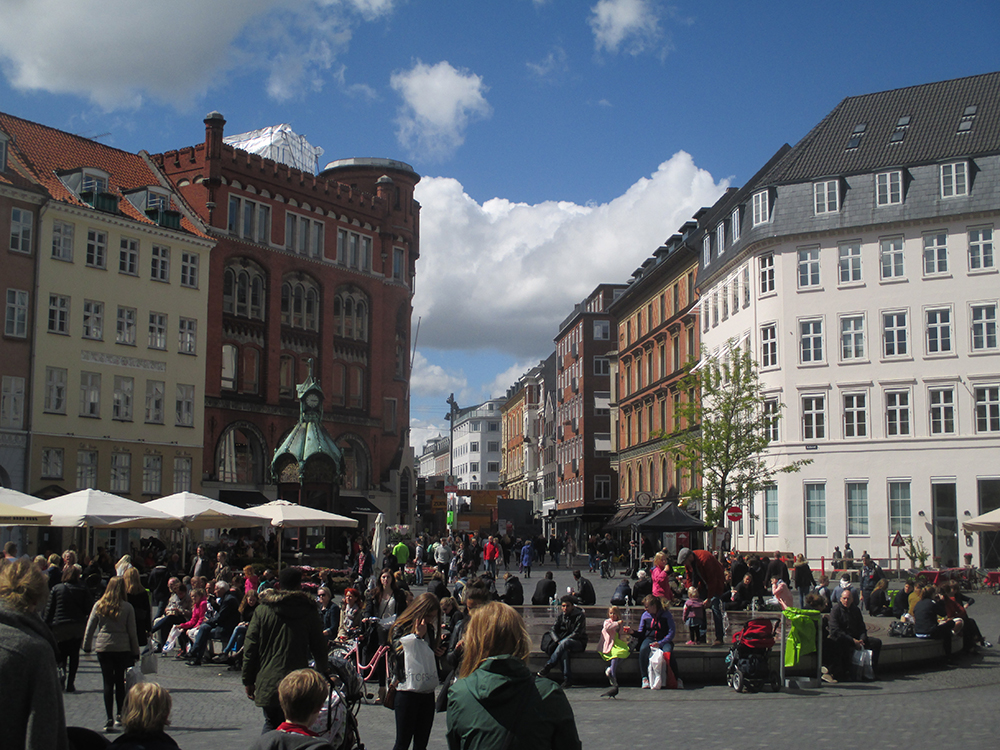 Kultorvet (Bullet Square), another nice square with restaurants. We have tried to restaurants there; one Italian and one typical Danish.
Monki, one of many store fronts at Strøget.
Copenhagen souvenirs.

Illum, Denmark's 2nd largest department store, is more like a shopping galleria since it has independent stores.
The building has 2 atriums and panorama elevators.
Illum is perhaps Denmark most luxorious department store and is located at Strøget. It opened in 1891.
One of the 2 luxorious atriums inside Illum. It has a mosaic glass floor, marble columns and a large chandelier.

There's is an Irma supermarket in the basement of Illum.
Illums Bolighus, a department store on Strøget specialized on Scandinavian design. Not to be confused with the large Illum.
It is very expensive at Illums Bolighus, for example you can buy a chandelier for 250 000 DKR ( about 250 euro).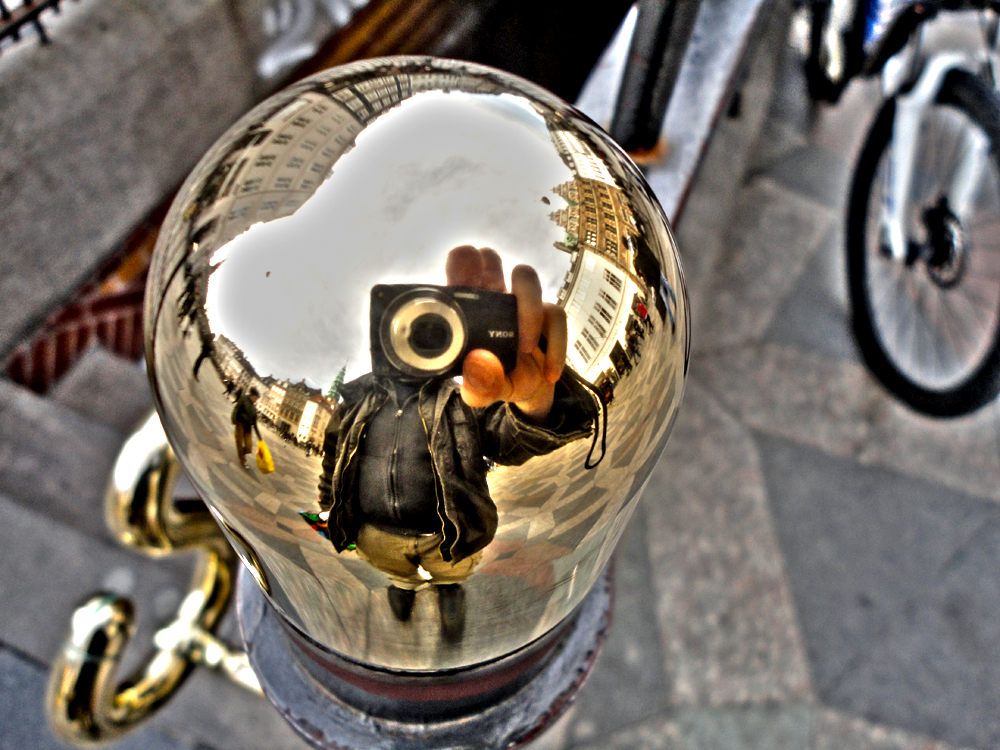 Another perspective of Copenhagen. Taken outside a public underground toilet.
The LEGO store at Strøget. As you might know, LEGO is Danish.
Inside the LEGO store; paintings and miniatures in LEGO.
Bogcafé, a very nice book café with old fashioned interior and old books.
The quarters a bit away from Strøget:

Radisson SAS Scandinavia Hotel, Denmark's tallest (86m, 26 floors) and largest hotel was built in 1973.
Nørreport:
Buildings at Nørreport Station, a large transportation hub in central Copenhagen. The glass roof was recently added to this old building.
Torvehallerna, the new markethalls at Israels Plads next to Nørreport.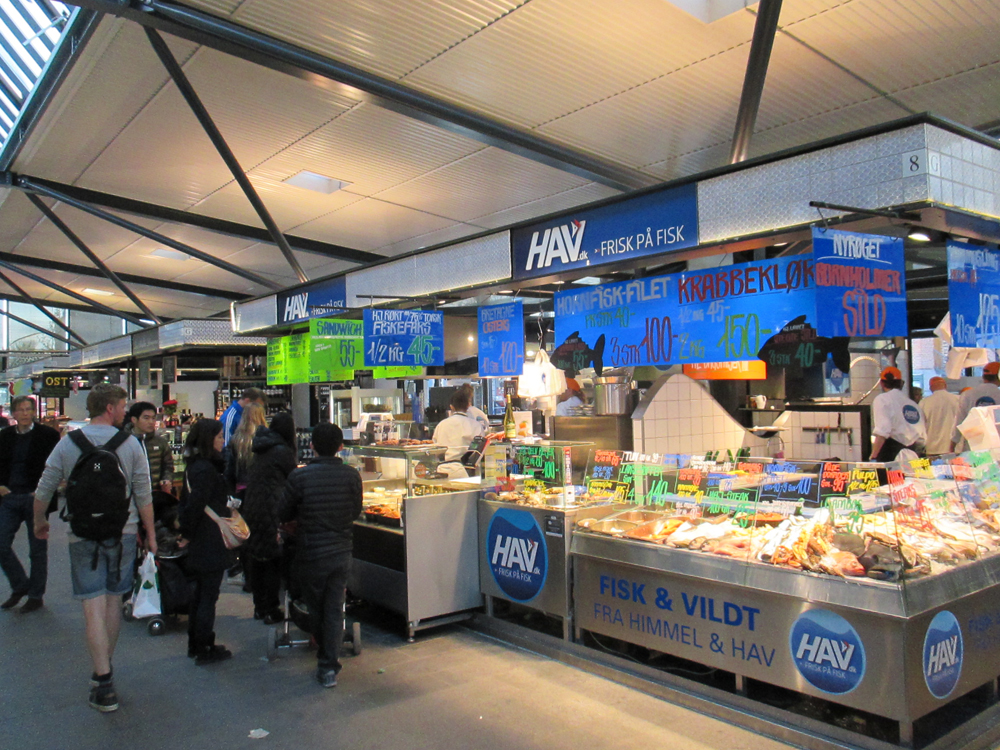 Torvehallerna.
Majestic building at Israels Plads.

Ørstedsparken. Copenhagen has many beautiful parks, easy to forget if you just follow Strøget.
A black glass building in the city center with old buildings mirroring.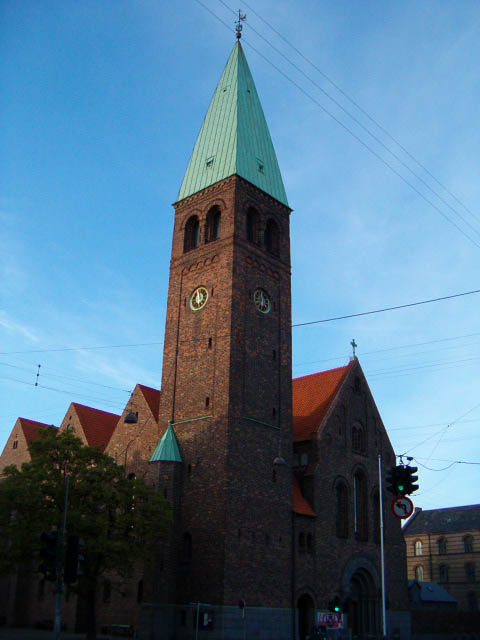 Sankt Andreas Kirke. Just next to the botanical garden.
There are many interesting church in the Old Town.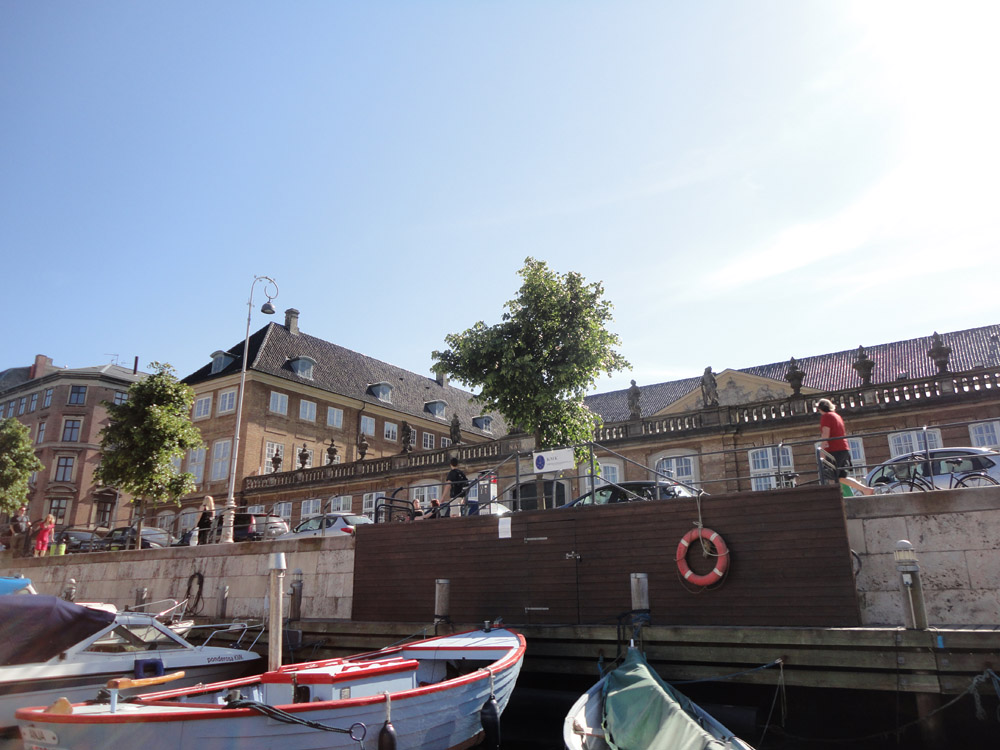 The National Museum.
The National Bank of Denmark, designed by the famous architect Arne Jacobsen. This modernist building, completed in the 1970s after Jacobsen's death, has won many prices, but is actually not very beautiful.
Rosenborgs Castle Gardens (Kongens Have)
This is the oldest and most visited park in Copenhagen, situated close to Strøget. Here you can find the Rosenborg Castle.
Rosenborgs Castle is a renaissance castle in Rosenborgs Have (the castle's garden), built 1606-24. It is 50m high to the top of the spires of this royal castle. It was a project by Christian IV, and has been a residence for many regents.
Rosenborg Slott (Rosenborg Castle).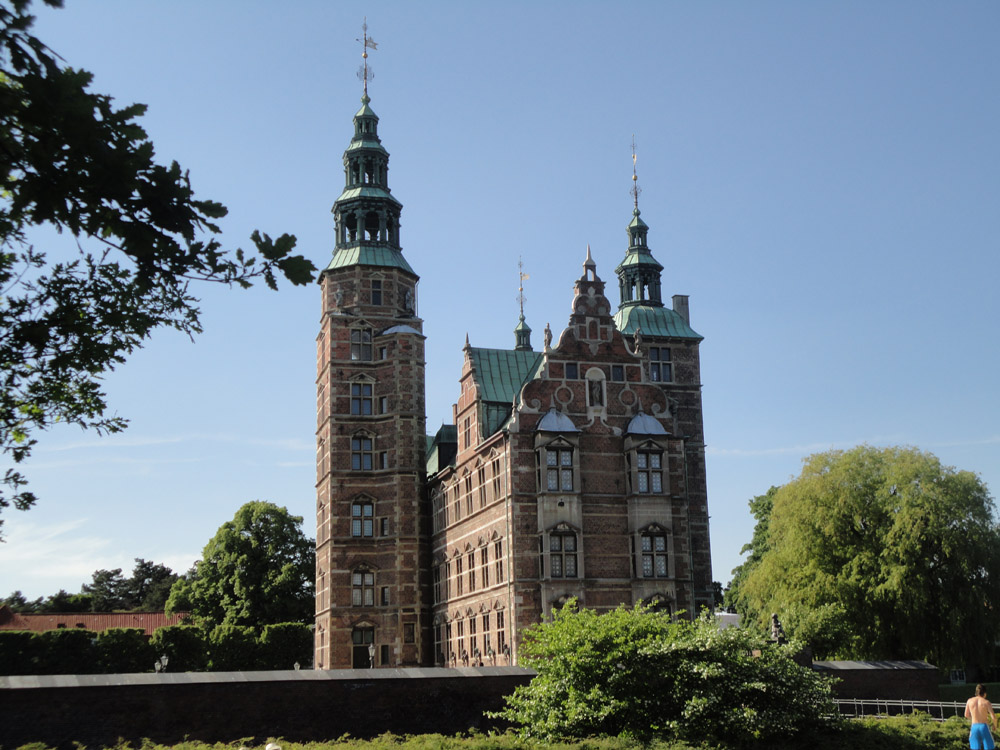 Rosenborg Castle.
The park at Rosenborg Castle is a very popular place ot relax summertime.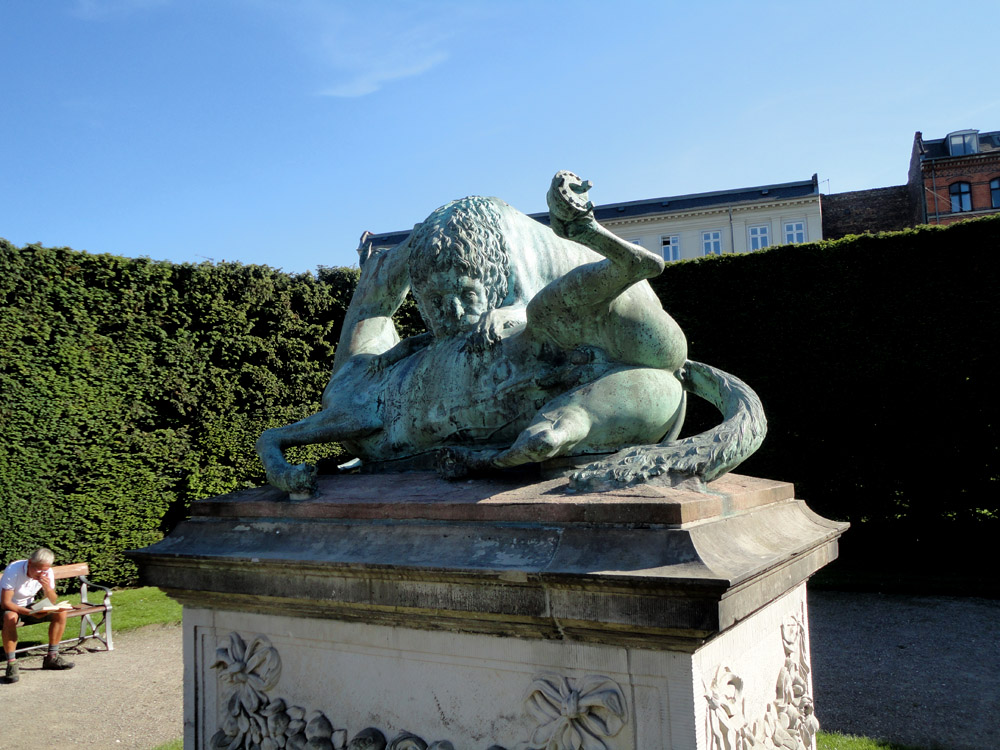 Sculptures in Rosenborg Have.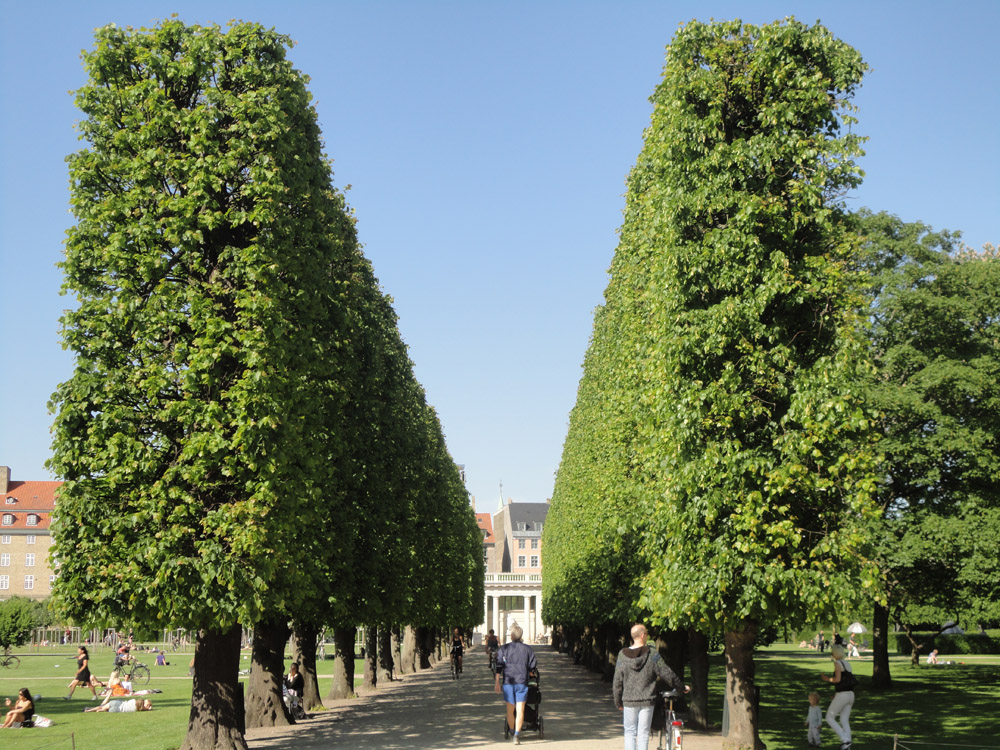 Perfectly cut trees in Rosenborg Garden.
Vesterbro Osterbro Frederiksstaden and Nyhavn are also very central areas, but have their own sections.