Source: Wikimedia Commons


Population: 667 000 (metro: 4 628 000)
Tallest building: John Hancock Tower (240m, 60 floors)
Founded: 1630 (city rights 1822)
State: Massaschussetts
County: Suffolk County
Area: 232 km² (metro 11 700 km²)
Nicknames: America's Walking City
Airport: Logan International
Year visited: 1998
Boston is Massaschussets capital and New England's largest city, and one of the most historically important cities in the US. It is one of the wealthiest, most beautiful cities in the US, and has a significant collection of historic buildings preserved. Historical events during the American revolution, as the Boston Massacre, the Boston Tea Party, the Battle of Bunker Hill, and the Siege of Boston all took place in Boston. It's suburb Cambridge is famous for the Harvard University, so the population is highly educated. It is also America's most walkable city.
Boston was the first city I visited in the US ever. I was only there for one night (May 15th) and one day (May 16th) 1998, before going to New York. I stayed at the Boston Hostelling International, a cheap hostel where I shared room with two New Yorkers. The weather was pretty good for May. Boston was a good city to start with, since it is one of the most European cities in the US. At first, it didn´t felt like arriving to America after going off the subway in Back Bay in central Boston. It was dark then. The buildings looked very old, and extremely beautiful and the lamps were very oldfashioned. But when the first skyscrapers suddenly appeared standing and a highway running between them right under the historic street I was walking on, it felt very American. The day after I made some sighseeing before leaving for New York by Greyhound bus. And I had time to see the most important parts of Boston. Back Bay, were my youth hostel was, is a fashionable area with Boston´s 2 tallest buildings, Prudential Center and John Hancock Tower, that I saw the day before. I went up the observation decks of both these skyscrapers, enthusiastic since I never had visited a real skyscraper before (back in 1998 there weren't any in Scandinavia). John Hancock Tower is situated next to Copley Square, one of the city's main squares. Here you find Trinity Church, malls, department stores, hotels and fountains. Boylston St goes by, the main avenue. There are much more skyscrapers clustered in the downtown area. There are also many historical buildings in central Boston. If you follow the Freedom Trail, you can go all the way to Downtown and visit many historical sights, like the State House, that I visited inside, as well as Faneuil Hall. I also visited the historic Quincy Market. And some avenues in Back Bay, like Commonwealth Avenue, are extremely beautiful and oldfashioned and reminds of London´s better sides. Walking between Back Bay and Downtown in "America´s most walkable city", I passed through the city´s most famous parks, Boston Common and Public Garden. Beacon Hill is an especially picturesque small district in central Boston, that looks very vintage British with old street lights. I also passed by the gate to the small Chinatown. Notable buildings are Customs House and Trinity Church.
In the harbour area you find the densest concentration of skyscrapers, Long Wharf and Rowes Wharf with its modern gate between highrises. The two tallest buildings are situated in Back Bay, just north of downtown.
The subway in Boston was the first subway I ever tried, after going through the customs at the centrally located Logan Airport. The cars are quite old and looks like tram, in 1998 I paid with coins to the very stressful driver. I switched trains as the ugly brutalist City Hall building and stopped at the also modern and ugly Hynes Convention Center, where I walked towards the hostel.
When I was finished with sightseeing, I went to South Station, a modern railway station, to take the Greyhound bus.
As I was not so interested in photographing then, not knowing about this website should be created, I just have took shots of Boston. In 2011 I planned to make a daytrip from New York to Boston, this time with a good camera. But the sudden threat from the hurricane Irene made us cancel this tour, and left NY two days earlier. So in January 2017 I decided to add a photo gallery with free pictures from Wikimedia Commons, just to show how it looked like and what places I visited, since my two pictures I took with the disposable cam don't do the city justice. The city hasn't changed much since my visit in 1998, they built around 15 new skyscrapers (but no new tallest one), new hotels and modernized parts and buildings, and my youth hostel has relocated, but overall the atmosphere is the same; Boston is Boston.
MY OWN PHOTOS FROM BOSTON 1998: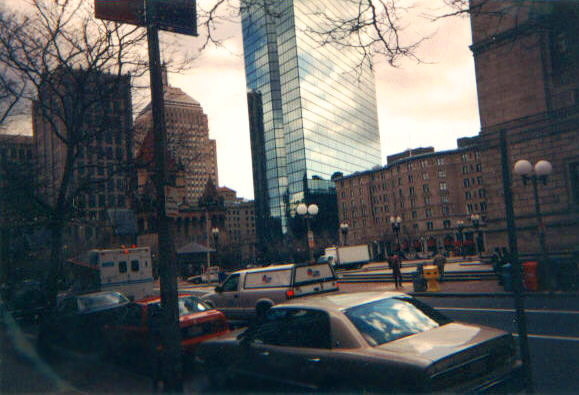 Copley Square. Historical buildings side by side with the modern 60-storey
John Hancock Tower, Boston´s tallest (241m), built in 1976.



Back Bay skyline. Looking to the north towards John Hancock Tower(60 floors)
and Downtown from the top floor (52nd) of Prudential Center, the 2nd tallest building. Built in 1964.