Park Güell
This day we begun with visiting Park Güell, the English styled park where both Gaudi and the rich man Güell lived. Thus, some of Gaudi's most imaginative buildings are situated there. So the park could better be called Park Gaudí. Objects decorated with tile made with the so called trencadís technique are visible in the park. Park Güell is very hilly, offers promenades and has great views. It is situated in the very north of Barcelona. And Barcelona is higher the further north you come, that explains the great views!



Vallcarca. This hilly residential district features escalators on the hills because it is situated just between the tourist attraction of Park Güell and it´s closest metro station, This picture is the reason why we forget our lunch right at this place, the breakfast intended to be eaten in the park.When walking halfway up for Park Güell's first hill in the hot sun, we discovered that we had lost our breakfast bought at a nearby café -right at this place. Thus we had to get all the way down again and then up again to get it. Everything was left except for the oranges.



The first views over the park. In the beginning it was meant to be a residence area, but as people thought it was too far from everything, it became a park instead.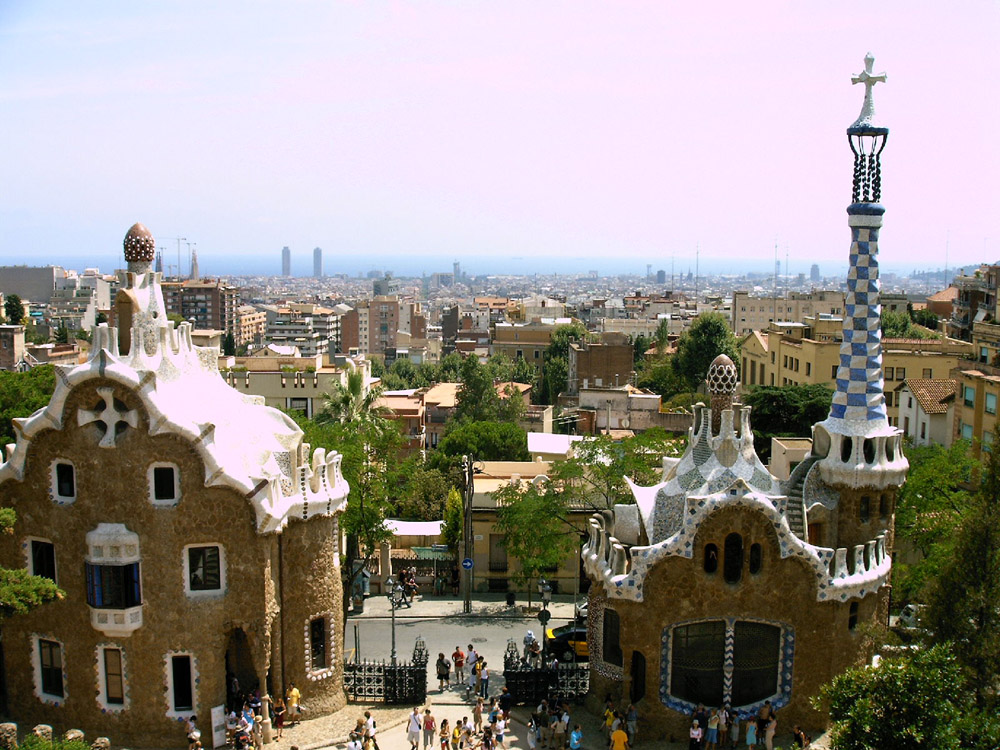 View down to the 2 Gaudí houses at the lower entrance. When getting inside, I got disappointed, cause there was just a reception and a bad toilet in the first building
and a café in the other.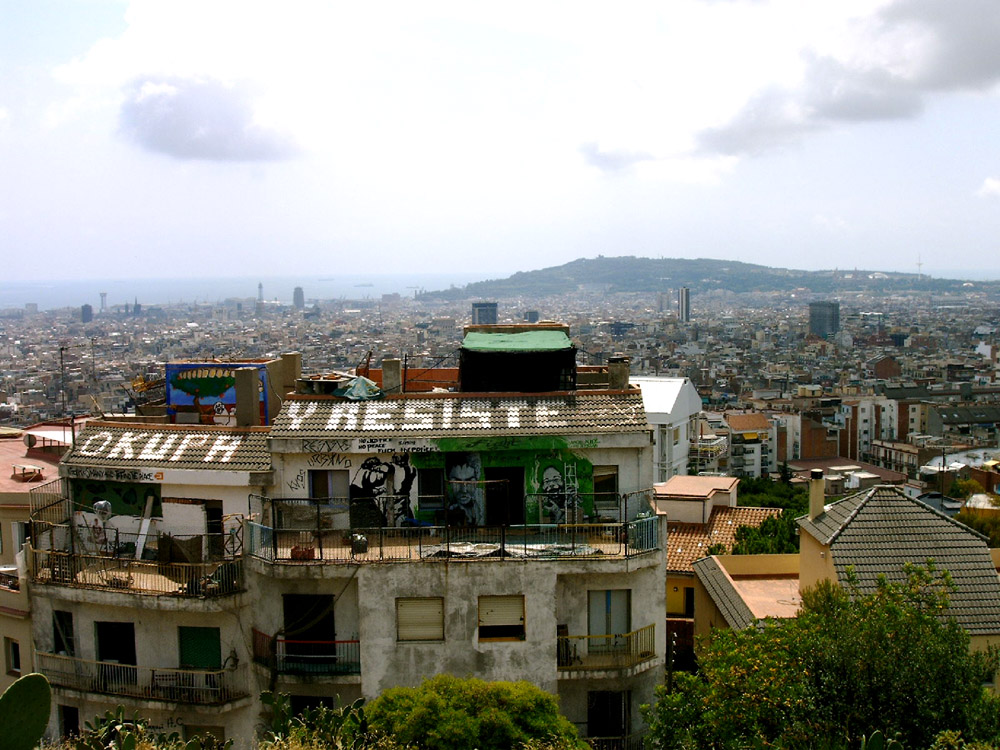 An occupied house clearly visible from Park Güell, the only one I have seen! Montjüic can be seen in the background.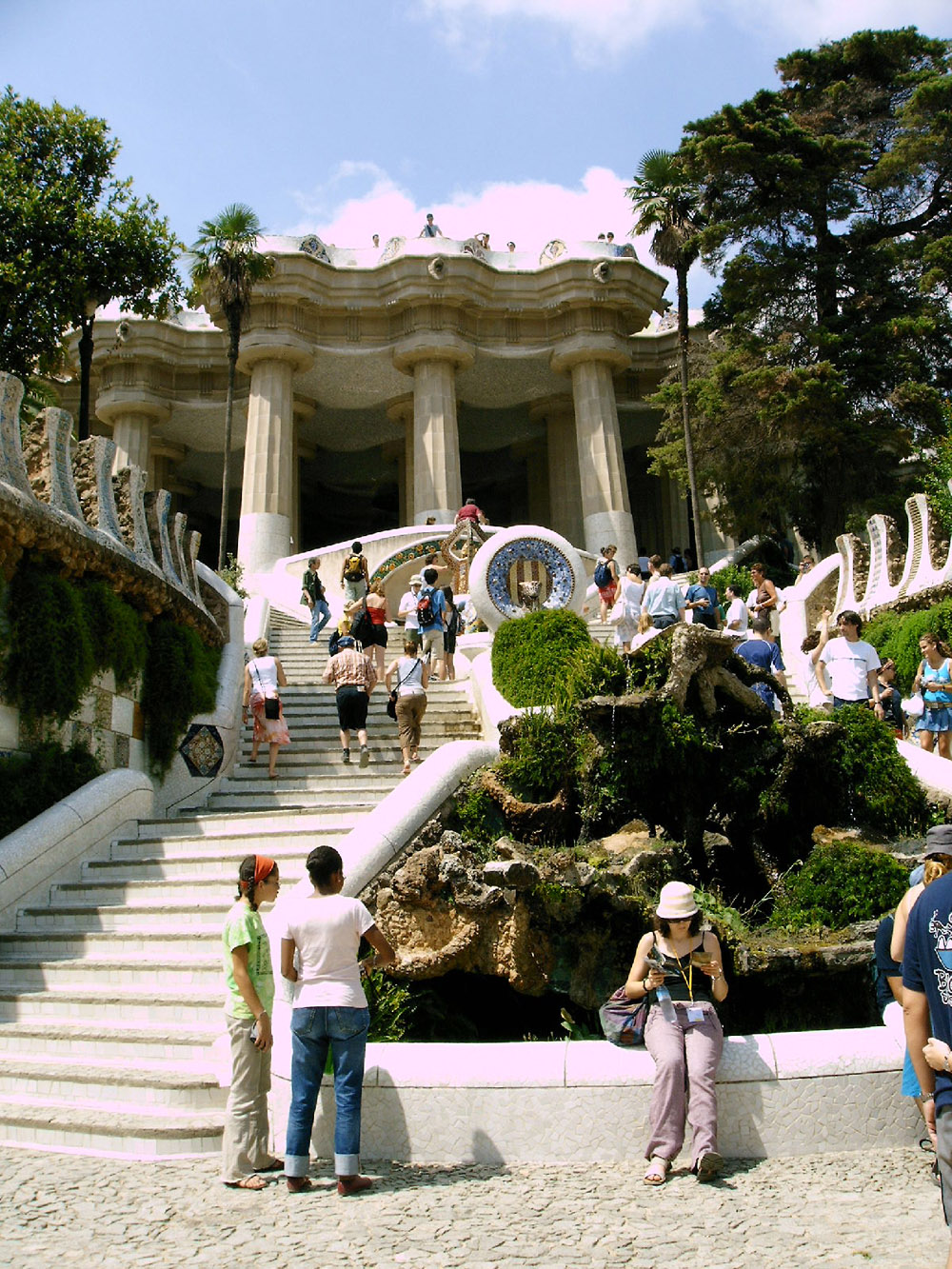 Sala Hipóstila, originally meant to be a market hall in the proposed residential area that never get built. It's massive columns are famous and the interior offers coolness from the hot sun.



It´s roof has the typical tile decorations in trencadís technique and is very popular.



The world's longest bench. It is made of mosaic and is very hot. Everyone wanted to sit there despite there was no shading trees. From here you can see Gaudi's Sagrada Familia and a Gaudí tower that belongs to the park!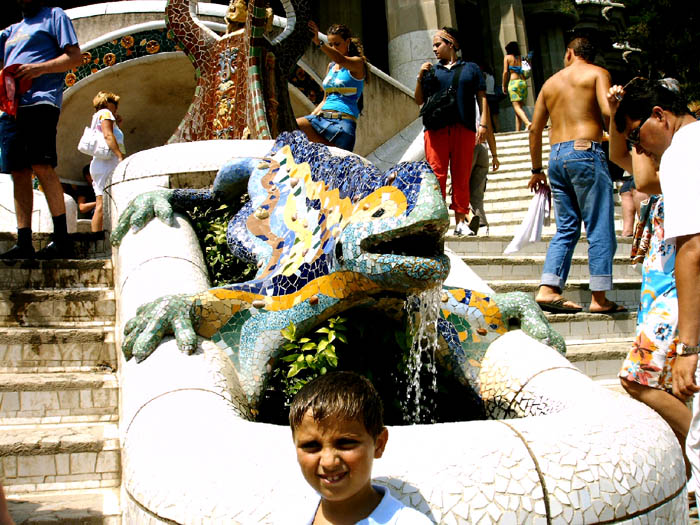 This fictive, lizard looking animal is a famous symbol for Gaudí and Barcelona, as it is on may postcards and pictures.



Parts of the park have nice views towards the Mediterranean sea, Sagrada Familia, Torre Mapfre and Hotel Arts.



Casa Museu Gaudí. This house was Antoni Gaudí's residence for 20 years, but he originally designed it for Güell who lived there in the beginning.



We could get inside for just €1, an offer we got when paying for the entrance to Sagrada Familia.



Interior shots from Casa Gaudí. And guess who is on the picture?