North of Plaça d'Espana
-Carrer de Tarragona, Parc de Joan Miró and Parc de l'Espana Industrial
The 4th day was the first day we walked to the west at Gran Via towards Placa d´Espana. At first we walked north of Placa d'Espana to see the road Carrer de Tarragona, Parc de l'Excorxador and Parc de l'Espana Industrial. This district is called Sants. Then we came back to Placa d'Espana again to walk north towards Montjüic.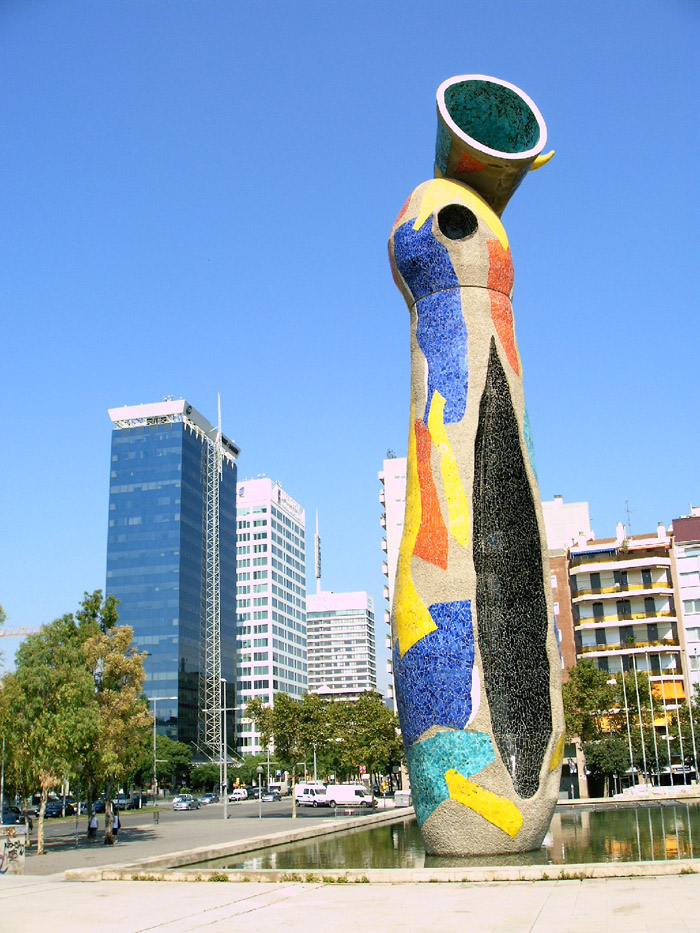 Parc de Joan Miró, also known as Parc de l'Excorxador because a large slaughterhouse used to be at the site, was the first sight at that appeared at Carrer de Tarragona. Except for this 22m high Miró sculpture, Dona i Ocell("woman and bird"), the park was a great disappointment. At the higher level, the sculpture is situated -surrounded by gravel, no shading trees and a hot climate makes this park feel like an unpleasant desert. The ground level of the park isn't much better. Except for the football grounds, there are just average looking trees and no more sculptures by Miró. So despite its name, the park is a large disappointment.



Carrer de Tarragona. The west side of this wide road is bordered by 4 modern skyscrapers, all about 80m tall. They are in order from the south: Torre Allianz, Torre Nunez y Navarro, Torre Tarragona and Torre Catalunya Hotel.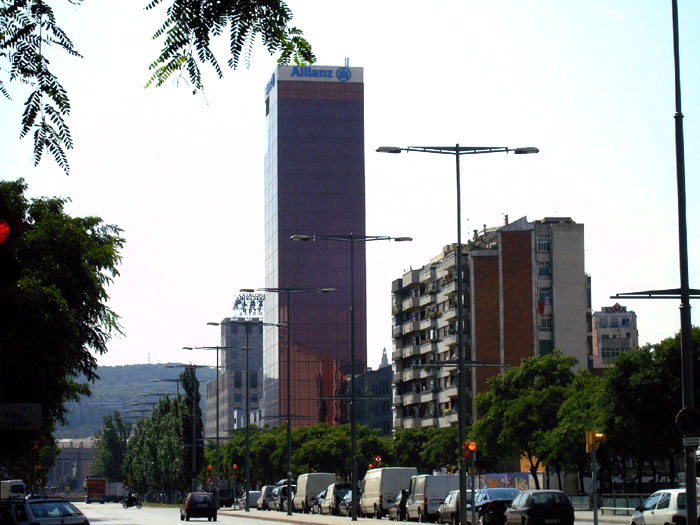 Carrer de Tarragona connects Placa d'Espana with Estacio de Sants.



Torre Allianz. This red(!) glass skyscraper is just 20 floors high.



Torre Nunez y Navarro. A wall of graffiti leads to this 20-story blue glass building.



Torre Catalunya Hotel and some modern highrises at Placa dels Països Catalanes. This is were Carrer de Tarragona leads.
Just to the left is the large, modern central station Estacio de Sants.



Parc de l'Espana Industrial. This park, that was much smaller than we expected (and also a little bit of a disappointment), was designed by the architect Luis Peña Ganchegui and was completed in 1985.



There are 10 towers that look like a bit like lighthouses, a black dragon that serves as a slide for children and a lake.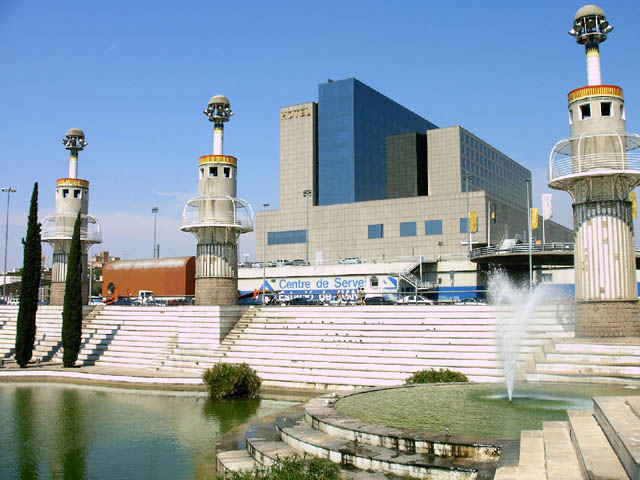 Barceló Sants Hotel and Estacio de Sants as seen from Parc Industrial.